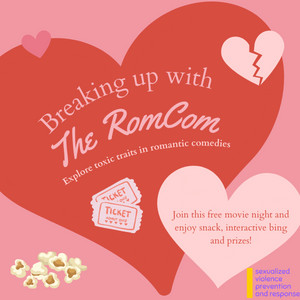 With Valentine's Day just around the corner, join SVPR for Break Up With The RomCom.
There will be two free screenings featuring popular romantic comedies — and together we'll explore the green and red flags of relationships and behaviour in the films.
Use your curated bingo card throughout the movie to see how many toxic or positive traits you can identify. The first screening takes place Friday, Feb. 3, from 5:30-8:30 p.m. and the second will occur on Friday, Feb. 17.
Popcorn and chocolates will be provided; registration is appreciated.