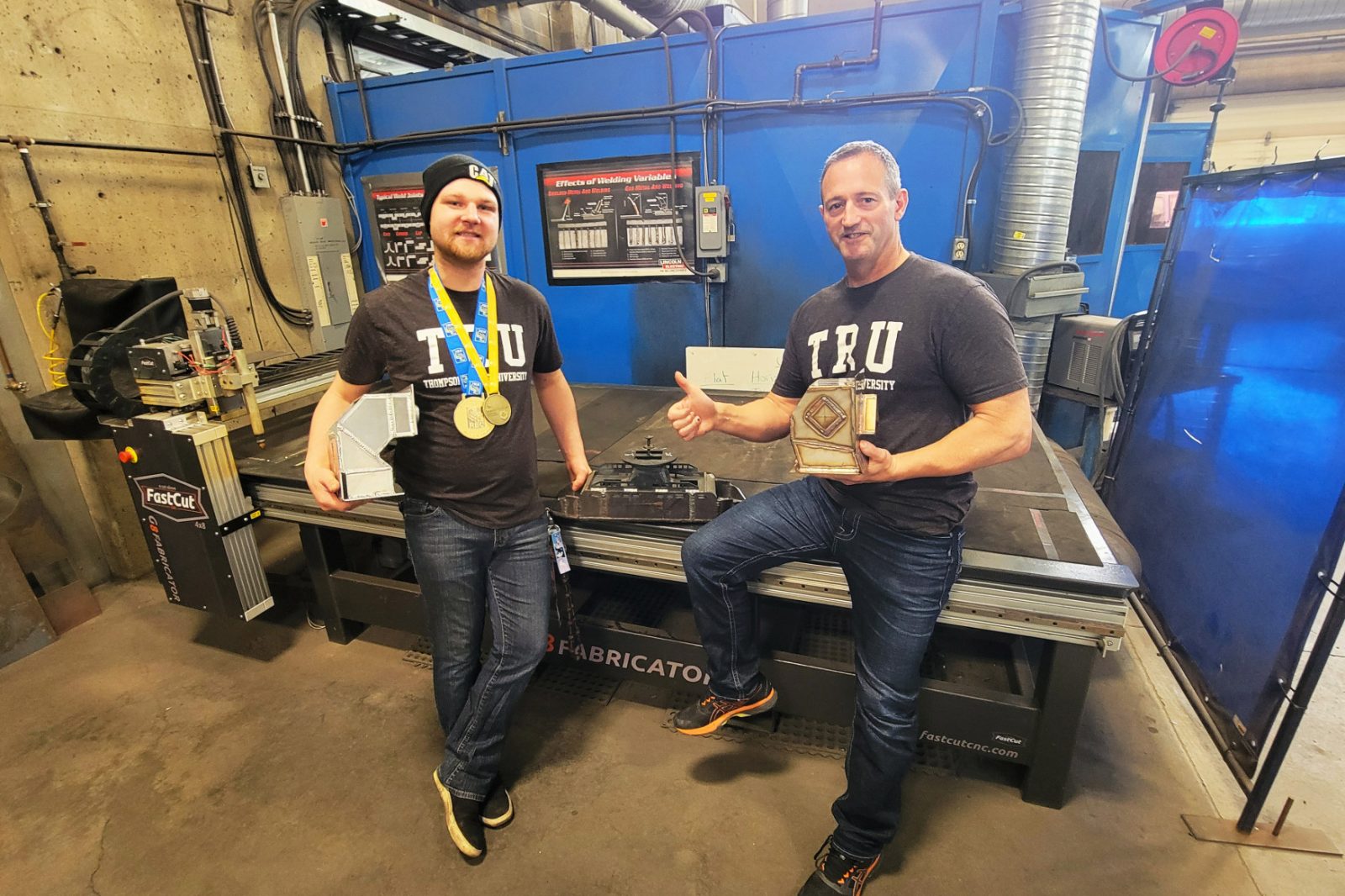 Youths aged 12 to 16 interested in trying out welding this summer are invited to check out TRU's ARX and Sparx Welding Camp, July 18 – 22.
Alex Forbes left the competition in a puddle of slag at the Skills Canada National Competition in Vancouver last month.
The 24-year-old Thompson Rivers University welding student won gold at the national event. Unfortunately, because of his age, he won't qualify to go to the World Skills Competition in October. The competition was cancelled in recent years due to COVID-19, so Forbes had to wait so long to compete that he aged out of the international level. But he's still thrilled to have taken the Canadian gold medal in welding in addition to coming first for overall points for all of the BC team at the nationals.
"It wasn't a total surprise for the medal for welding. But the best for BC, that definitely came out of the blue," he says.
Forbes got into welding while attending Valleyview Secondary school.
"My teacher just let me play around with the welder a bit and I decided I really liked it. I like the artistic aspect of it a lot. The easiest way to put it is making things look really nice — nice even welds," he says. "Another thing that attracted me is I'm like a moth, I like staring at light."
He took welding courses starting in 2015, during which time he met Larry Franzen, a welding instructor at TRU's School of Trades and Technology. When Forbes was in school, another student, Andrew Christensen, was dominating the competition and went to the worlds in 2017.
Two years later Forbes was finishing his second level in welding and Forbes asked him to consider competing. Then the pandemic hit and competitions were cancelled. But neither of them gave up.
"Larry contacted me a few months ago and said it's on again — want to compete still? 'Of course I do!'" Forbes recalls. "He's a good taskmaster."
Training, training, training
Franzen says Forbes was one of two students he chose to compete regionally. They were the only two welding students who entered for Team BC and they competed with six others at the national event in late May.
"Alex had been coming into TRU for upgrading when he could over the last six months and steadily for the two weeks prior to the competition including some weekend time," says Franzen. "We even trained the day we travelled to Vancouver — which made for a very long day."
The Skills Canada National Competition brings in the best students from across the country in 40 trades, including cooking, landscaping, brick laying, electrical, plumbing, car repair and hair styling.
And welding. Forbes confesses he was extremely nervous, but he had Franzen to coach him and his dad to cheer him on.
"He was really excited. He never really got to watch me weld before."
The welding competition was divided over two days. Competitors had to build a model ferry out of steel on the first day, and do TIG welding on aluminum and stainless steel on the second. TIG welding involves the use of tungsten electrode and requires concentration and precision. Forbes said the aluminum project was easy, but he had never welded on stainless steel that was so thin before. It wasn't coming out the way it should.
Welding like a madman
"I was having a bit of a panic attack over that. I did a lot of trouble shooting. They gave us some extra time to fix problems. With about 20 minutes left for all of us, Larry came over and gave me a sign about 20 minutes remaining," he says.
"I thought I'm not going to get this done in 20 minutes. I'm trying to weld like a frantic madman. About halfway through that, I ran out of gas."
He let the judges know he had no gas, and it took two more bottle changes to get his supply restored so he could continue. He realized he would have enough time to complete his project.
"I let out a sigh of relief. I'm going to have enough time to finish this. I finished it with eight minutes left. I wasn't the happiest with it, but it was together," he says.
It was better than he thought.
"Alex not only won gold for welding, he also won another gold for most points for any competition for all of Team BC," Franzen says.
Although Forbes is disappointed he aged out of competing at the worlds, he's proud of what he achieved.
"I'm working on a little collage with photos of the medals. Those will get framed."
Forbes currently works for a company in Dallas that makes sawmill equipment and heavier structural pieces.