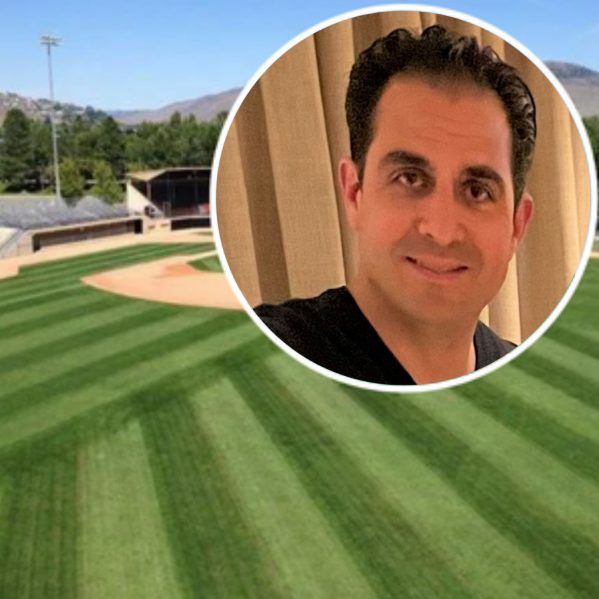 It's not a household name, but the Sports Field Management Association (SFMA), headquartered in the US, is well known by sports industry professionals worldwide.
TRU alum Mike DeCicco knows the organization well—and the organization knows him and his work well, too.
As turf lead for the City of Kamloops Parks department, DeCicco has been instrumental in bringing home three Field of the Year awards through the SFMA—two for Norbrock Stadium in 2018 and 2021, and one for the Tournament Capital Ranch in 2021.
In addition to upholding Kamloops' reputation as the Tournament Capital of Canada, the awards have also made history as one of the only Canadian locations recognized for Field of the Year.
DeCicco remembers the initial response from SFMA members well.
Questions like, "Who is this team in Kamloops?" "Where is this city?" came flooding in, putting BC on the map for field management.
"It was a big thing for Kamloops. It was a big thing for Canada for that matter," says DeCicco.
Peer recognition
He explains that receiving recognition from his industry peers, especially given the broad membership of the organization, is cause for celebration alone.
"Through the SFMA I've met field managers associated with professional sports teams like the Phoenix Cardinals and Real Madrid." 
Being among industry leaders while also having your work highlighted not once, but three times, is something DeCicco will always take pride in.

"I used to play soccer—turf management keeps me involved in the game."
After graduating from TRU's horticultural program in 2000, DeCicco obtained a Diploma of Turf Management from Kwantlen Polytechnic and then moved back to Kamloops to start his career.
In 2003, he accepted a position with the City of Kamloops. Starting in horticulture, DeCicco moved from gardener to crew leader and then switched over to turf in 2009.
Since then, he has had a happy and fulfilling career, working outside and contributing to an industry he's passionate about: sports. 
"Being a professional soccer player was not in the cards for me," DeCicco says, noting that his love of sports fuelled his interest in the industry.
Credit goes to City staff
Today, there are about 100 sports fields in Kamloops and DeCicco's role is to supervise the staff that maintain each one.
Although much of the soccer and baseball season takes place in nine to 10 months of the year, he explains that planning and management, from fertility to seeding programs, are full-year considerations.
"Kamloops is the Tournament Capital of Canada—that's a pretty big moniker. We host a lot of events and we want to make sure our fields are the best they can be," DeCicco says, noting that the SFMA awards are a testament to the work of his crews. "It's all the staff. They're the ones doing the hard work." 
Seeing everything come together, from management to mowing, is the best part of his job. Watching players race down the pitch is what brings DeCicco the greatest job satisfaction. 
"Years ago, I asked my staff to make a field look like Yankee Stadium," he says. 
With three Field of the Year awards under his belt, it's clear DeCicco's words resonated with his crews.