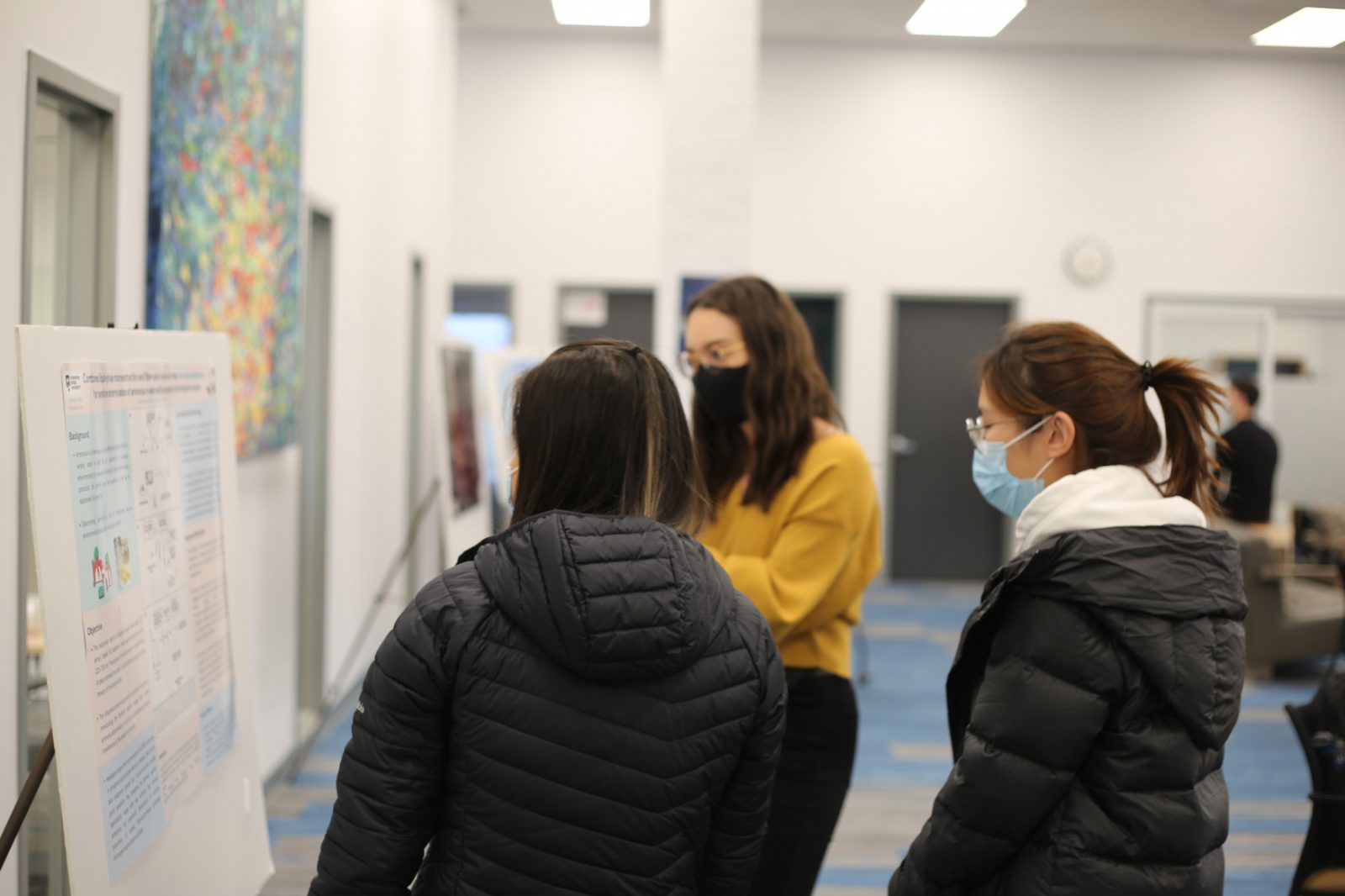 Nearly 70 first- and second-year students participated in research in the classroom in the 2021 fall semester as part of TRU's Research Coach program. Now in its third year, the program is designed to engage undergraduate students in research experience early and often.
Lauren Okano, a Bachelor of Science student majoring in chemical biology, spent the semester working as a research coach under the direction of Kingsley Donkor in his Chemistry 2100 course, Introductory Analytical Chemistry.
Okano and Research Coach Abu Harera Nadeem supported the students as they spent the semester researching, developing and summarizing other people's research, which they presented as a research poster in the OLARA building in November.
"It was really successful," says Okano. "All the students seemed to enjoy it. A lot of them had so many questions outside of the guidelines of the activity which showed how engaged they were. Many students asked me how to become more involved, which I think is really great for the research program at TRU."
For Okano, working with students as a research coach reminded her of her own journey in research.
"When I was in second year, the hardest part was knowing where to start," says Okano. "Most of us had never been exposed to research that way before, so the coaches came in and provided invaluable guidance and support. I really liked the experience and learned that research isn't as daunting as you think.
"It's such a great program and a wonderful way to introduce research to students and give them the idea if they want to continue doing it afterwards. For a lot of people, it's a way to get into that. I know that's one of TRU Research's biggest goals—to have every student have an experience in research, whether that's just in a course, in a small way, or turning it into a big project."
Positive impact
The Research Coach program allows a faculty member to identify a third- or fourth-year student with research experience who receives special training and a $1,500 award. That coach works with the faculty member to design a research experience for a first or second-year class. The students in that class will spend the semester working on the research under the guidance of the coach.
For Bachelor of Fine Arts student Kristen Gardner, who worked as a research coach under the direction of Lea Bucknell in her Visual Arts 1030 3D Foundation course, providing students with hands-on support helped better inform her role.
"It was highly beneficial to have access to one-on-one mentorship with Lea and gain from her expertise," says Gardner. "The structure of the position also pushed me to learn more about topics I found interesting and gain knowledge that will carry over into my own art practice. Having the opportunity to coach younger students was rewarding and the teaching component helped solidify my understanding of the processes I researched."
Gardner helped students brainstorm their ideas around subject matter, content, materials and display of their artwork, which they presented at a pop-up exhibition in Old Main's sculpture studio in December.
Like Okano and Gardner, Architectural and Engineering Technologies (ARET) student Tetiana Vinnytska welcomed the opportunity to help guide her classmates as a research coach.
"Realizing that you are a part of something important for other people, who can be inspired by what you are doing in the future, brings joy and boosts the responsibility," says Vinnytska.
Under the direction of Mindy Marshall and Clement Yeh, in the ARET 1200 Materials and Applications 1 – Specifications course, Vinnytska supported the students as they conceptualized and redesigned the second floor of the OLARA building, transforming it into The Generator. At the end of the semester, students presented their work on display boards in the OLARA building.
"As it was a design project, I was surprised by how creative and unique every person can be and how they express that," says Vinnytska. "Also, I realized how much knowledge students gain while doing the ARET program and how many places to apply that knowledge in the world."
To help create a dynamic space for student research, entrepreneurship and innovation on campus, the Research Coach program is currently working with TRU's Facilities department to curate the students' ideas and implement them over the next year.
For more information about TRU's Research Coach program, please contact the Office of Research and Graduate Studies at research@tru.ca