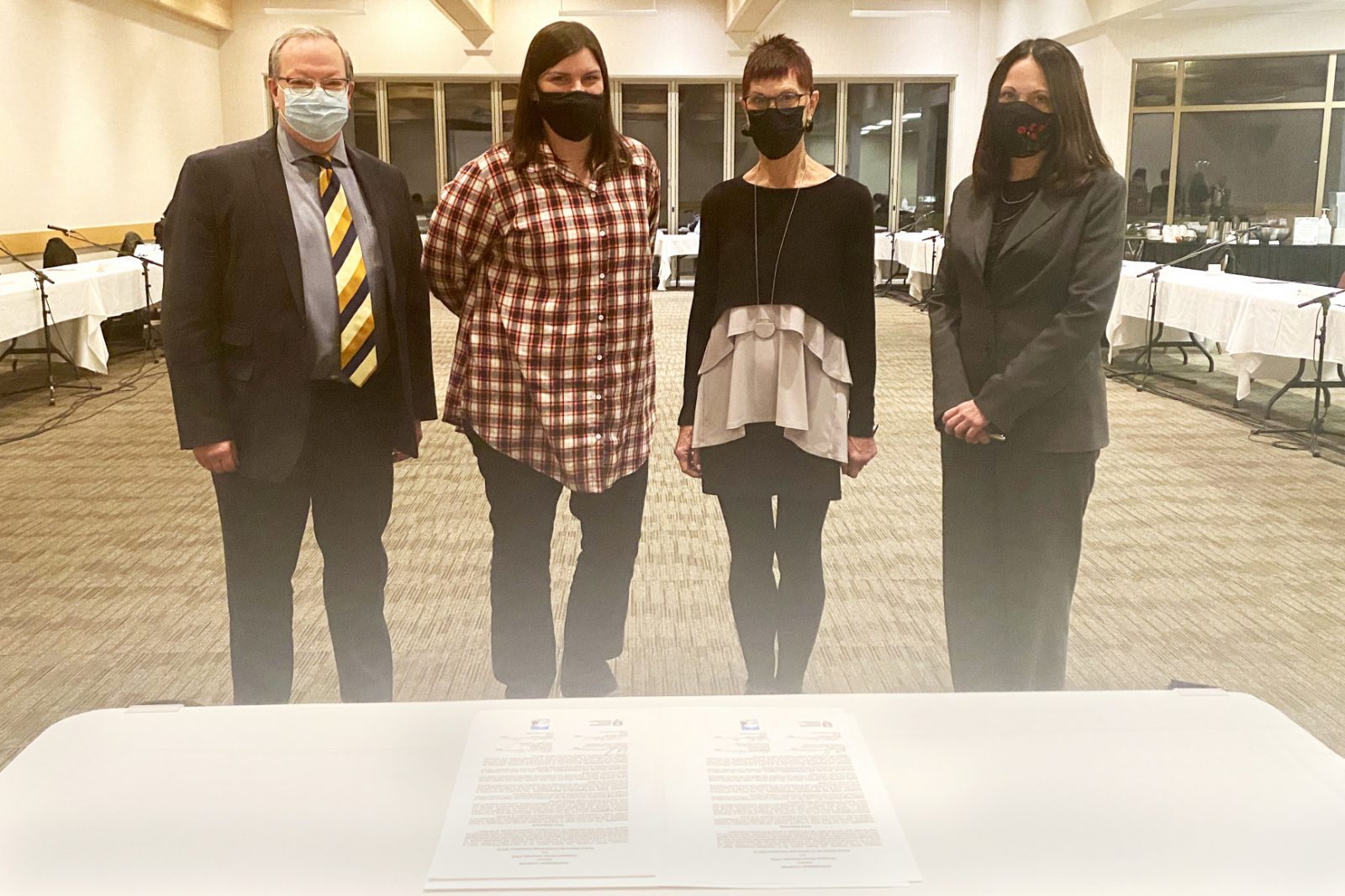 For many students within School District 73 (SD 73), attending Thompson Rivers University (TRU) after Grade 12 is a natural continuation of their education.
So it has only been natural for the two educational bodies to work together for the betterment of education and students in the region they both serve. More than a decade ago, in 2010, the school district and the university signed their first partnership charter.
On Tues., Nov. 16, the two parties met to renew that partnership. They agreed to pursue several key values set out in charter, including several areas in which they will collaborate to "transform education to better meet the needs of current and future learners."
The charter's key values include commitments around accessibility, student engagement, enrolment trends and organizational responsiveness, equity, diversity and inclusion, educational advocacy and communication, and research and scholarship.
The agreement was signed by TRU President Brett Fairbairn, SD 73 Superintendent Rhonda Nixon, Heather Grieve, chair of the SD 73 Board of Education, and Marilyn McLean, chair of the TRU Board of Governors.
Fairbairn acknowledged the partnership's importance, saying significant numbers of high-school students from SD 73 turn to TRU for their post-secondary education. Working together is natural and productive, he added, and it recognizes the mutually beneficial nature of TRU's relationship with SD 73.
"This is an aspirational agreement that will encourage TRU and SD 73 to consider each other as we serve the needs of our students," he said. "By aligning our values in this way, we preserve and enhance the continuity of the educational experience for students and ensure their journey, from kindergarten through to post-secondary degree, is seamless, meaningful and empowering."
Nixon stated: "TRU is a highly valued partner, and we look forward to continuing to innovate to meet the needs of our students as they transition into post-secondary."
Board Chair Grieve said, "By recommitting to our relationship, we can reaffirm our values and work together towards a brighter future through quality education for all our students."
The agreement will be reviewed at least every five years.