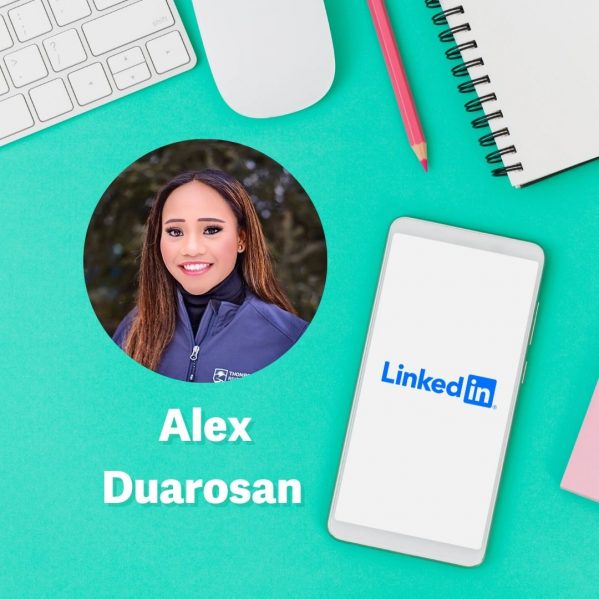 Before you'll ever get a chance to be evaluated by any hiring committee – your resume, portfolio, and online presence need to be tailor-made for the employer's eye. Your LinkedIn profile should provide a narrative of your goals, experiences, and personal brand.
This digital space allows you to showcase our career achievements, network, foster connection, and find new opportunities to move us along our career paths. If you haven't created a LinkedIn account yet, it's easy!
Check out the tips below to create a profile or to give your pre-existing account a glow-up.
Profile Picture:
Make sure your headshot fits the frame. Ensure you are framed from the shoulders upward—no need to post a full-body shot. Keep in mind that a LinkedIn profile picture is circular. Make sure the lighting is sufficient to capture you at your brightest.
Use a neutral background. Avoid steering the attention away from anything but your most professional self. Skip anything too flashy, busy, or distracting.
Promote your personal style. Incorporate a statement piece that embodies who you are, such as a patterned tie or statement earrings
Say cheese. Flashing a smile not only correlates with sociability and friendliness, but it's also an invitation to make connections.
Profile Summary:
Command the viewer's attention. Lead with a strong, catchy opening statement like the example below: Student leader open to new experiences, loves learning, trying new things, and building connections // professional relationships
Or present yourself with a compelling headline, Larry Iles, uses Career Jedi – Experiential Learning Coordinator at Thompson Rivers University as his eye-catching title.
Share your career highlights. Share your accomplishments, identify the barriers you've overcome and celebrate goals you've achieved. Be concise; make it short and sweet.
Inject your personality into your profile summary. Lean into your individuality – whatever it is that makes you you. Don't let imposter syndrome hold you back; if you don't speak highly of your accomplishments – who will?
Incorporate optimized search terms. Use keywords and phrases that make it possible for people to find your site via search engines. Here are a few words for great impact statements: Project Management | Logistics | Business Development | Team Leadership | Management Experience | Account Management | Profit Maximization | Cost Control Reduction | Digital Marketing | Customer Experience | Hardware Solutions
Encourage others to reach out. When you invite employers reading your profile summary, this shows your interest and ability to take initiative. Refer to the model below: I value every connection I pursue and learn from every encounter. Networking is a fundamental part of career-building; connect with me.
Experience:
Align with your resume. State your previous and current roles, along with a brief description of your responsibilities. Good news, this information can be found on your resume (remember that when you update your resume, you should update your Linkedin too).
Use colourful verbs. Each role should have its own experience section and include action words, responsibilities, achievements, and tasks. For example, if you were in charge of a project or initiative from start to finish, skip using the word "led" and instead try using words such as "facilitate" or "execute."
Format with bullet points or include a short summary. Keep your description to 2-4 sentences or format in list form to ensure that your description is easily digestible.
Incorporate visuals. Include pictures of you in the field or samples of your work to showcase what you have done in your roles to provide a tangible sense of your overall career experience.
Make Connections. Optimize your networking experience and learn from others by building professional relationships. Don't be afraid to reach out to people, any interactions could lead to an important role, event, or connection in the future!
---
For more tips and insights, follow Career and Experiential Learning on LinkedIn