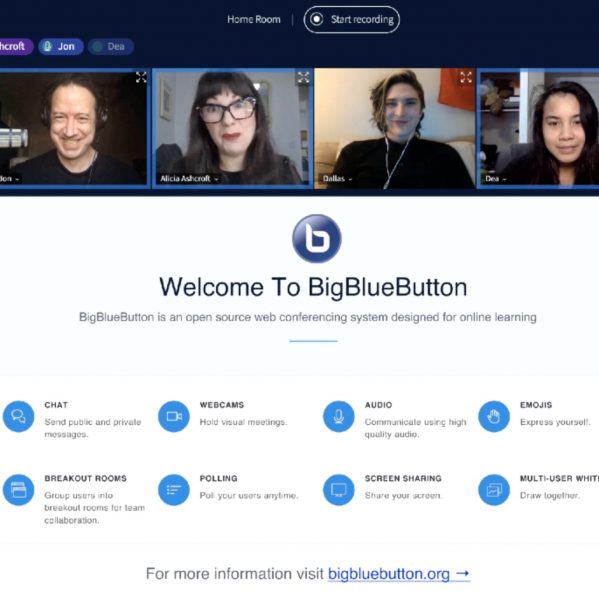 BigBlueButton is an online tool used primarily for the virtual classroom experience, but there's also has the capacity for social gatherings and creative play. This interactive platform makes for a dynamic communication experience, with webcams, whiteboards, break-out rooms and more — you can engage in brainstorming and ice-breaking activities, share videos and upload presentations.
"BigBlueButton integrates well with Moodle to provide robust functions. As a student, you don't even need to go into Moodle; you can set up a steady group outside of the Moodle shell," says Jon Fulton from Open Learning.
"As long as you have your regular TRU ID, you can sign in, create your own space or multiple rooms, and there's a shareable link that you can easily pass along with your fellow students so you can study or socialize."
Create break-out rooms for more detailed discussions in smaller groups off the main meeting
Keep the conversation flowing in the chat, where you can ask questions, post comments and transfer notes into a document.
Work on one text document simultaneously using Shared Notes
Share videos by pasting the URL to your screen
Whiteboard can be used for brain-dump exercises, as well as a space for playful, artistic expression (tic tac toe, anyone?)
Create polls to decide upcoming meeting dates, vote on decisions or check in with participants
Host social gatherings, club meetings, tutoring sessions, study groups and office hours
For more information, connect through studenthelp@tru.ca or refer to the website to discover more about Learning Without Walls.