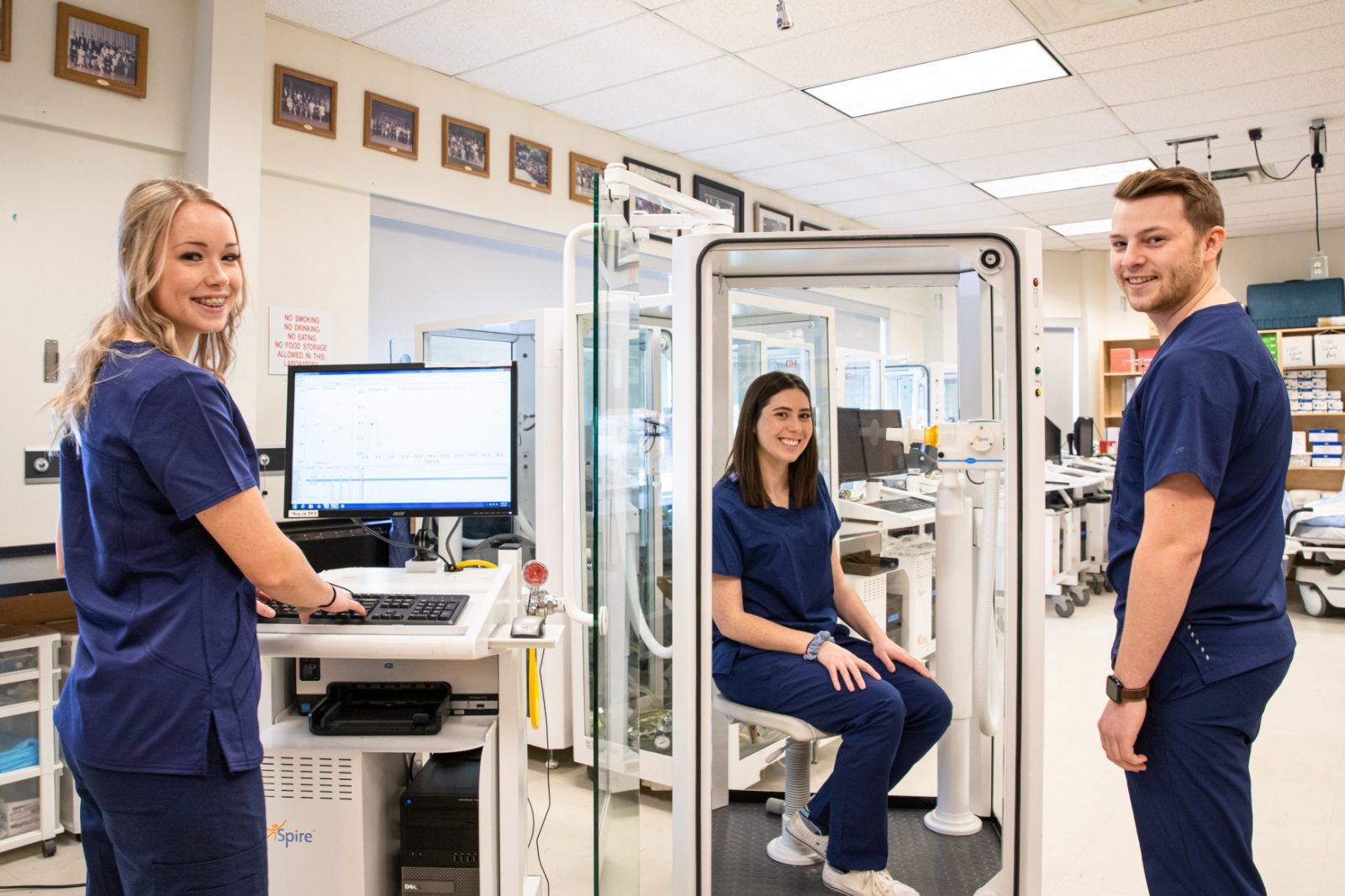 Health-care workers have always been unsung heroes, but the COVID-19 pandemic has put a new spotlight on the people who spend their lives saving others. TRU is fortunate to have alumni among these heroes—including nurses, health-care assistants and respiratory therapists. Their expertise is more important than ever.
While the Nursing and Population Health building at TRU will be outfitted with improved simulation technology for training frontline workers, future respiratory therapists (RTs) have also received upgraded diagnostic equipment.
Recently, Peak Medical Group provided TRU with nine pulmonary-function stations that conduct respiratory testing to diagnose chronic lung conditions such as chronic obstructive pulmonary disease (often known as COPD) or asthma. Equipping learning spaces with state-of-the-art technology is one of the priorities of TRU's Limitless campaign to raise $50 million coinciding with the university's 50th anniversary this year. (Science students are also benefitting from improved lab space thanks to a donation.)
TRU alum Robert Biddlecombe is senior project manager with Peak Medical Group and initiated the donation after slight changes to Alberta's testing requirements last year put the equipment out of commission in that province.
"We hated to think the machines were going to stay at the back of a warehouse and we thought of Thompson Rivers University," he said. "This is equipment that's being used in hospitals in BC right now. It was a great opportunity to upgrade their fleet so students can use equipment that's being used on patients in the hospital."
The pulmonary stations allow respiratory therapists to measure how well a patient's lungs take in and release air, how well they move gases into the body's circulation and whether treatment will work. Purchasing the equipment new would have cost the university upwards of $600,000.
"We rely heavily on donations from companies that usually have our graduates working for them—and that's very helpful for us," said RT program chair Mike Lemphers. "With the small amount of money that's available for capital equipment, we just wouldn't be able to do it."
This is a cool job
Students learn key concepts and practice in a controlled lab environment before they work on real patients. This preparation is essential, students say. Tyson Edwards was a paramedic before making a career change to respiratory therapy, but not all students have previous health-care experience. Being ready for the hospital environment is important because respiratory therapists are relied on.
"If an RT shows up, everybody just calms down," Edwards said. "They're looked to for advice."
Edwards didn't know RTs existed until he worked as a paramedic. Another TRU student, Tiaura-Lee Jenkins agreed they fly under the radar.
"I didn't know this was even a career and when I learned about it, it seemed so interesting. The past three years in this program have just solidified how passionate I am about this and how cool our job is," Jenkins said.
"I've heard people say RTs are the problem solvers of the team. That's why it's important for us to know the equipment, because we are looked up to as knowing how to troubleshoot."
TRU is the only university in BC with a respiratory therapy program. The largest hospitals in the province employ about 150 respiratory therapists and TRU takes 80 students into the program each year to keep up with the needs of employers.
For more on Limitless, visit tru.ca/limitless.