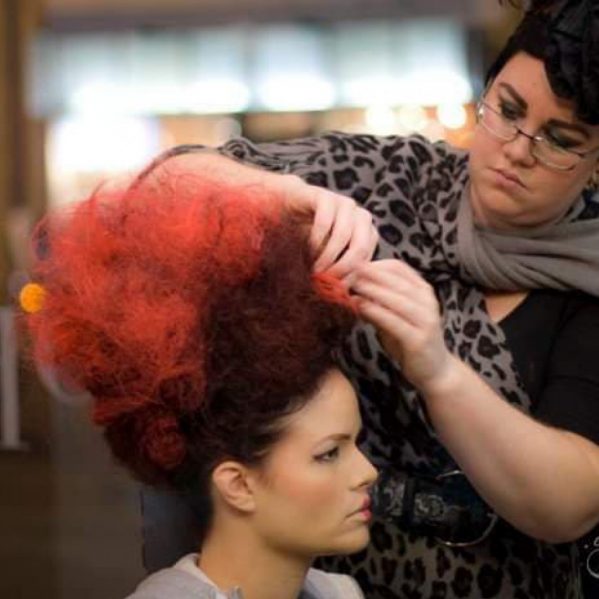 Now, you may know Nicole Stanchfield as a Student Storyteller (or a very opinionated classmate), but she's also been a hairstylist and makeup artist for twenty years, so Career & Experiential Learning invited her to lend her expertise for the grand opening of Career Closet, the new fashion lending library on-campus. She answered many questions about hair, makeup, and skin care, and shared her tips below.
First of all, I love the idea of borrowing a professional outfit for a job interview.  As a proud curvy person, I marveled at all the plus size outfits that were available as well; this Career Closet is very inclusive to style and size!
Let's be real here, the student budget is limited, and there's not always a surplus of money to buy new clothes, which is a fashion catch-22. How can you dress to impress if you have nothing to wear?
When preparing for a job interview, what you wear is crucial to that first impression (not just because of the way you look, but also because of the way the clothes make you feel.) Experts claim, within seven seconds, someone will assess, and have an opinion about you. However, I also think it's about the polish in your appearance in terms of hygiene, skincare, hairstyle, and makeup applications.
The most important tip I could offer, though, is confidence!!
Whether it's a fierce red lip, chic earrings, shiny shoes, a fabulous fashion ponytail, all complemented by a freshly washed face and brushed teeth, feeling your best will help create a lasting first impression! Now get out there, strut your best self and grab that perfect position or dream job.
Here are some tips and tricks to be interview ready:
Above all, hygiene is essential. Washed hair, clean and trimmed nails, fresh breath, and freshly laundered and ironed clothing should be at the foundation of your look.
Skincare is also critical. One of our favorite exfoliation hacks is to mix a little baking soda in with a gel cleanser, followed by some moisturizer.
When it comes to makeup, don't hesitate to include a pop of colour on your lips or your eyes (not necessarily both); if you decide to go bold, choose one: a smoky eye with a nude lip, or a dark lip and a soft eye. You can't ever go wrong with a simple daytime look. Go easy on the highlighter and contour; after all, you're going to a job interview, not a drag show!
As for shorter or masculine styles: wash your hair a day or two before the interview. Shampoo can strip natural minerals from your hair, so giving it some recovery time allows your hair to hold product better. Our recommendation? Use a quarter sized amount of pomade, which will help hold its shape.
For those with facial hair: trim, brush, and finish with a little beard oil. Otherwise, ditch the 5'oclock shadow and make sure you're clean shaven. As the old adage decrees: "dress for the job you want." You may need to shave for the job you want, too.
As for tattoos or piercings, do your research to get a sense of the company culture to get a feel for their professional aesthetic.
When it comes to hair, I can't-live-without: dry shampoo, high-hold hairspray, shine spray, bobby-pins (that match your hair colour), clear "ouchless" elastics, teasing comb, and a fluffy clean blush/powder brush for flyways.
As for hair styles, curls and blowouts are fabulous, but so are fashion ponytails, chic chignons, and braids.
When applying the finishing touches to your hair, it is all in the little details:
Wrap the band: after you have secured your pony in a mid to low area on your head (no high ponytails please), take a small section of the gathered hair and wrap it around the exposed elastic and secure it with a bobby pin, take hairspray and smooth down flyaways and frizzy hairline.
You can achieve this with a braid as well; I suggest using clear ouchless elastics as they do less damage to the hair, and are easier to hide. After you've finished your braid, tie the elastic around the ends as you normally do, then take a small section of hair and wrap it around the exposed elastic; with the bobby pin, place the end of that piece of hair up into the braid. This will not only secure the wrap, but it will keep your braid from coming apart during the day.
To smooth flyaways in your part or tame a frizzy hairline, take your hairspray and spray the trouble areas, take a clean fluffy blush or powder makeup brush and gently push the hairs down in the direction you want them to sit. Using the brush instead of your fingers keeps the natural oils from your hand away from these areas keeping them in place longer.
For folks with fine hair, dry shampoo and a teasing comb will be your best friend! Spray the root area with dry shampoo and backcomb the hair towards the scalp. The dry shampoo will make the hair more gritty, which will allow the structure of your volume to last the whole day.
For those of you with short hair or a fringe, check in with your stylist or barber. Many stylists offer "clean-up" or fringe trims at no or a very minimal charge. A fresh cut will make sure you look put together; having a clean neckline and hair out of your face is always a go-to when it comes to a professional environment.
To inquire about the Career Closet, make an appointment via careereducation@tru.ca