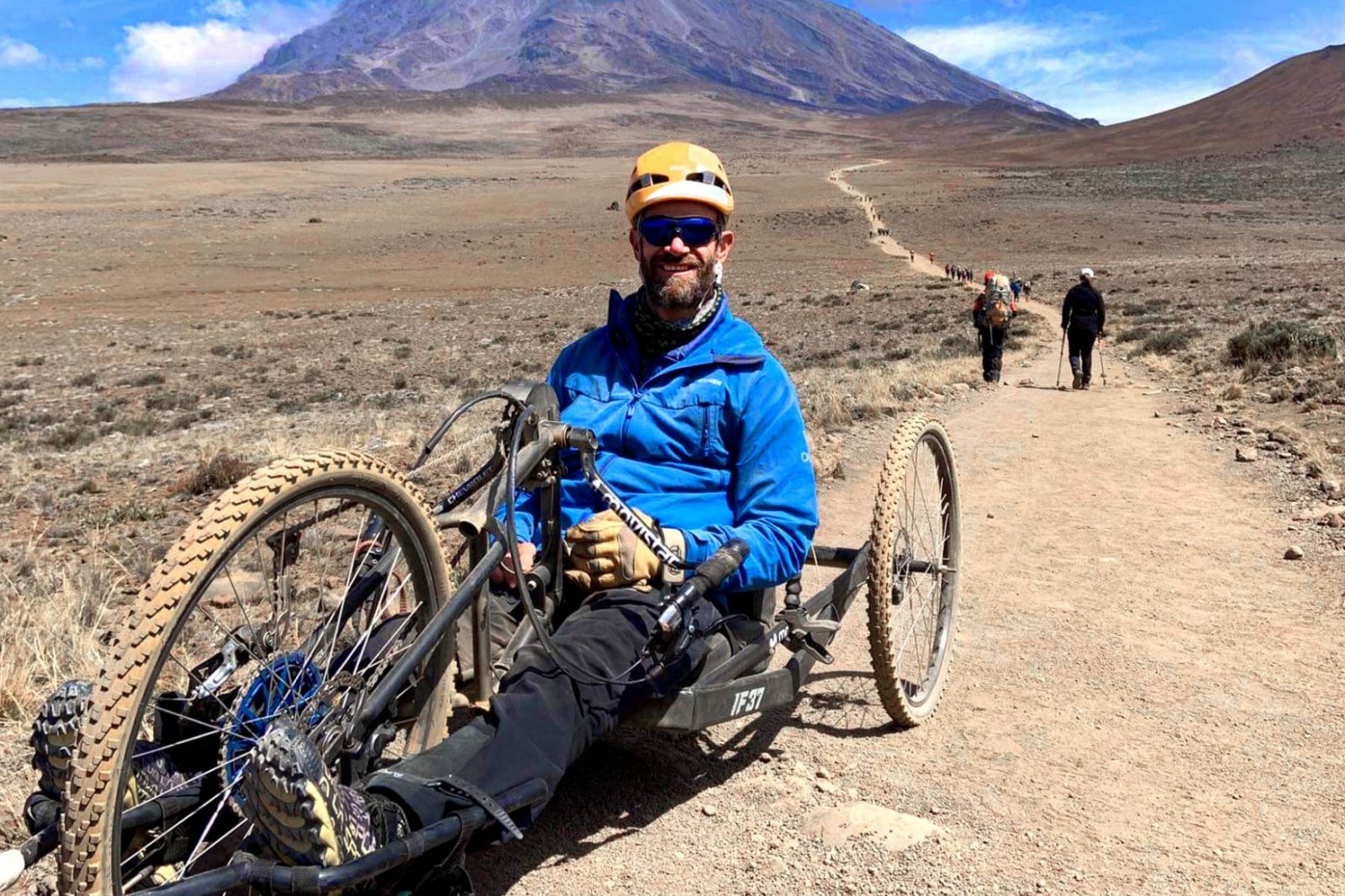 For two years, Sebastian Carrasco had prepared for this moment. Yet as he waited at the base of Mt. Kilimanjaro, questions continued to swirl in his mind. How long would it take? Would he even get there? Had he trained enough?
He could only answer the last question with any certainty.
Yes, he had. Six days a week for two years.
"It had been my dream to climb a mountain again. Before my accident I loved the outdoors: rock climbing, mountaineering, cycling and just being out in nature," said Carrasco, who completed TRU's Adventure Guide program in 2006 and enjoyed a 10-year guiding career after that. Then an accident during a high rope course in 2015 changed his life forever. He lost the ability to walk.
At 5,895 metres (19,340 feet) above sea level, Mt. Kilimanjaro is the highest point on the African continent.
"The idea of climbing Kilimanjaro came from Gisela Toledo," Carrasco said of his physical therapist friend who joined the mission as his massage therapist and as the project manager for what became knowns as One More Summit. "Even though it sounded crazy when she suggested it, I thought the climb was doable because the mountain's topography is easy enough to do on a handbike."
Handbikes are bicycles pedalled by arm power, and Carrasco brought two rugged ones for the journey. One had three wheels—one in the front and two in the back. The four wheeler had two at both ends. Then there was his support team of nearly 40 people and their various roles. In addition to Toledo as his massage therapist, he had a bike mechanic, nutritionist, climb leader/mountain guide Carla Perez, someone in charge of safety and logistics, a camera crew, guides and their assistants, cooks and porters. When the path was too rocky, steep or slippery to navigate entirely on his own, Carrasco was pushed, or pulled using a fixed rope and a winch.
"The hardest challenges are in our head, but when we have good teamwork, we can accomplish everything," said Carrasco.
It takes people with two working legs five to nine days to reach the top. Carrasco and crew got it done in eight. It was a magical moment for the entire team that day in September 2019.
What's up next?
With Kilimanjaro successfully summited, Carrasco is more determined than ever to show the world that disability doesn't mean inability.
Carrasco wants to climb Mt. Vinson in Antarctica (4,892m), mounts Cayambe (5,790m) and Cotopaxi (5,897m) in his homeland of Ecuador, the Nose of el Capitan in Yosemite National Park in California, traverse the Uyuni Salt Flats in Bolivia and race Manta Iron Man and the New York Gran Fondo.
He's also busy building his foundation, which is undergoing a name change, and which raises awareness and money so people with disabilities can participate in adventure adaptive-sports like handcycling, kayaking and diving.
"I think it's important to do what we love. We need to dream big, despite the limitations we may have," said Carrasco. "The most difficult battles are the ones we have in our head. I learned from Kilimanjaro that when the leader of a group manages to inspire and motivate his team, he can make the group's goal become a dream for everyone."
To keep up with Carrasco, his adventures and humanitarian projects, follow him on Instagram at @zuko_carrasco