When Dr. Judy Duchscher tasked 36 senior nursing students enrolled in a leadership course to identify a critical challenge and offer up creative, grassroots solutions to it, Larissa James said she and her team immediately thought of compassion fatigue.
While still a recent phenomenon, compassion fatigue in nursing is a combination of secondary traumatic stress and burnout, and can be experienced by health care providers as a result of repeated exposure to the suffering of others.
"Within nursing compassion fatigue is becoming so common. There are so many complicated events in our patient's lives and it can be so fatiguing to our mental health," said James, who is currently completing her fourth year of a Bachelor of Science in Nursing.
"Compassion fatigue affects more than just nurses and it can present itself in many ways, including a lack of caring in some aspects of the job or in life, insomnia, change in eating habits, depression or anxiety. If you don't seek help for it, it can certainly spill over into your private life."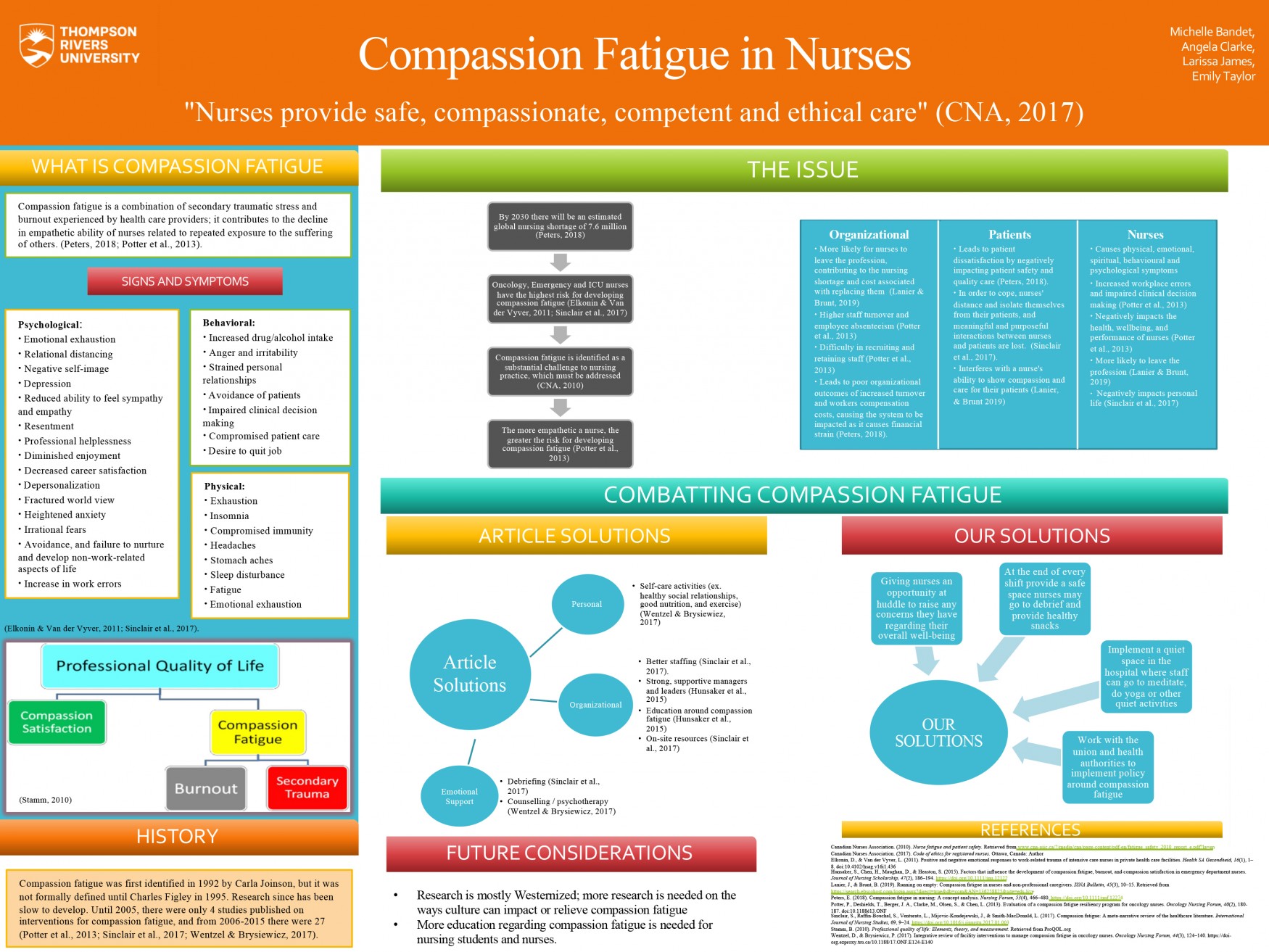 Eleven groups of students presented their creative strategies to a panel of judges that included Paul Michel, Executive Director of Indigenous Education at TRU, Ken Christian, Mayor of Kamloops, Dr. Donna Murnaghan, Dean of the TRU School of Nursing, Cheryl Whittleton, Chief Nursing Officer and Director of Professional Practice for Interior Health. Dr. David Byers, Associate Deputy Minister of Health for BC, had also planned to attend but competing obligations prevented it. The critical challenges identified included a variety of topics from vaping to the accessibility of Canadian health services for refugees.
Duchscher designed this challenge to provide students an opportunity to engage in a high-pressure situation, something they will encounter repeatedly in practice.
"I wanted to see how they responded to leaders in the community and in healthcare, and how they responded to questions that might not have straightforward answers," she said, adding that the competition was intended to show "the application of their knowledge rather than the content."
James and her group, which included classmates Angela Clark, Emily Taylor and Michelle Bandet, chose to focus on compassion fatigue because despite its prevalence and impact on front-line nurses, there has been relatively little research done on the subject. Their presentation impressed the judging panel.
Sharing their findings in this way provided the group with a unique communications challenge. "They were not all in health care, and they don't see the problem first-hand," James said of the judges, and the team framed their presentation with that in mind.
In learning about compassion fatigue and about how it impacts nurses, James says she's both "terrified and excited" to begin working full-time in her chosen field. "I definitely know more about the signs and symptoms, and if you know about it you are better able to mentally prepare yourself."