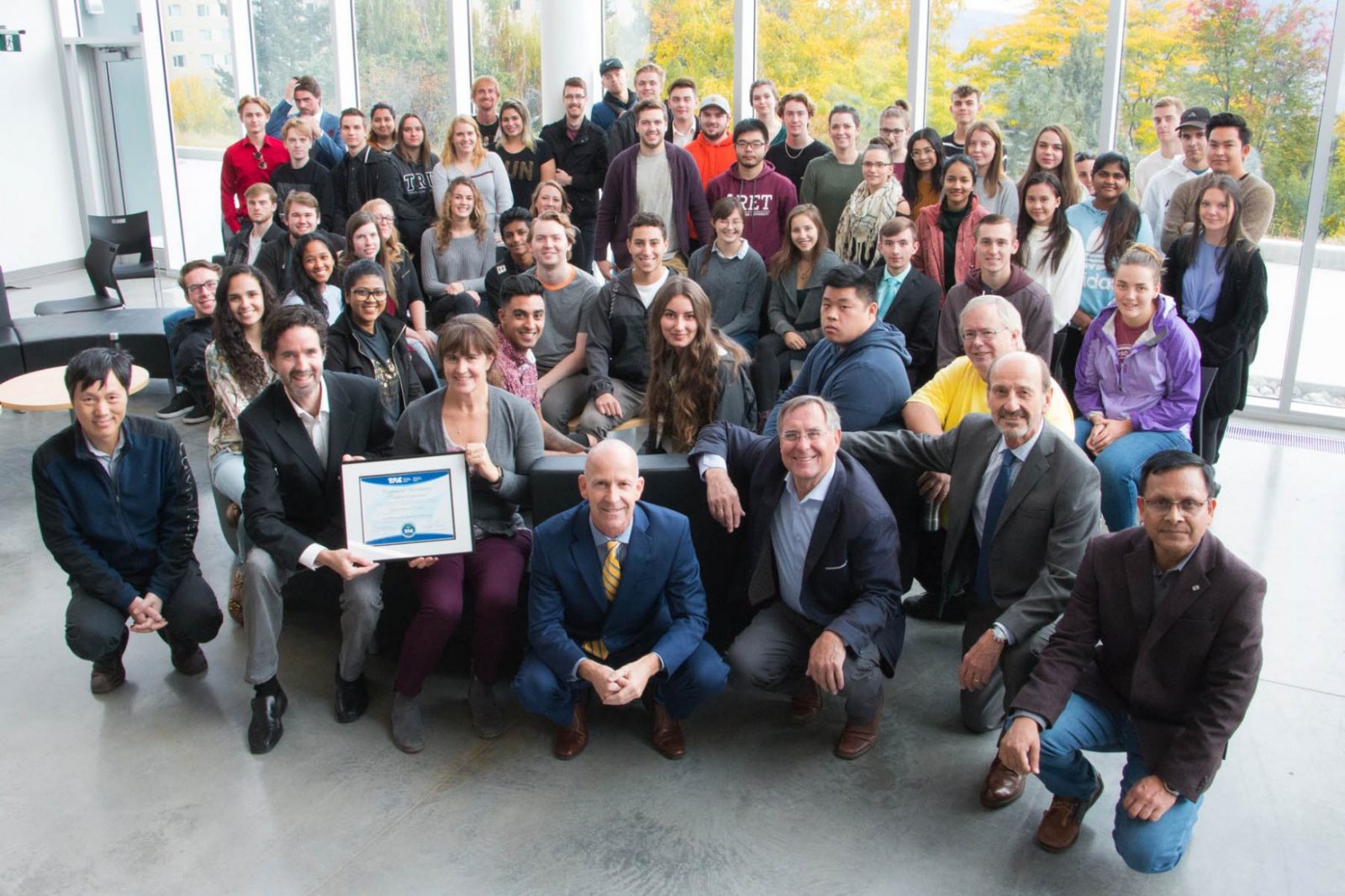 Graduates of TRU's Architectural and Engineering Technology (ARET) program will now enjoy a globally-accepted professional status, after today's official announcement that makes the program BC's only nationally-accredited Architectural Building Technology; Technical Level, diploma.
ARET is unique in its emphasis on the design processes in building, civil and mechanical technologies. Students are engaged over the course of the three-year diploma with projects designing structures, subdivisions, municipal serves, and electrical, plumbing, lighting and HVAC systems.
Executive Director of Technology Accreditation Canada Richard Stamper flew into Kamloops the morning of Friday, Oct. 4 to officially present the news to ARET faculty members and students in the university's recently completed Industrial Training and Technology Centre.
"This accreditation puts TRU's ARET program on the map on a national and international level," said ARET co-chair and faculty member Walter Prescott. "Prospective students weighing options to launch careers in the building design and construction management industries will certainly take note, as well as mature students looking at retraining to re-enter the workforce. Our growing international student base will also be interested in attaining this professional designation that is recognized globally."
This faculty of science program offers students the latest Autodesk software to develop computer-aided design and drafting skills. Graduates are proficient at using Civil 3D and Revit Architecture AutoCAD and at customizing AutoCAD software. They work as building, mechanical and civil technologists; and after gaining some experience often move into senior designers, job captains, specification writers, estimators, quantity surveyors and project administrators.
With today's announcement, grads will now be recognized by the Professional Certification Granting Organizations across Canada—a professional status accepted around the world.
Learn more about ARET course content