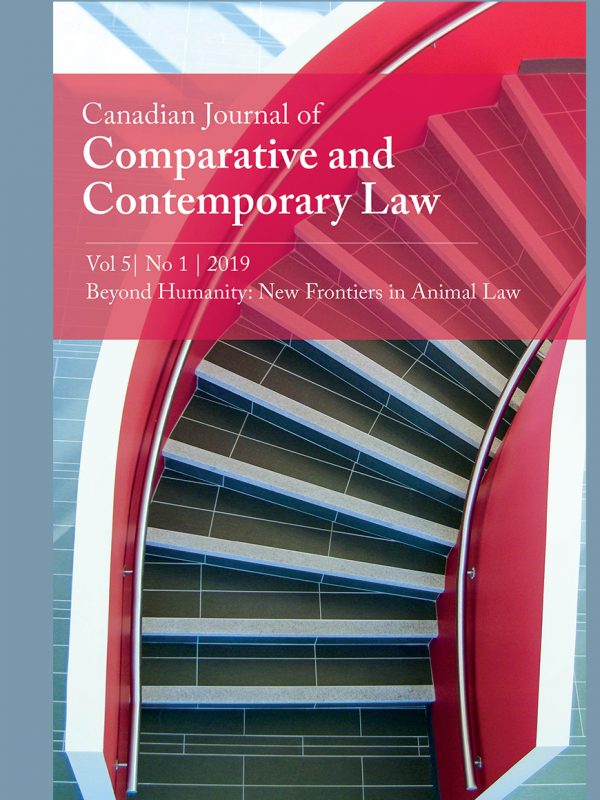 The latest volume of the Canadian Journal of Comparative and Contemporary Law edited by faculty and students of TRU Law is delving into a topic that hasn't been given in-depth treatment by other Canadian law journals. Until now.
This is the first Canadian law journal to devote an entire issue to animal law. Research in animal law is growing, and 2019 has been an unprecedented year for legislative reform in the field, with three important bills passed by Parliament.
Beyond Humanity: New Frontiers in Animal Law features a foreword by Senator Murray Sinclair and contributions from leading scholars in the field from around the world, including TRU Law faculty member Katie Sykes.
Animal law is Sykes's main area of research; her submission tackles ending whale captivity in Canada.
"The idea for this special issue originally came from Angela Fernandez at the University of Toronto Faculty of Law. She approached me about it, because she thought that the time was right for a law journal devoted to issue," she said.
"Angela and I thought that with our shared contacts in the field, we would be able to help the editors put together a good roster of contributors for the issue. We pitched the idea to the editors and they decided to go ahead with this theme for the edition."
The journal was edited by TRU Law faculty members Robert Diab and Chris Hunt, along with Lorne Neudorf of the University of Adelaide. A team of students helped edit the papers as part of their upper-level journal course.
Sykes said just how much interest has grown in animal law is demonstrated by the fact the first Canadian Animal Law Conference is taking place at Dalhousie University in Halifax this October. Many prominent professors will attend, including Peter Singer, a globally renowned philosopher who is the keynote speaker.
"The conference is a significant landmark for animal law in Canada, and it will really raise the profile of the field. More and more law schools are offering animal law courses. We have many excellent animal law scholars in Canadian law schools and universities," she said.
"In 2019, there have been unprecedented steps forward in federal law to protect animals, including the passage of Bill S-203, the Ending the Captivity of Whales and Dolphins Act. It's really an exciting and growing field, and it's a great time for this journal issue to come out."