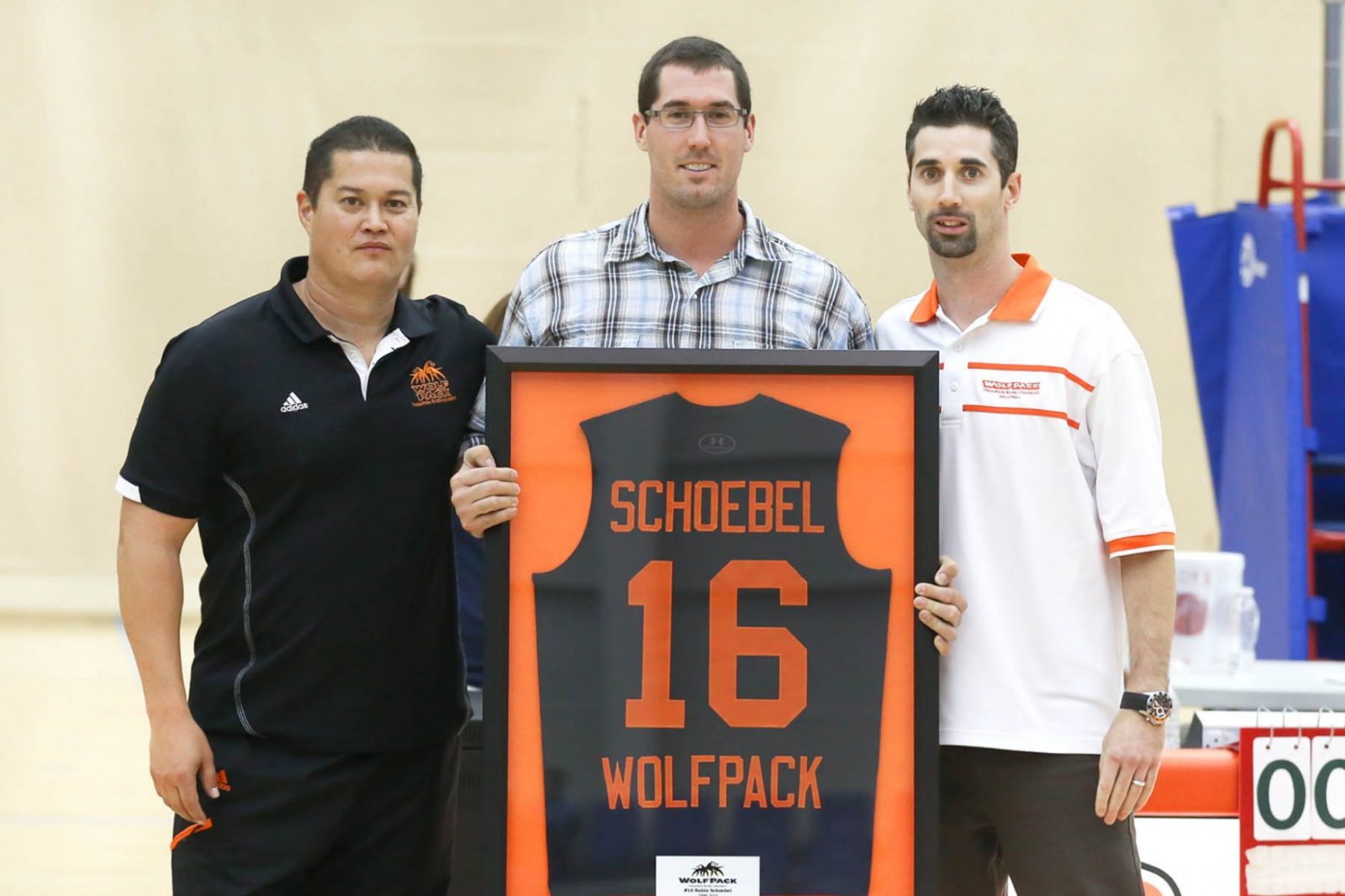 This story first appeared in the spring 2019 edition of Bridges Magazine: The Sustainability Issue. Bridges is the official publication of TRU alumni and friends, and can be read online in its entirety at tru.ca/bridges.
Training with the French junior national team, Robin Schoebel wanted to move to the US to pursue a college education. Weeks before starting his freshman season at Brigham Young University in 2005, the National Collegiate Athletic Association deemed him ineligible after they didn't recognize some of his high school credits. 
Back home in Beausoleil, France, Schoebel's last-ditch effort to return to North America was to bombard Canadian coaches' inboxes. 
Meanwhile, the WolfPack went 1-19 in their inaugural year in the Canadian Interuniversity Sport Association. Rookie Head Coach Pat Hennelly happened to be on his computer one summer day when he received an email. 
"I didn't read his whole email, I just went to the video. It only took me seven seconds before I said, 'Wow, I need this guy,'" said Hennelly. "Within minutes, I responded to him and told him what we could offer. That got the ball rolling." 
Hennelly's urgency registered with Schoebel and he came to Canada for the 2006-07 season. 
"He was a dynamic player. He's 6-foot-7, physical and crushed balls," said Hennelly. "With that video, I recruited some of the top college players from Alberta and that turned things around." 
Schoebel also changed the culture. Practices were no longer bland—the TRU Gym transformed into the Thunderdome. 
"We were competing for life and death each practice. There was always chirping and tempers flaring," said Schoebel. "It made us better and allowed us to withstand the pressure in big games." 
Constant adversity helped, as the WolfPack made the playoffs that season, but lost in the first round. 
The rise to prominence helped Hennelly recruit Gord Perrin, a nationally-heralded prospect from Creston, BC. 
"I was attracted to a smaller campus and city," said Perrin.
Pat also told me about all the good players he had and some of the recruits he knew. I knew TRU would be a strong team." 
Perrin trusted his hunch and in 2007-08, with the help of other key veterans Colin Jaggard and Behlul Yavasgel, TRU captured bronze at nationals by defeating Dalhousie University. 
"It felt great to be a part of something that had never been done in school history before," said Schoebel. 
The following season, Hennelly recruited Kevin Tillie, another fantastic Frenchman. 
"My dad found out about TRU through some of his contacts and it worked out fine," said Tillie, who was considering Brigham Young at the time. "I didn't know Robin too well beforehand, but we messaged about coming to TRU and he really helped me out when I arrived on campus." 
Tillie's dominating freshman campaign made him the third WolfPack player to be named Canada West Rookie of the Year in 2010, joining Schoebel and Perrin.
They also enjoyed tremendous personal and team success from 2006-11.
Schoebel's body broke down by 2010, as he watched Perrin and Tillie move onto the international and professional stage, highlighted by the two squaring off in the 2016 Summer Olympics in Rio de Janeiro, Brazil.
"My dream was to play in the Olympics. To achieve that alongside a college teammate was really cool," said Tillie. "I was happy we beat him, but I wish we could have advanced like (Canada) did."
The Games were especially impactful for Perrin, who helped Canada end their 24-year drought.
"That's what I'm most proud of. When I first joined the team, we didn't have a realistic chance of getting to the Olympics. It was a very long and difficult path to do it and to finally achieve it, is hard to describe," said Perrin.
One random email turned the TRU program into a perennial Canada West contender and developed nationally and internationally recognized players. More importantly, memories were made and lifelong friendships were forged because of it.