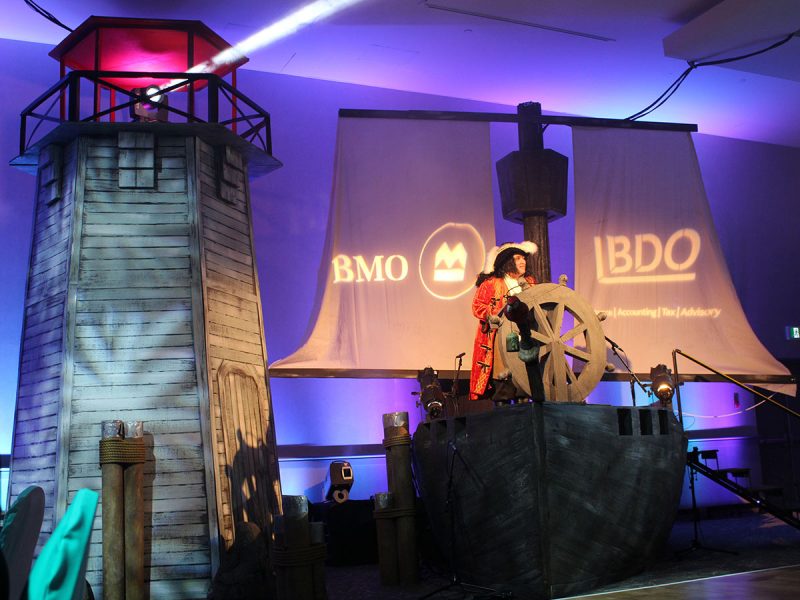 When the tides receded, $61,000 had been raised for students during Adventure on the High Seas, the 2019 TRU Foundation Gala held in the Grand Hall on Feb. 9.
More than 300 friends of TRU gathered to support higher education at the glamourous event co-sponsored by BMO Bank of Montreal and BDO Canada LLP. Donors bid on 51 auction items and entered to win raffle prizes at the sold-out Gala, opening their wallets to support student scholarships, bursaries and awards through the TRU Foundation.
"The impacts of these donations don't stop with financial assistance or an academic confidence boost," Bachelor of Science student Mathew Norman told the room of supporters.
"I truly believe they continue the cycle of philanthropy. Knowing what kind of impact these contributions had on my experience as a student allows me to look forward to a day where I hope I can have a similar impact on the future students of tomorrow."
The event marked the 27th annual Gala for the TRU Foundation, which raises funds for student support, TRU programs and projects.
Rich Woods, co-host of the morning show on B100 (CKBZ-FM), brought the laughs as master of ceremonies and Dr. Brett Fairbairn addressed Gala attendees as TRU's new president. An impressive set designed by technical director Greg Klohn of GK Sound staged performances from Project X, the Kamloops Thompson Children's Choir, a cappella quartet Slow No Tempo and Lorena's School of Highland Dance.
Aramark prepared a five-course meal enjoyed during the evening's performances and Celtic duo Crossbow and violinists Going for Baroque entertained in the Rotunda during cocktail hour.
Next year's Foundation Gala is slated for Feb. 8, 2020.
—Story and photos by Jessica Klymchuk