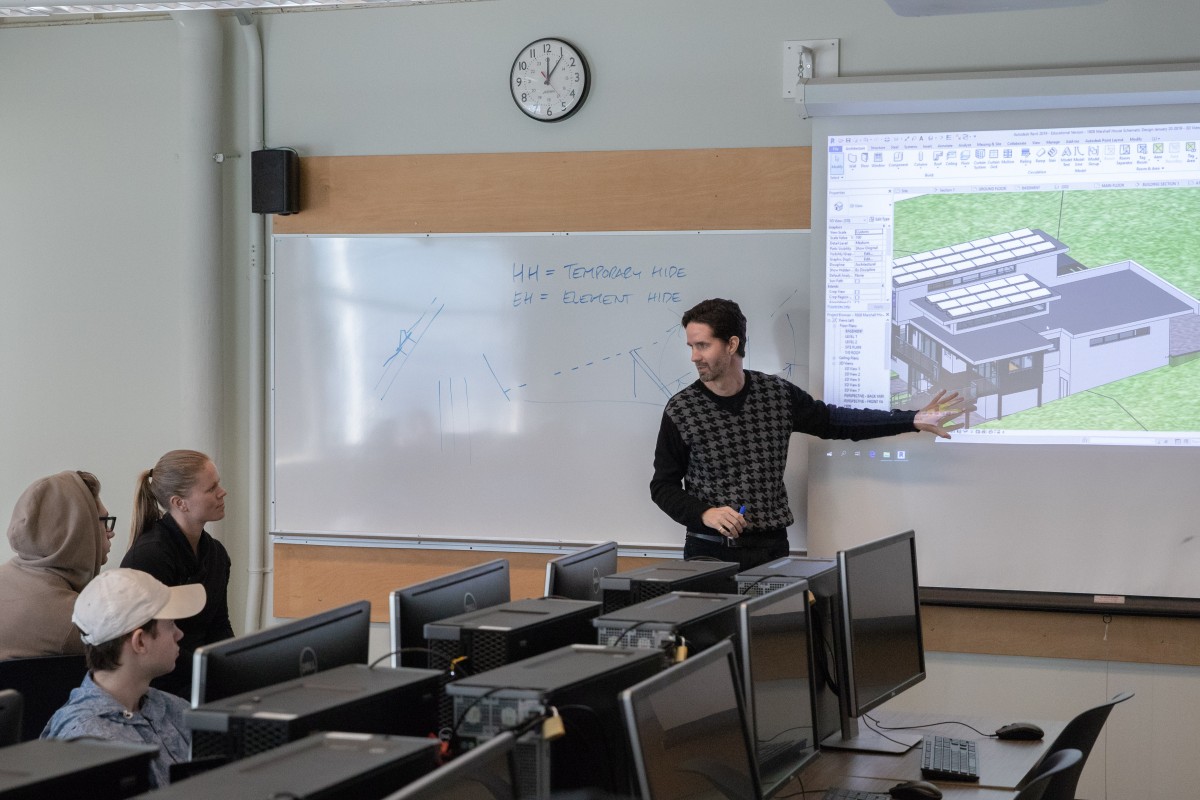 Clay Ganton goes to bed each night dreaming of his own peaceful paradise and not having to worry about his hydro bill. For the 45-year-old, the dream is a familiar one because he's already lived out this environmentally-friendly experience once before.
Ten years ago, Ganton won the Green Dream Home in a raffle from the YMCA. What made the humble abode so memorable was that it was a net-zero house and it was designed by TRU's Jody Martens.
Martens was an Architectural and Engineering Technology (ARET) student from 2008 to 2011, it was her chosen design that was built by TRU trades and technology students along with assistance from the Home Builders Association.
"It was really exciting to have something you design get built, especially as a student," said Martens, who is now a senior architectural technologist. "Designing something that was revolutionary, environmentally conscious and experimental made it that much more fun."
Some of the challenges facing Martens back then were finding a balance between building an energy efficient home and a dream home, along with working with thick walls on a small building footprint.
Back then, net-zero homes were ahead of their time. The goal was to develop plans for a house that produced as much energy as it put out on a monthly basis.
ARET senior lecturer Dale Parkes has kept the tradition alive and teaches his Course Building Technology 1 class about the principles of a sustainable house.
This year, a new wrinkle was thrown into the course, as Ganton asked the class to design him another net-zero house.
"It was really cool living in the net-zero house and knowing you weren't harming the environment. You become more conscious what uses energy and what is wasteful," said Ganton. "I want the planet to be around for my daughter and her kids."
Each of Parkes' 29 students will either bust out the protractors and pencils for basic designs, or dive right into the 3-D modelling on the computer with the Autodesk Revit software.
The software allows students to create a 3-D model which can be used to figure out how much power the building will use and do structural analysis of the building. They can even use virtual reality goggles to walk around the building.
The site this year is a north-south sloping property just off Edith Lake Road in Knutsford. Scattered trees surround the property flanked by a pair of streams in the spring time.
Ganton is looking for a place between 1,500 and 2,000 square feet with a big kitchen and a big deck to entertain his guests. Aside from a few other suggestions, he is leaving the rest in the hands of the students to see what they come up with.
The student whose design appeals most to Ganton will receive $1,000 from the TRU Foundation via Ganton and a paid opportunity to continue the designs this summer.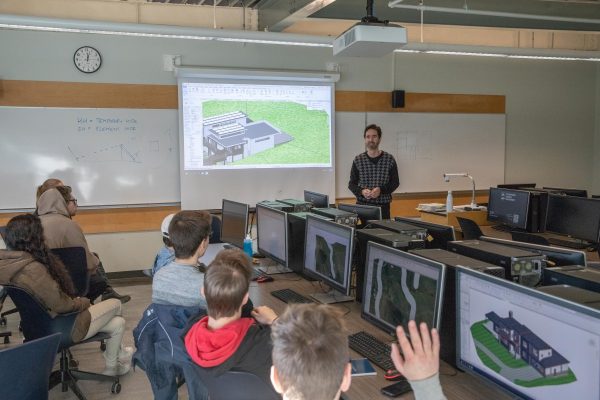 Like it was a decade ago, Ganton's pad will be at the forefront of sustainable housing, as the provincial building code continues to change.
"By 2032, all new houses being built will be net-zero ready, with the addition of power generation being left up to the owner," said Parkes.
Current ARET students will be ahead of the curve by then, as they are already learning how to construct sustainable buildings, making the environment a safer place one home at a time.