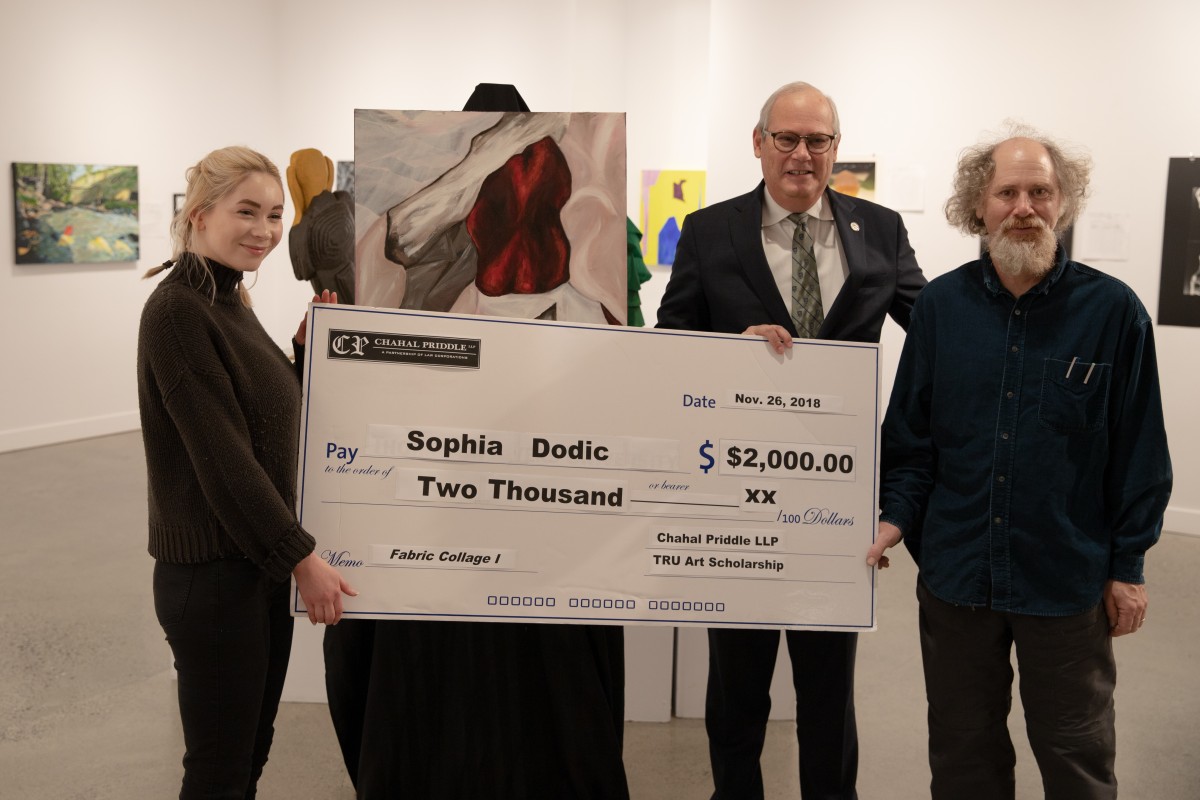 As the days become colder, fabric is being used in more abundance to keep us warm.
But for Sophia Dodic, fabric has a different importance. For her, each swath contains a story, carries significance and is very distinct.
And because of her vision and connection to the fabric, she now has a cool $2,000 in her pocket.
The Burnaby, BC native was named the winner of the Chahal Priddle LLP Art Scholarship Tuesday afternoon in the TRU Art Gallery for her piece, Fabric Collage I.
"Fabric is what you wear and how you represent yourself every day. That was something that has always been really important for me and my family, and I think I showed it here," said Dodic. "I think it's a feminist painting to a degree and it's surrounded by some beautiful and lovely fabrics."
The third-year Fine Arts student developed this piece from a collage, after cutting out different pictures of fabric and laying them on the floor, seeing which pieces meshed perfectly with others.
"I created a landscape with the different fabrics. Once I found something that looked good, I used a dead, or cold pallet, along with some neutrals with an underlaying bone and grey colour," described Dodic. "There ended up being a lot of similarities and the colours played off each other. Even in the darker areas, there are underlying greys and blues that come back in."
Upon completion, the winning piece—along with 20 others from her classmates—hung in the law firm's office since June, where the student body and members of the public could take a peek.
Dodic didn't see her piece on display until after a dinner late in the summer, when she was in the process of moving back to Kamloops to start another semester of classes.
"This was a big opportunity and I am very grateful for it. It was nice to see all the submitted work by the rest of my peers, and to see it for the first time with my family was also very special," said Dodic.
With the pieces on display, voting began online to determine a winner. More than 800 votes were cast by members of the community and from TRU.
"I had a very surprised reaction when I found out that I had won—over joyed. It's nice to see opportunities like this happen in our university," said Dodic.
As for her next trick, the 21-year-old painter is already brainstorming her fourth-year project, where again, it will feature the very fabric that curves around the human body.
In the meantime, Dodic's piece has returned to the Chahal Priddle law office, where it will remain until the end of December.