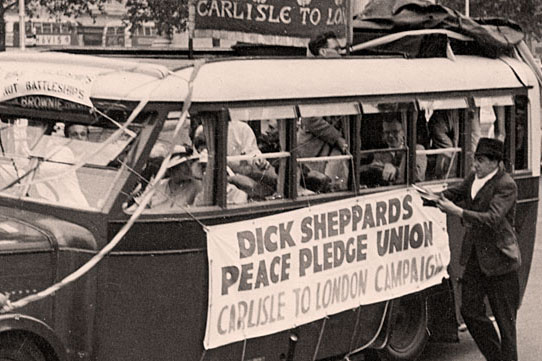 War and peace: what are the lessons?  As we move beyond the centenary of the end of the First World War in 1918 we must continue to educate ourselves on this war's impact and understand how we can apply lessons learned to build an effective peace movement.  Many suffered trauma during the war and some writers responded by penning compelling protests against war that changed our attitude towards it forever. This winter, TRU will offer a new English course, War and Peace ENGL 2400, which delves into the critical "game changers" in the post-war pacifist movement. Students will study the literary works of Wilfred Owen, Siegfried Sassoon, George Bernard Shaw, Rebecca West, Erich Maria Remarque, R.C. Sherriff, and more.
Using yesterday's lessons for today's issues
English and Modern Languages faculty member Dr. George Johnson believes that students who take this course will achieve a greater understanding of the traumatic impact of the First World War. More specifically, he hopes students will gain a greater empathy for those who survived and the emotional and psychological suffering they endured. Students will come to appreciate the writers who first had the courage to write about the horrendous realities of war to a public that did not want to hear about it after the conflict ended. He hopes they realize that there is truth in the old adage, the pen is mightier than the sword.
Dr. George Johnson is a professor of English in the English and Modern Languages. He has taught a wide range of courses throughout his almost 30-year history at TRU. Johnson has won numerous national and international awards for his critical and creative writing for both adults and children. His latest article, Grief in victory: Therapeutic writing helped to heal a nation after the First World War, has just been published on The Conversation.