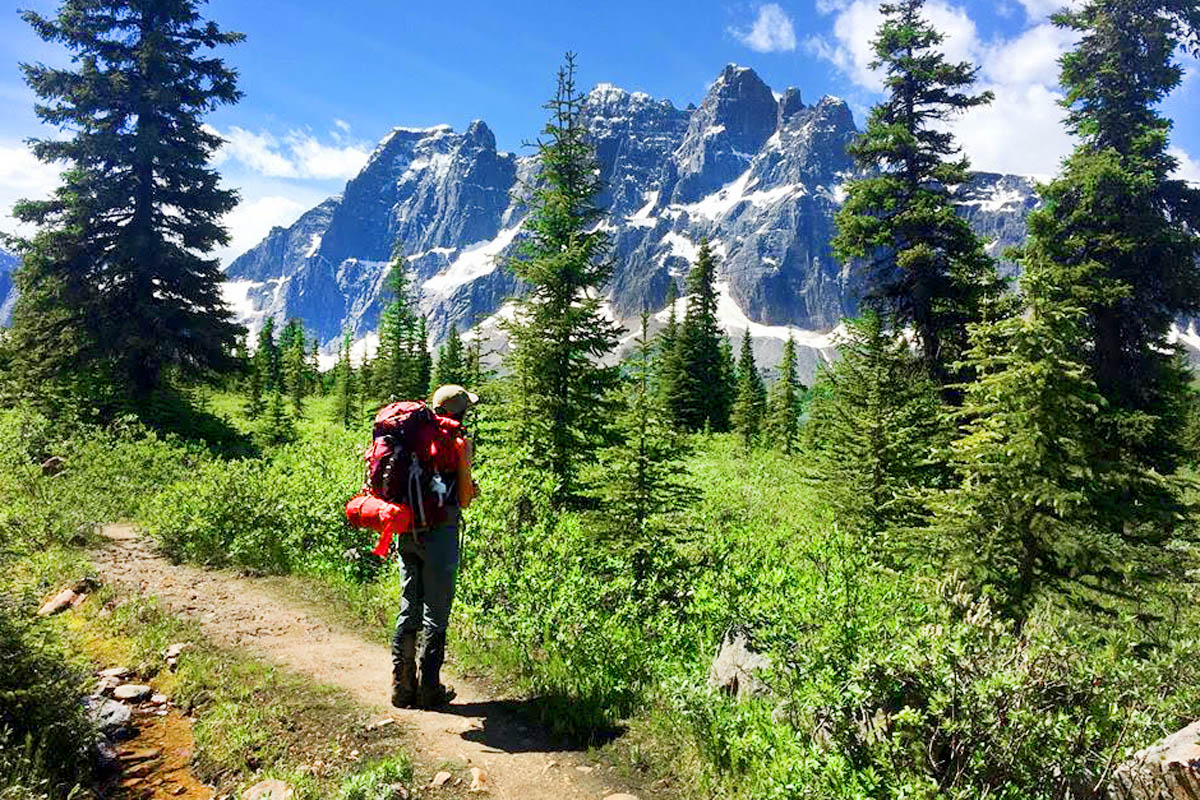 Gillian Spencer has grown up knowing the physical and mental benefits of getting outside. Give her an excuse to get outdoors and she's there before you've finished your words.
The third-year Natural Resource Science student has found out during her summer job with BC Parks Foundation, many people don't share her enthusiasm.
Instead of walking away from those people, she is walking toward them.
Having the title of Community Engagement, Spencer is part of a team assigned to increase the number of visitors—young people and families in particular—to BC's parks. The team are moving toward a bigger foundation goal: for BC to have the most active, diverse, and innovative community of parks supporters per capita of any jurisdiction in the world. Residents will work collaboratively with the government to create a system of parks that are the most revered in the world.
That's one heck of a peak to climb, yet manageable when it's approached one step at a time. Or a Big Hairy Audacious Goal as the foundation calls it.
"The statistics in Canada right now are that children and young adults spend around 7-10 hours a day sedentary—that could be on their phones, watching tv, or on computers. BC Parks Foundation is trying to change this concerning trend by making it easier for people to get outside, which is exciting to be a part of," said Spencer, who is from Kamloops and learned of the job through an NRS faculty member. "If people don't have happy memories of themselves in nature, then why would they care enough to protect outdoor spaces or want to become environmental stewards?"
Spencer will continue working through the school year on a part-time basis, which will allow her to continue advancing projects like Discover Trails and Outside & Unplugged Walk. Discover Trails is an interactive network of trails in BC Parks and is expected to start in the new year.
"I'll be working on everything like designing the trails, creating the website and finalizing all the details for the pilot trails to launch in the spring."
Outside & Unplugged Walk coincided with BC Parks Day on July 21 and proved to be a bigger learning exercise than expected. She learned perseverance and to redefine the words success and failure.
"I spent a couple weeks calling medical clinics to invite the physicians, which was slightly discouraging at times," Spencer said. "I called over 200 clinics and only 31 registered; however, seeing it all come together and the excitement of those who participated made it all feel worth it, especially with an event that required participants to volunteer their free time."
What started out as a summer job has proven to be more than just a way to earn money. Not only has she used what was taught in class, she has worked on projects that have impacted people in tangible, positive ways. Spencer has met people who can help her and people she can help in return. And perhaps best of all, she has found her path.
"I have a clearer idea of where I want my career to go. There is an overwhelming amount of research supporting the benefits of people getting outside for their mental and physical health. I always knew that first-hand because I had a lot of opportunities to go outside throughout my childhood and I continue to do that today; however, not everybody has those opportunities. This job and the passionate people I work with have helped me realize that I want to educate people on how important it is to be in nature and find ways to make it easier for them to do that."