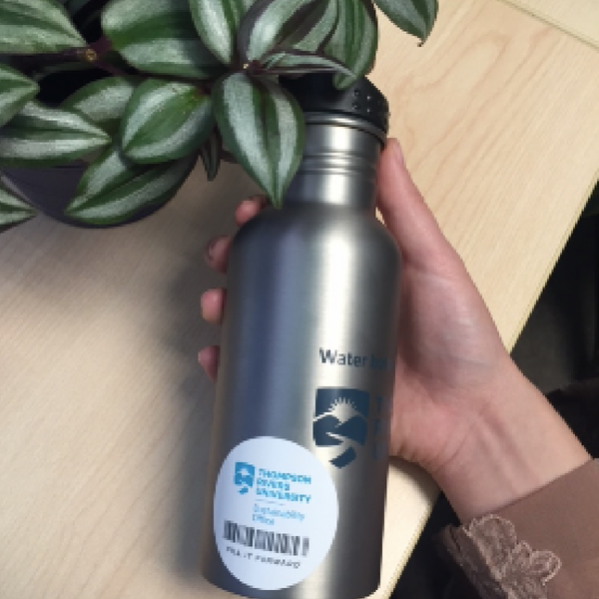 It's time to start reusing with the TRU Fill it Forward Programs!
As of July 4th, 2018 TRU has three Fill it Forward programs running:
1) Water refill program
2) Hot beverages reuse program
3) Coffee rewards program
Connect your reusable mug, cup, or bottle with your smart phone to Fill it ForwardTM, track your reuse, and work towards rewards.
What is Fill it Forward?
An innovated program that lets you tangibly see the impact YOU have as an individual on the environment by using reusable beverage containers rather than single-use cups. Fill it ForwardTM is a Canadian born movement that links your beverage container to an interactive app experience that you download onto your phone. Every time you refill your bottle, cup, or mug you scan your Fill it Forward tag and a cup of water is donated to a water charity project through the organization WaterAid on your behalf! In addition, with every reuse, you will be entered into draws for sweet prizes, and have the opportunity to work toward free beverages at select coffee shops on campus! Intrigued, excited, and enthused? We definitely are!
Water Program
Identified by TEAL tags. Stick a tag on your water bottle and scan it every time you refill your bottle! Water will be donated to charity with every scan and you will be entered into a weekly draw prize for a $20 TRU Food Services gift card through the Sustainability Office.
Hot Beverage Program
Identified by DARK BLUE tags. Stick one of these tags on your favourite mug that you fill up with tea or coffee and scan the tag every time you enjoy a hot beverage! When you scan your dark blue tag you are entered into a weekly draw for a $20 TRU Food Services gift card through the Sustainability Office
Where to find teal and blue tags:
Currently, there is a dispenser at these major water refill stations on campus:
AE 2nd floor by stairs
HOL 1st floor
IB 1st floor
Main Library 1st floor
Old Main 1st floor, 2nd floor
Faculty of Law / 3rd floor of Old Main
Science 2nd floor
Clock Tower 2nd floor
Coffee Rewards Program
TRU Food Services is happy to get on board with Fill it Forward! As an extra incentive, the coffee shop in the Trades building, Trades Café, will reward you with points on the app by using your reusable mug. Use your Fill it Forward app to scan the Trades Café unique barcode and after 10 coffee purchases at their location, they will give you a coffee for free! Stay tuned for more locations offering this redemption in the Fall!
Let's get Started!
STEP 1: Grab a tag (teal for water bottles, dark blue for hot beverages)
STEP 2: Put the tag on the bottle you will use for that respective program
STEP 3: Download the Fill it Forward app from an app store Apple App Store Google Play
STEP 4: Start donating water by scanning the tags with the Fill it Forward app every time you refill!
Restrictions?
There is a 30 minute cool down period between scans to prevent misuse of the program. The app will let you know when you can scan again! The maximum number of scans per day is 10. For the Coffee Rewards Program, the Lug a Mug discount does not apply.
For more information on the TRU Fill it forward program click here.
Want to get involved or have questions? Contact:
Melina Smith
Project Coordinator
mesmith@tru.ca