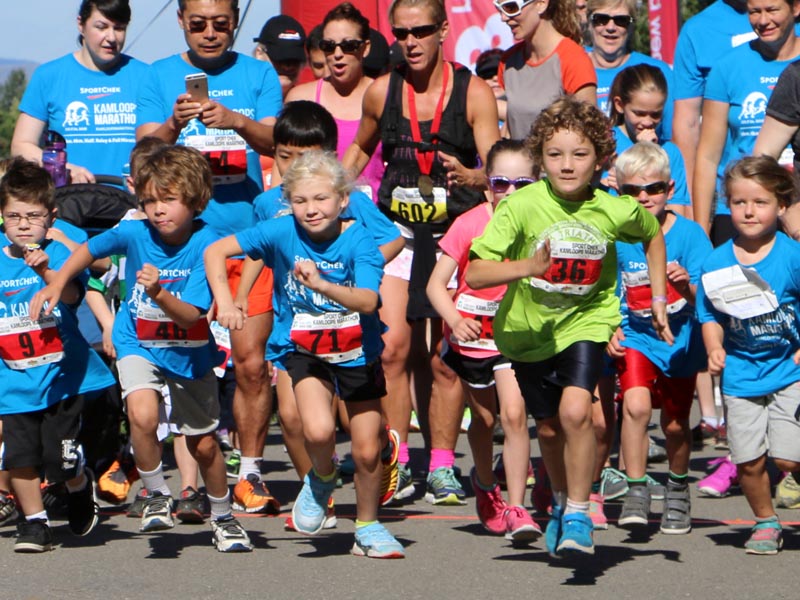 Hear those fast-approaching footsteps behind you? They're the SportChek Kamloops Marathon gaining momentum and about to pull up alongside you.
This year's event is July 22 and made up of four different distances and five races all together. Registrations are pouring in and the final count is likely to pass 400 and possibly reach 500 when the final one is received. And that's good news for the TRU WolfPack cross-country running team which, along with the Canadian Tire Jump Start program, receives a portion of the entry fees. The WolfPack could see between $5,000 and $7,000.
Things are rolling as they should be and that has organizers breathing easy, especially after the 2017 event was cancelled because of factors related to the nearby wildfires.
"We've picked up from where we left off last year and we're looking forward to a successful 2018 event," said race director Charlie Bruce of this year's lineup of a full marathon (42.2K), half marathon (21.1K), 8K, 3K and marathon relay (four legs of about 10K each). The full marathon is once again a qualifier for the Boston Marathon.
All participants receive a finishers medal, a pancake breakfast and long-lasting memories.
Don't have to run
You don't have to be a runner to experience the excitement of race day. You can walk the shorter distances or try your own version of speed walking.
Volunteer
There's also plenty of volunteer opportunities, including directing runners as a course marshal, serving water at aid stations, setting up and tearing down and more. Volunteer by yourself or wrangle a group of friends together. Dress up in novelty costumes and turn the day into an event of your own.
Cheering section
Prefer to do your part by cheering on participants somewhere along the route? That's appreciated, too. Feel free to make a sign, and here are some suggestions.