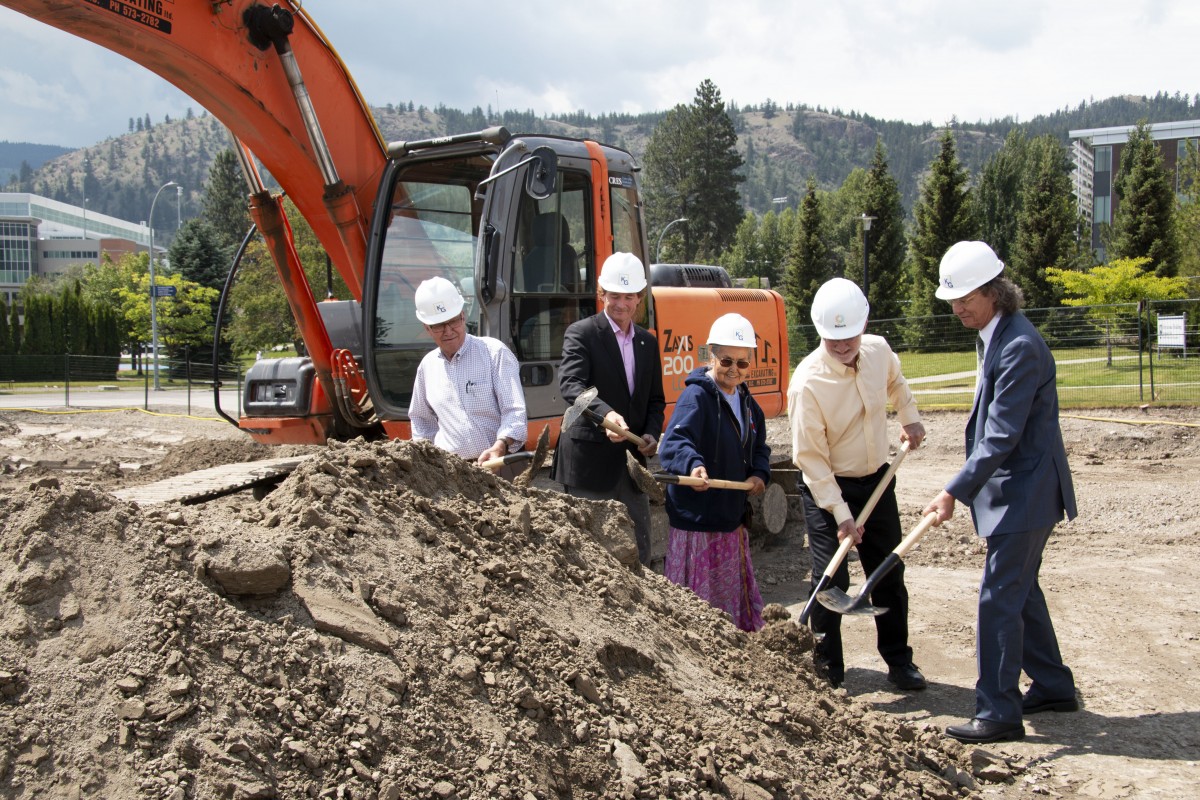 Ground broke Friday on the second building of the university's on-campus neighbourhood community, The Reach.
Kamloops-based developer Kelson Group is constructing Legacy Square, a five-storey, 77-apartment project being erected on the north side of TRU's Old Main building, with completion expected in late 2019.
"We are thrilled to officially break ground on our newest project, Legacy Square," said Ron Fawcett, Kelson Group founder and president.
Legacy Square is located next to Creston House, the first building in the masterplan of The Reach. Creston House began construction last fall and will consist of privately owned condominiums.
The Reach will consist of residential and commercial buildings spanning 90 acres on the TRU grounds. It is overseen by the Thompson Rivers University Community Trust, which is kept arm's length from the university itself. Funds from various construction projects with The Reach will go toward funding research and student support.
"This is a unique partnership for us to be building a project at TRU. We saw the vision the team at Thompson Rivers University Community Trust had for a 90-acre master planned development and put forth our development proposal. Today signifies an exciting new chapter for our Kamloops-based company because we know well how important our university is to this community and look forward to being a part of its continued success," Fawcett said.
The Reach is the first university neighbourhood of its kind in the BC Interior. Similar projects have been created at UBC and Simon Fraser University in Vancouver.
"Today we have taken another step forward toward creating a vibrant campus where people not only learn and work, but where they can live 24/7," said Alan Shaver, TRU president and vice-chancellor.
"Additionally, this project is already benefitting our university through $1.8 million received from the long-term land lease, money which will support student bursaries, scholarships and research activities well into the future."
Kelson Group has numerous other properties in Kamloops that it manages or developed. Vice-president of operations Jason Fawcett said the idea that The Reach returns funds to support university initiatives meshed with the company's values.
"TRU is an important part of Kamloops and we are excited to have the opportunity to contribute to its growth by developing Legacy Square, our beautiful new rental building in the heart of the TRU campus," he said.
TRU Community Trust chief executive officer Finlay Sinclair said Kelson Group has deep roots and years of investment in the community. That made the company an ideal partner in The Reach, he said.
Trust board chair Brian Ross said momentum is growing while students and university initatives are already benefiting.
"It is our goal to help TRU realize their campus master plan through responsible development," said Ross.