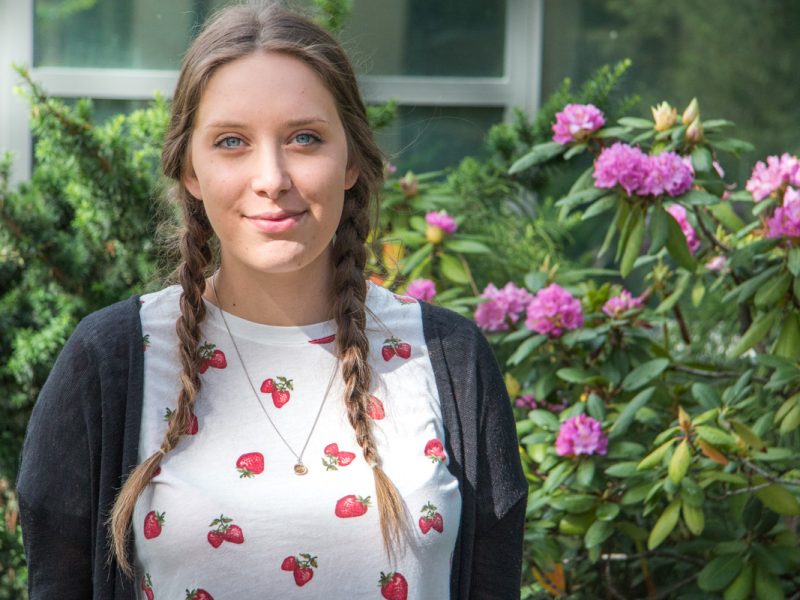 TRU was the place to 'bee' on Thursday, May 31, when the campus was visited by Shelley Candel, the director of Bee City Canada, on her tour of Kamloops.
Kamloops is one of 15 Bee Cities across the country and became the first Bee City in British Columbia in 2017, which means it has pledged to plant bee-friendly flowers that encourage pollination, increase green spaces and other initiatives throughout the city.
Candel was excited with what she saw on the TRU campus when visiting the beehives and even mentioned the potential of TRU becoming the first "Bee Campus" in Canada.
"When we can learn to take care of the bees we learn to take care of ourselves, for our future for our children and generations to come," said Candel.
TRU is contributing to the city's bee-friendly efforts by hosting the Kamloops Bee Club's beehives on campus as well as the TRU Eco Club's plans for a bee-friendly garden (near the Ken Lepin building) which is being funded by the TRU Sustainability Grant Fund. Alongside these projects, last summer, TRU student Aneka Battel studied bees with funding from the Undergraduate Research Award Program (UREAP).
"Studying bees is important because they are responsible for the food we eat, and the native bees here are a critical ecosystem service," Battel said. "If there are many different types of pollinators, that is an indication that there are many different types of plants which provide food and homes for other organisms. It's all connected."
Battel studies ecology and environmental biology. For her research, she joined a project run by the Thompson Shuswap Master Gardeners Association in Kamloops to research and compare the variances in pollinator abundance in natural and cultivated areas throughout the city. She presented her research findings at the Undergraduate Research Conference this past March and is writing her thesis on the subject.
On the fence about doing research?
Battel's advice for students considering doing the UREAP program is to "just do it," as it is an amazing opportunity to do research at the undergraduate level. She also mentioned that to be eligible for the program you do not need a perfect grade point average, so it is an accessible program for many.
Her last piece of advice is picking a faculty advisor you are comfortable with, as they are the person you go to for questions and support during your research.
One of Battel's favourite parts of her UREAP experience was spending her summer outdoors collaborating with gardeners from the community, and her faculty mentor Lyn Baldwin of the biological sciences department at TRU. She also had opportunities to tell people about her research and why bees are important, not only in the science community, but to everyone.
UREAP deadline for fall 2018
The next deadline for UREAP applications is October 12, 2018, and more information can be found on the Undergraduate Research Experience Reward Program page.