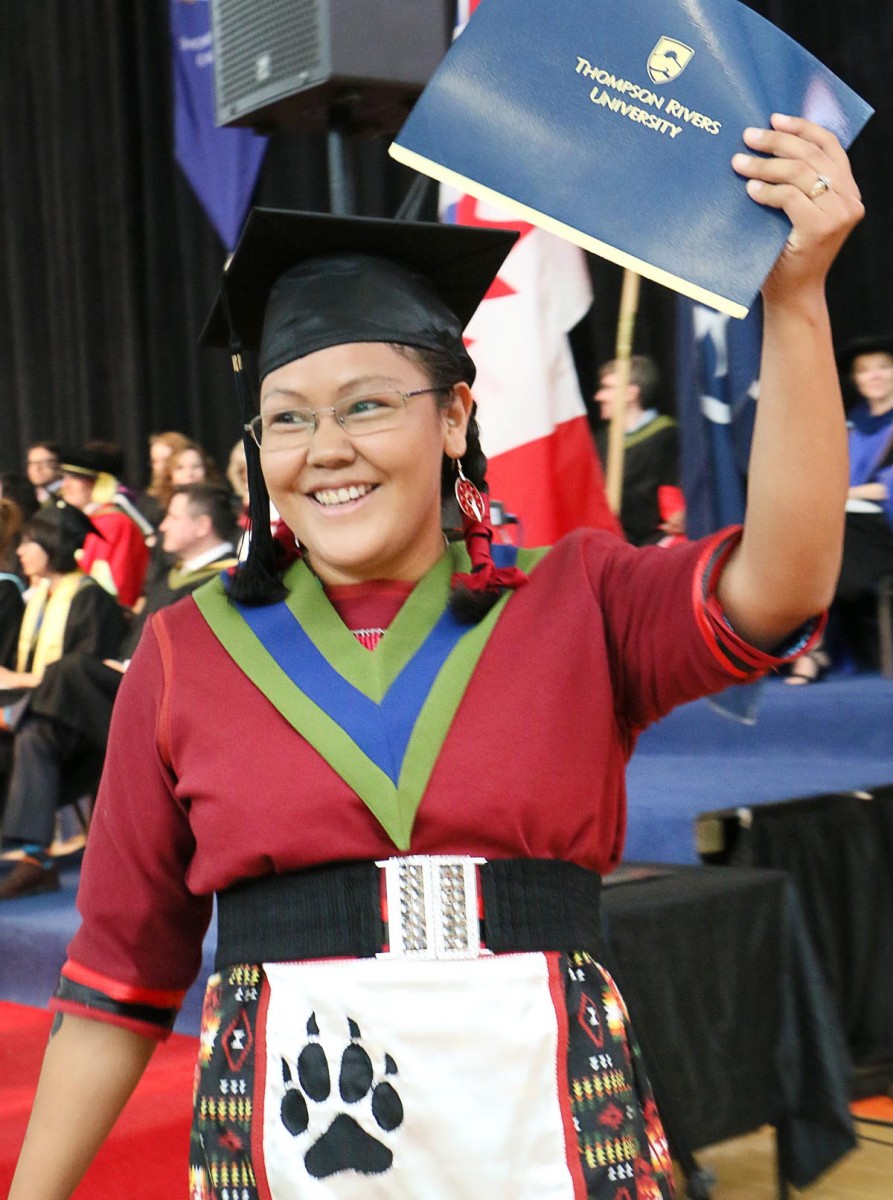 Congratulations #TRUgrad, you did it!
Spring Convocation 2018 is June 6-8 at the Tournament Capital Centre and is our biggest celebration of the year.
It is a time to pause and applaud the hard work you put in toward completing certificates, diplomas, undergraduate degrees, post-baccalaureates and graduate degrees offered by TRU. This is a time to reflect on the journey taken—the ups, downs, sacrifices and triumphs—just to reach this moment.
ceremonies schedule watch live online parking information
Whew. Can we say it again? Congratulations.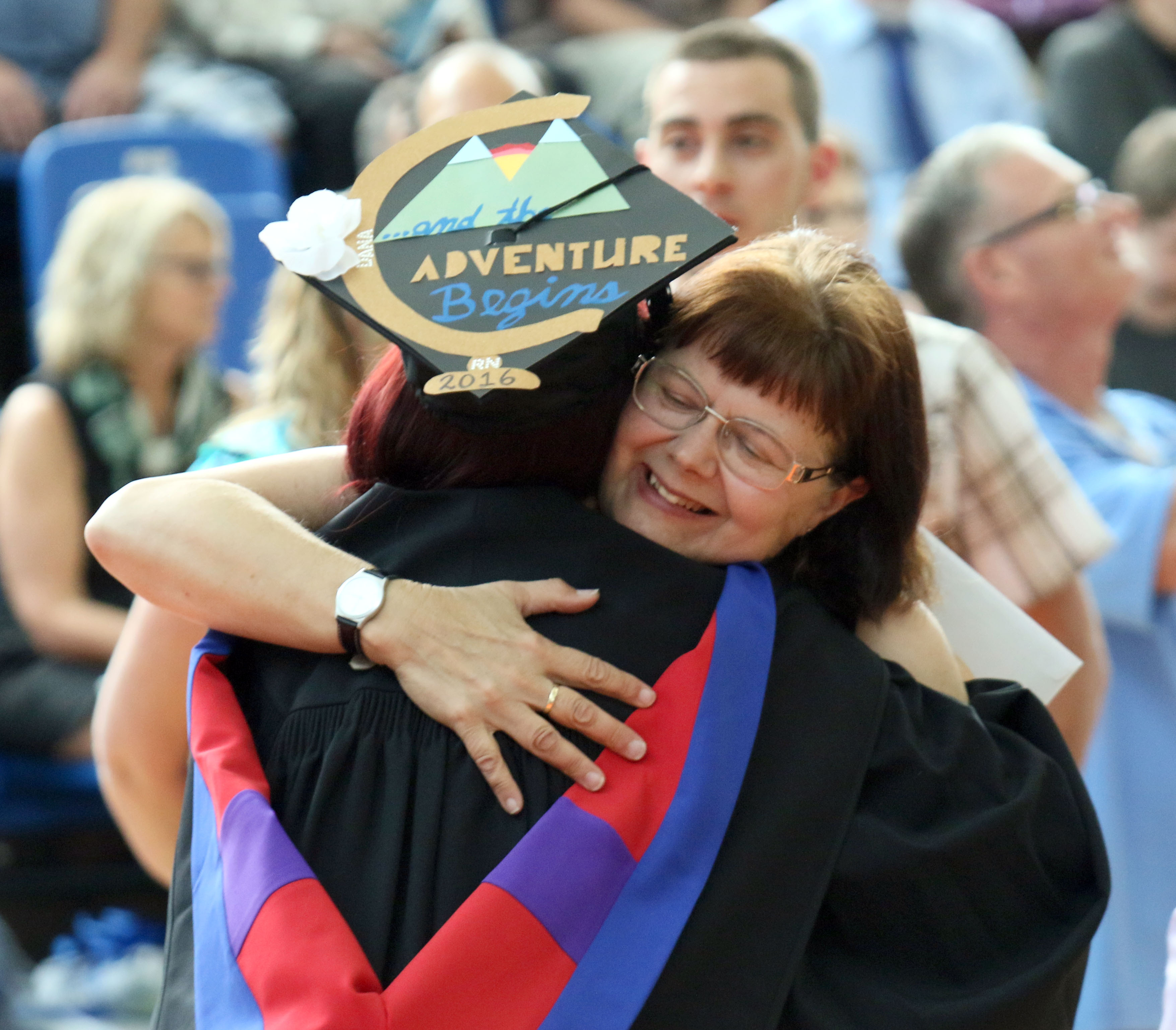 While you take time to look back, this is also a time to look forward. How will you use the opportunities and possibilities that have been created because of your education? How will you use your acquired skills, knowledge and new contacts to make your mark in the world? To make an impact? Change lives?
During this time, take the moments for handshakes, hugs, fist bumps, selfies, laughs and remember to extend thank-yous to those who supported you along the way.
Well done, congratulations and stay in touch through TRU's Alumni and Friends Association. We would love to know how you are doing and what you are up to.
We can't say it enough: congratulations.
---
What follows is a numbers look at Spring Convocation 2018.
1,240
have applied to cross the stage and receive their credentials.
70 +
programs with one or more graduates
2,000 +
family and friends attending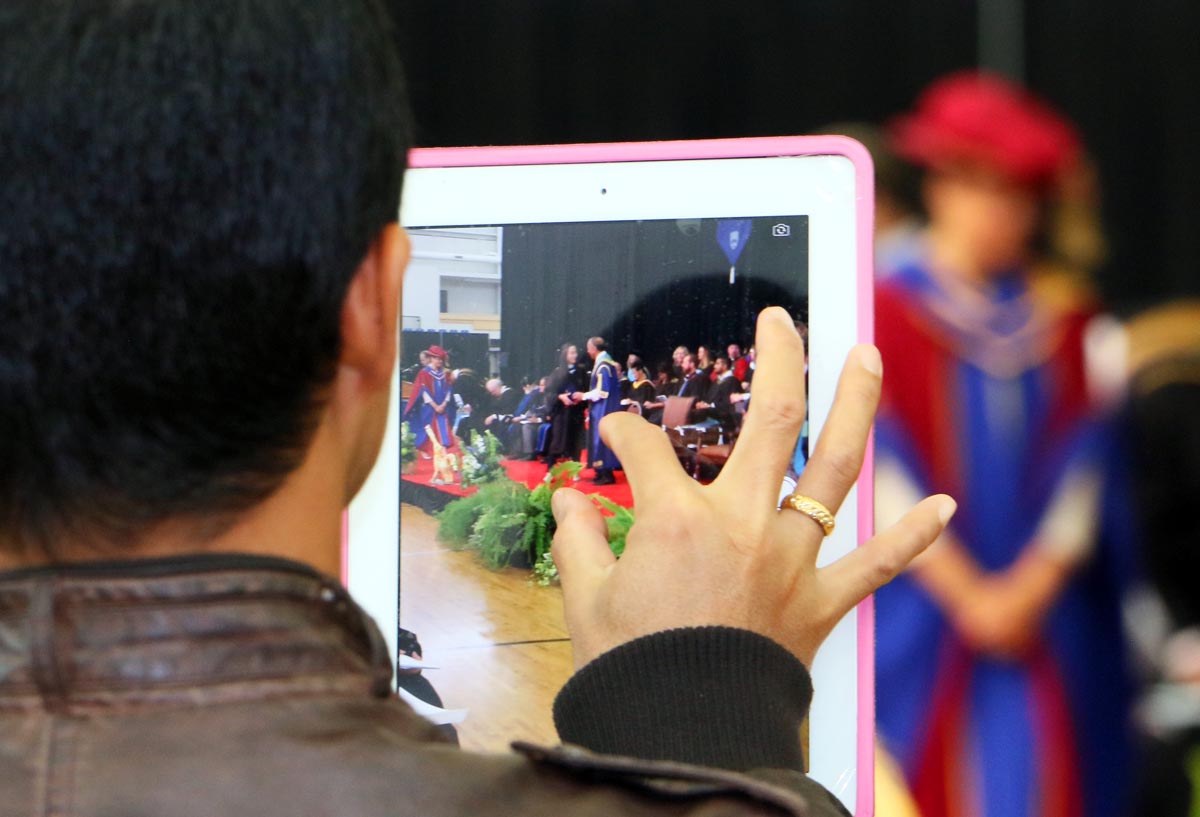 1
way to watch all ceremonies over the internet. The ceremonies will also be archived.
1
graduation social media hashtag: #TRUgrad
6
ceremonies. One at 10 a.m. and another at 2 p.m. on each of the three days of June 6, 7, 8.
50 +
TRU employees assisting behind the scenes and in front, from setting up the stage and seating to greeting, gowning, ushering, presenting credentials and more.
6
valedictorians. They are, in alphabetical order by last name:
Evan Choy—for the School of Business and Economics. Watch a video.
Benjamin Froese—for the Faculty of Arts ceremony. Watch a video.
Lavraj Lidher—for the Faculty of Science. Watch a video.
Becca Peters—for the combined ceremony for the School of Trades and Technology and the School of Nursing. Watch a video.
Steven Shergill—for the Faculty of Law
Anastasia Silina—for the combined ceremony for the Faculty of Adventure, Culinary Arts and Tourism and Faculty of Education and Social Work. Watch a video.
22
medal winners. They are, in alphabetical order by last name:
Samantha Bauche-Balan (Lieutenant-Governor's Medal)

Danielle Ching (Law Society of British Columbia Gold Medal, tie)

Danielle Choptian (TRU Medal in Social Work)

Kathleen (Kathy) Cruz (TRU Medal in Education)

Jonathan Davis (TRU Medal in Interdisciplinary Studies)
Hilary Hamilton (Governor General's Gold Medal)
Matthew Hannay (TRU Medal in Commerce)

Brandon Harrison (Law Society of British Columbia Gold Medal, tie)

Madelaine Jamieson (TRU Medal in Tourism Management)
Britt Langereis (TRU Medal in General Studies)
Tanna Lauriente (Governor General's Silver Medal and Medal in Science)
Valerie Law (TRU Medal in Natural Resource Science)
Hanna Lowing (TRU Medal in Nursing)
Martin McFarlane (TRU Medal in Journalism)
Jonathan Naslund (Governor Generals Collegiate Bronze)
Rose Prevost (TRU Medal in Fine Arts)
Marcus Randt (TRU Medal in Business Administration), Hanna Lowing (TRU Medal in Nursing)
Gaudenzio Volpe (TRU Medal in Technology)
Russel Walton (TRU Medal in Computing Science)
Alexis Wilson (TRU Medal in Arts)
Megan Wyszynski (TRU Medal in Health Science)
6
honorary degrees. Find out who they are.
1
installation of a new chancellor. Nathan Matthew has been appointed the third chancellor in TRU's history.
2
emeriti distinctions. One to Professor Emerita, Dr. Jeanette Robertson and another to Chancellor Emeritus, the Honourable Wally Oppal, QC.
---
Chancellor's Welcome
The following message was created for the printed program that will be available at each ceremony.
Congratulations, graduates. Welcome families, friends, and guests.
Today, the graduating class of 2018 celebrates all they've achieved during their time at Thompson Rivers University. Many will be embarking on new careers and new experiences, on further scholarship and grand adventures.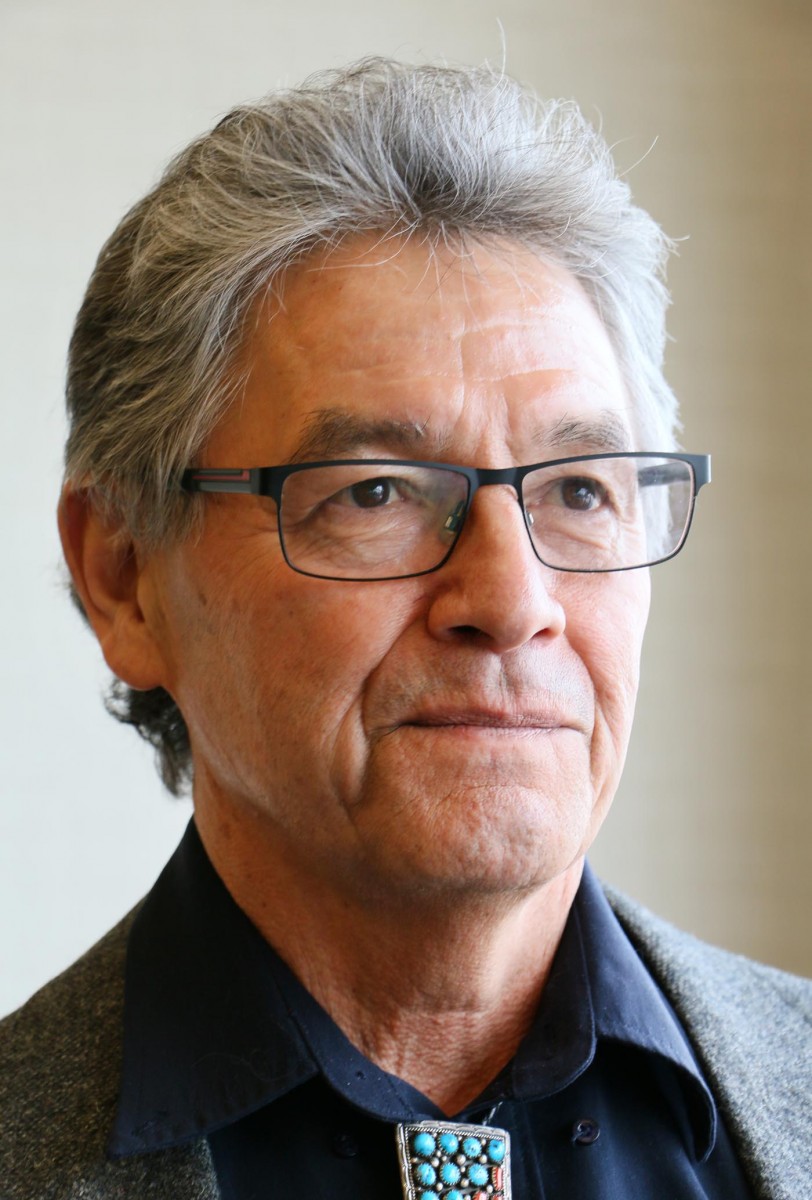 You are all beginning a new journey, one that will be forever informed by your education and experiences here.
As a graduate, you will take the diversity of opinion and ideas sparked by your education to your workplace, to your community and to your country. Be mindful of the skills and knowledge you've achieved and the values you share with the world–it will influence the people around you.
Today is a day to celebrate all you've achieved with your family and friends. You've worked hard. As you prepare for the next stage, take a moment to reflect on how far you've come, and where you want to go next. Pursue your passions. Commit to lifelong learning.
Thompson Rivers University is your alma mater, and will remain a place of engagement, of learning, and of connection,
regardless of where you go. You are a member of the TRU family. Stay in touch.
Again, congratulations. I wish you all the best on your future endeavours.
Nathan Matthew
Chancellor
Thompson Rivers University
---
President's Welcome
The following message was created for the printed program that will be available at each ceremony.
Welcome graduates. Today, with family, friends, faculty and staff, we celebrate our students' academic and professional milestones. Congratulations to each of you for successfully reaching your academics goals.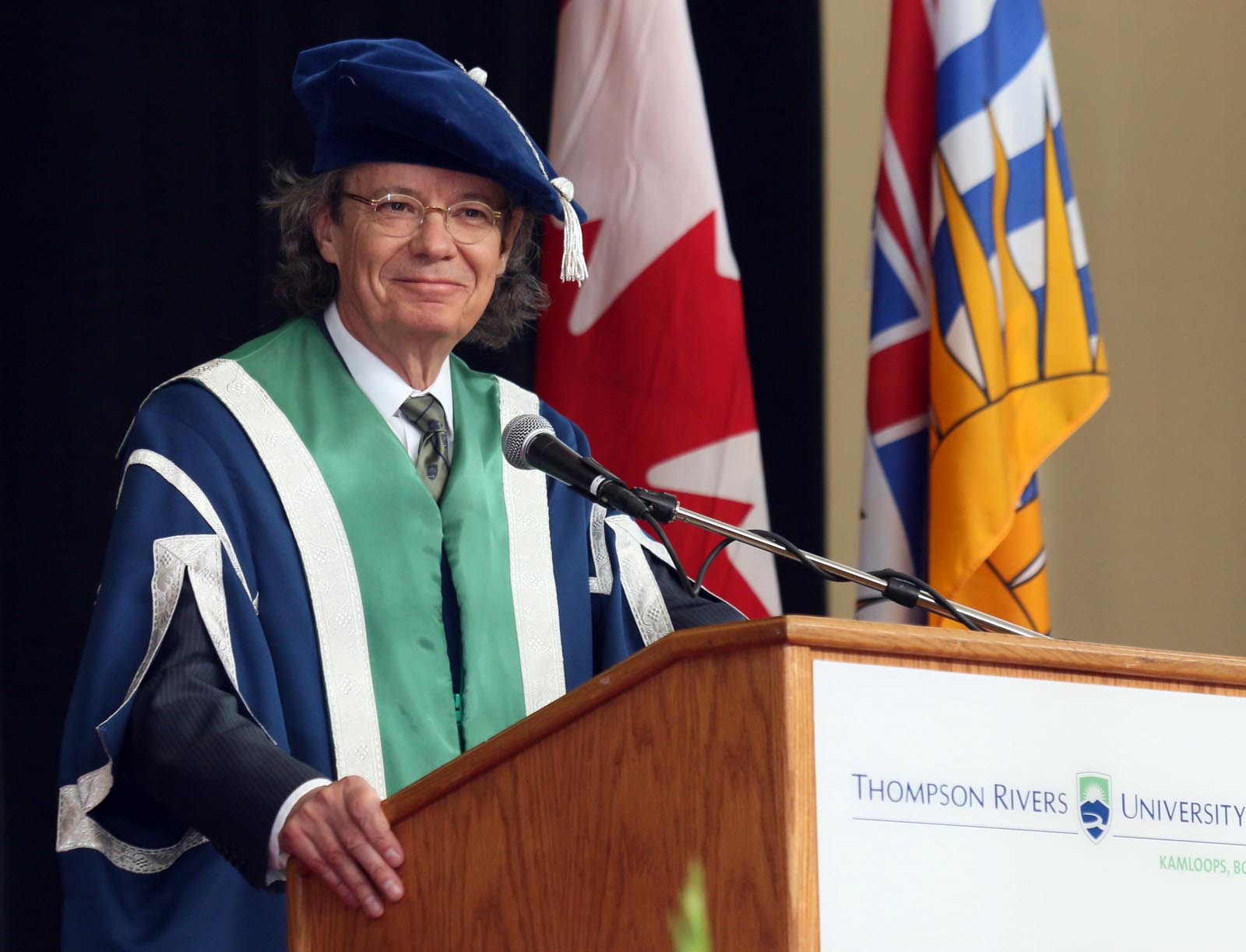 At TRU, you have embraced opportunities for learning, service and leadership here in our community or halfway around the globe, ideas, people, challenges and possibilities have inspired you. The support and encouragement of family, friends, faculty and staff have kept you on the path to success.
As you embark on new paths of study, travel, or work in our global community, I encourage you to carry TRU's adventurous spirit and vision with you. Continue to imagine, create, innovate, inspire and lead. As TRU alumni, you will forever remain a member of our university family, representing Thompson Rivers University everywhere you go.
Following the ceremony, I invite you to celebrate with your friends, family, faculty and staff at the reception.
Congratulations, graduates, and best wishes for continued success.
Alan Shaver
President and Vice-Chancellor
Thompson Rivers University