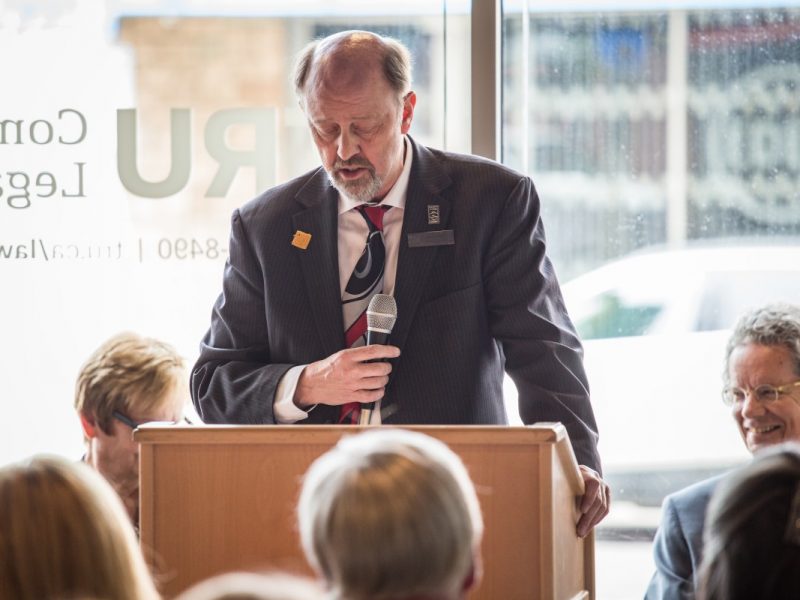 The Thompson Rivers University Community Legal Clinic (TRU CLC) opened a new space in downtown Kamloops today that offers expanded hours to better serve clients in need.
Law students from the TRU Faculty of Law provide legal services to low-income clients under the supervision of staff lawyers. Students get a chance to put into practice what they have learned in class, and people who need help get better access to the justice system.
"The TRU CLC will be a major contributor in helping to fill the immense need for legal assistance for the many, many people who cannot afford to hire a lawyer and are unable to access the limited legal aid funding available," said Brad Morse, dean of the TRU Faculty of Law.
The new clinic is located in the Victoria Landing building in downtown Kamloops, 623 Victoria St. For people taking transit, it is one block south of the Lansdowne transit exchange.
"Our new location, which provides expanded space, staff, students and range of legal services, is centrally located in close proximity to public transit. This will make it far easier for people to access the clinic's help. This would not be possible without significant financial support from The Law Foundation of BC, the Stollery Foundation, TRU, other donors and a very helpful landlord."
The legal clinic is free for clients who meet low-income requirements. In particular, it is aimed at senior citizens, students, minimum-wage earners and people who are out of work. The initial focus of the clinic is residential tenancy and housing issues, especially around people living in condos, mobile homes, seniors' residences, assisted-living homes or trailer parks. Concerns around elder abuse also come under the clinic's umbrella.
The clinic can provide representation for clients at certain tribunals, including the BC Human Rights Tribunal and the Residential Tenancy Branch, and can assist clients on a limited basis for small claims in Provincial Court.
In 2017, the clinic handled 200 files during three semesters. With the new space, the goal for 2018 has been set at 350 files.
TRU CLC is able to assist with various legal issues, including:
residential tenancy
employment standards
small claims (civil claims under $35,000 only)
Civil Resolution Tribunal claims
human rights claims
Clinic students can also draft certain types of legal documents, including:
simple wills where the assets of the client are worth less than $25,000 and do not include real property
powers of attorney
representation agreements
all documents for small claims matters (civil claims under $35,000 only)
TRU CLC is not able to represent clients in certain legal areas, including family law issues or divorce, criminal cases, business and commercial law, real estate and strata matters, personal injury claims, issues arising from unionized employment, probate or administrative matters, any matters within the jurisdiction of the British Columbia Supreme Court or Court of Appeal and complaints against dentists, doctors, lawyers or TRU.
Clinic hours
Hours are 9 a.m. to 4 p.m. weekdays when classes are in session at TRU. Please call 778-471-8490 to book an appointment.
The clinic is also open on a drop-in basis most Mondays from 6 to 9 p.m. No appointment is necessary, but please call ahead to confirm the clinic is open. There are no drop-in hours in April, August or December.
TRU CLC is a non-profit society funded by grants from The Law Foundation of British Columbia and the Stollery Charitable Foundation, an anonymous donor, the United Way of Thompson Nicola Cariboo Region and by contributions from TRU. Support has also been received from by Farris LLP in Vancouver and the Law Society of British Columbia.