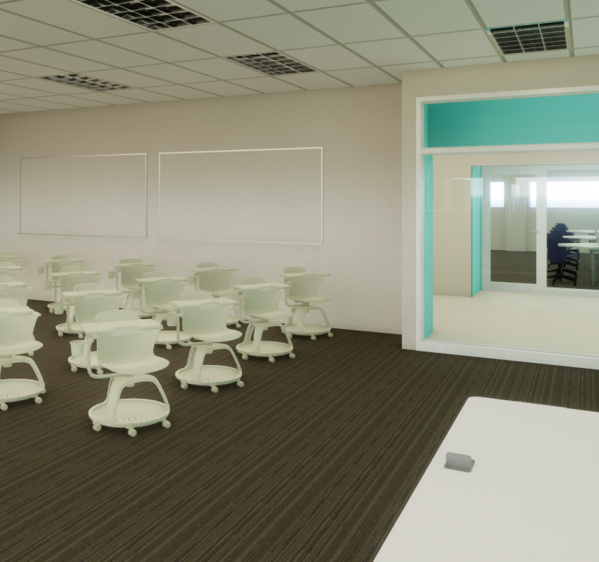 Students coming to campus at Thompson Rivers University (TRU) in September will find parts of Old Main made new. More than half of the classrooms on the second floor will have undergone a complete modernization over the summer as part of a $5-million revitalization project for the building's first and second floors.
"Old Main represents our first building and the heart of our campus. It's where our former Cariboo College took up permanent residence more than four decades ago, and is a strong part of what we are today," said Alan Shaver, TRU's president and vice-chancellor, noting the building still accommodates nearly half of all classroom space on campus.
Students will see a significant change in classrooms when work is complete, not only with new flooring and paint, but with how the rooms themselves are configured.
"Most of the classrooms are laid out in a traditional fashion, with parallel rows of tables facing the teaching space. Learning and teaching delivery styles have changed, and our redesigned classrooms will reflect this," said Christine Bovis-Cnossen, TRU's provost and vice-president academic, who added that room design is being influenced by consultations with students and faculty.
Rather than rows of tables, classrooms may have various seating arrangements to encourage collaborative and active learning as well as student engagement.
Each room will be outfitted with new furniture; upgraded infrastructure such as improved lighting and additional electrical outlets to support laptop use; and, in some cases, updated multimedia capabilities. To enhance the overall learning environment, improved soundproofing will be in place between classrooms, glass alcove entrances will allow natural light to filter into hallways and a common colour and material palette will be used throughout the two floors.
The revitalization project gave TRU the chance to consider the full layout of the floors, resulting in the creation of two additional classrooms.
"By reconfiguring space to better match student numbers and need, we will have a total 28 classrooms that will essentially be brand new," said Matt Milovick, vice-president of administration and finance, adding that washrooms, corridors and some support spaces will also undergo substantial upgrades.
The renovation project takes place over four phases, with completion expected in March 2019. Given the duration and phasing of the project, some classes will be accommodated through portable classrooms from September 2018 to March 2019.