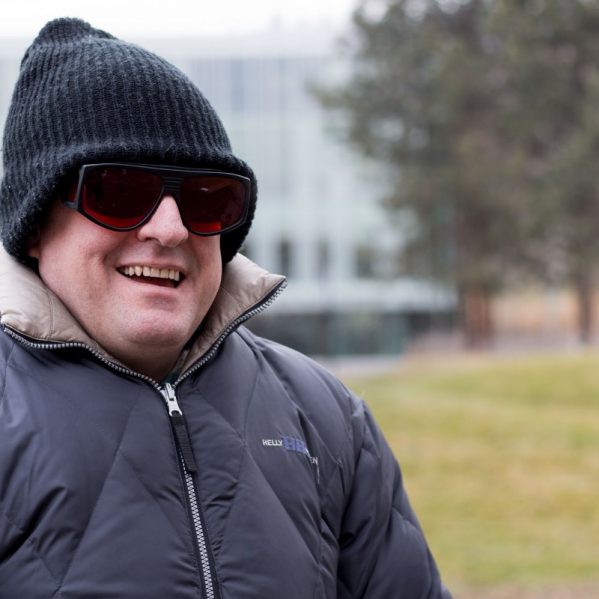 What do you get when you take a legally-blind writer, a tourist from the UK and someone with a keen interest in getting to know their classmates?
Paul Millross, has been having a lovely time at TRU this year.
Coming to Canada, for the first time in his life—Millross is a mature student who also happens to be visually impaired—and he's ready to try everything.
Millross decided to look into the agreement his university had with TRU when a tutor at his home institution, The University of Chichester, was singing the praises of TRU in Kamloops, BC.
He chose to take a leap of faith and venture to another school for his second year of a three-year degree when the exchange was made easy.
As soon as the process of applying and registering began, he was able to have open-dialogue with disability services here at TRU.
"They had a 'yes first' and figure it out later attitude," said Millross.
"TRU is a very accessible place, I'm so thankful because this whole experience has been about 'us', not just 'me' or just 'you.' "
Beyond campus life, challenges with blindness have been eased by his homestay and new friends.
The Canadian National Institute For the Blind gave his hosts tips for living with a visually impaired person. They went so far as to rearrange furniture in their house.
"My homestay host gave me a tour of my bus route and BC Transit has been great for getting around the city."
Simple things like going to a Kamloops Blazers hockey game and being given headphones to listen to the commentators while sitting in the rink, have been thoughtful additions to his experiences, and have made all the difference.
In class, he's also been able to give back. On many occasions he has shared his typed notes with students who were absent.
"Faculty and staff ask me, what can be done to improve my experience, but honestly, everything is perfect."
Faculty have been accommodating with sending their PowerPoint slides ahead of time and allowing the class to be recorded.
"Paul brought to my creative writing classes a mature, considered international perspective, along with a dry sense of humour," said, George Johnson, arts faculty member. "Students were enlightened by his play about the Brexit decision."  
Millross loves writing in almost any style, unsurprisingly, his work is filled with the senses.
One of the causes he advocates for is that audiobooks be released at the same time as the hard cover version.
Often it's not until well after the soft cover version is released that an audio version is available.
"People associate audio with those who don't want to read, but there is a whole group of people who want the audio version because they simply cannot read for lack of sight," he explained.
He'll be returning to the University of Chichester for his final year, but plans to visit Canada again soon.
Before Millross jumped back into post-secondary, he was a ceremonies registrar, marrying people. He's no stranger to adventure and changing direction.