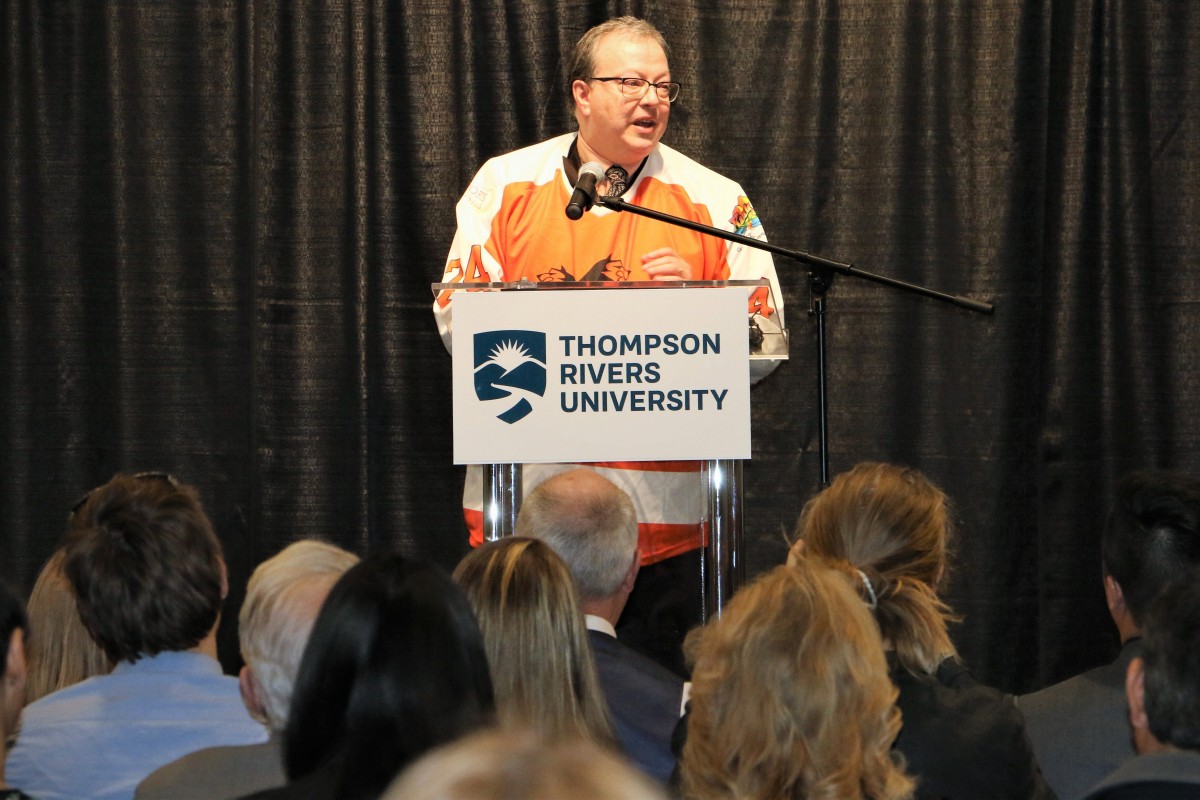 Thompson Rivers University has announced Dr. Brett Fairbairn as its next president and vice-chancellor.
Fairbairn is a distinguished academic who has taught and conducted research at the University of Saskatchewan for over 30 years. He is a Rhodes scholar, a Fellow of the Alexander von Humboldt Foundation, and has held numerous grants from the Social Sciences and Humanities Research Council of Canada. During his time at the U of S, Fairbairn held increasingly senior leadership positions including provost and vice-president academic, head of the department of history and director of the Centre for the Study of Co-operatives. He currently teaches at Saskatchewan's Johnson Shoyama Graduate School of Public Policy.
"We are absolutely thrilled to welcome Dr. Fairbairn to TRU and to the Kamloops region," said Jim Thomson, chair of the university's board of governors, in making the announcement at an event at TRU's Grand Hall today.
"Dr. Fairbairn brings a depth of experience in academics, strategic leadership, relationship development and a strong value system of integrity, respect and accountability, added with a good measure of passion," said Thomson, noting these were all key attributes the presidential search committee was looking for when it began recruitment last fall.
Thomson said the 16-member committee, representing a wide range of TRU stakeholders including faculty, staff, students, alumni, Indigenous, TRU World and Open Learning, was unanimous in its endorsement of Fairbairn after a lengthy process that attracted 41 candidates.
"I'm excited to be joining a university that is defining a new path, and that is different than other universities with its range of programs, open learning and strong connections with its local communities," said Fairbairn who travelled from Saskatchewan to attend today's announcement.
"The most important part of this role, and what attracted me the most, is building relationships—with students, faculty, staff, and our Indigenous and broader communities," he added, saying he looks forward to being a "partnership-maker, relationship-builder."
Fairbairn's academic work has focused on the history and interdisciplinary study of democracy, social movements and co-operative enterprises in Canada and around the world. His recent teaching and research have focused on organizational governance and leadership. A strong believer in community-based research, Fairbairn has more than 80 publications, which are a mix of scholarly and community-oriented writings.
As a proponent of active citizenship, Fairbairn has served in voluntary leadership roles. This includes chair of the Saskatchewan Academic Health Sciences Network and chair of the Saskatchewan Archives Board. For his university and public contributions, Fairbairn was awarded the Queen's Golden Jubilee Medal in 2002. He holds a Bachelor of Arts from the U of S, a Bachelor of Arts (Honours first class) from the University of Oxford and a doctorate also from Oxford, which he attended on a Rhodes scholarship.
Fairbairn will officially become TRU's president and vice-chancellor on Dec. 1. Current President and Vice-Chancellor Alan Shaver will continue to lead the university until he steps down on Aug. 31, at which time current Provost and Vice-President Academic Dr. Christine Bovis-Cnossen will serve as interim president until Fairbairn's arrival.