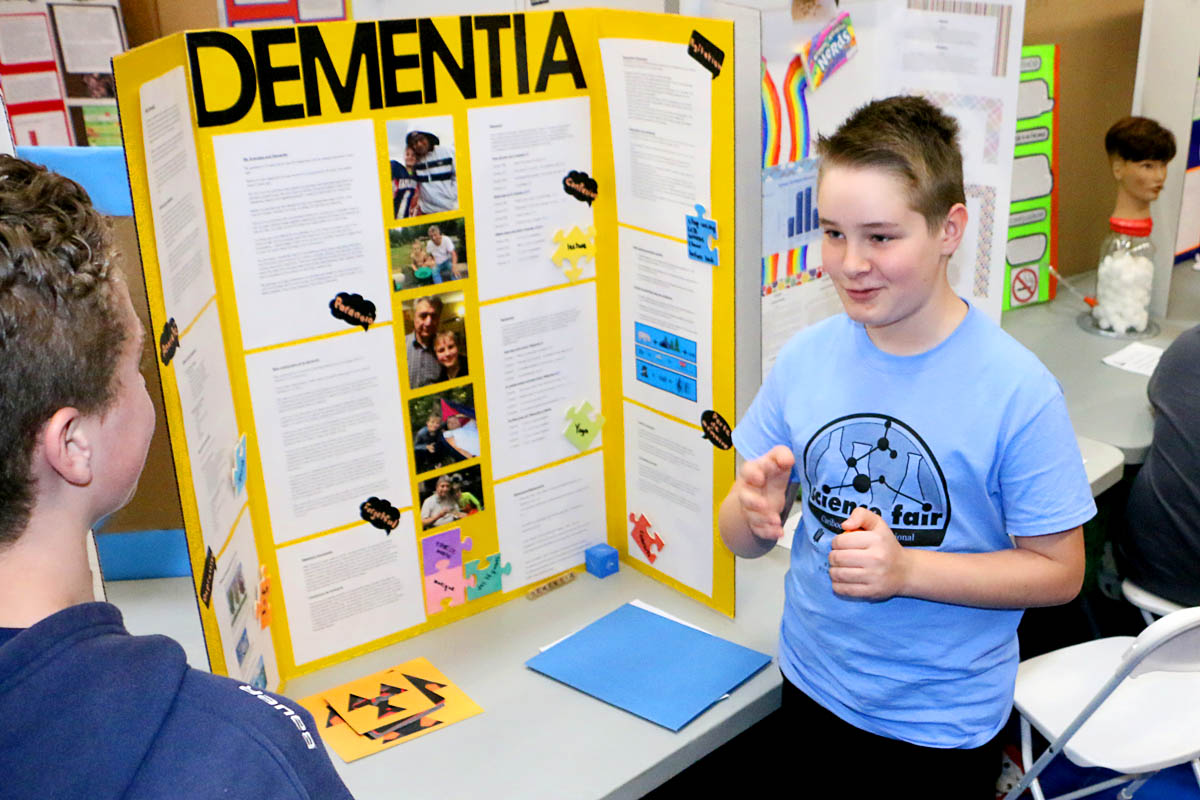 Discovery and understanding are at the heart of science and are reached by constantly asking questions—questions such as How? Why? What if? 
Judging from the more than 200 research projects displayed in the TRU gym last week during the Cariboo Mainline Regional Science Fair for elementary and high school students, we're in good hands and a lot more discovery and understanding is to come. The fair is a partnership between TRU and School District 73 and was for those in grades 4–12.
"I took a walk through the displays and the imagination, the creativity and the time and the effort that they put into their projects, was amazing to see," said chemistry faculty member Bruno Cinel, who along with TRU student assistants Tyson Bodor and Matt Norman, conducted a chemistry magic show as part of the activities on April 11. "I think it's incredible watching the students and reading about their projects."
In all, 205 students attended the April 9–11 fair and were treated to campus tours, mini classes, the chemistry magic show and an awards ceremony. In exchange, they displayed their research projects that took anywhere from weeks to months to conduct and to complete.
A range of themes surfaced and among them: creating alternative energy from unlikely sources, human behaviour and health, critiques and analyses of an existing situation and demonstrating practical uses for everyday and scientific occurrences.
With the projects, student included readable portions that included an overview of the project, methodology and conclusion. In a number of cases, students included the data they collected.
All projects were judged, with the winners qualifying for the Canada-Wide Science Fair 2018, May 12–19, in Ottawa. Trophies, plaques, scholarships and other prizes were also awarded.
As partners in the fair, about 70 people from TRU—faculty, current students and staff—played a part, whether as judges, tour guides, instructors, or behind the scenes with planning and organizing.
"I think that TRU is a big part of the community and it's great to have the students come up, see what the university is actually about and see what we do," said Cinel. "I hope the students continue to be excited about science and continue to be part of the community just like TRU is."
The fair by the numbers
3

days, April 9–12
205
students in grades 4–12
169

in grades 4–7
36

in grades 8–12
52

mini classes ran throughout the day on April 10
12

mini-class subjects, with the subjects being:

agriculture
biology
computing science
history
math
natural resource science
nursing
physics
psychology
respiratory therapy
social media and trades