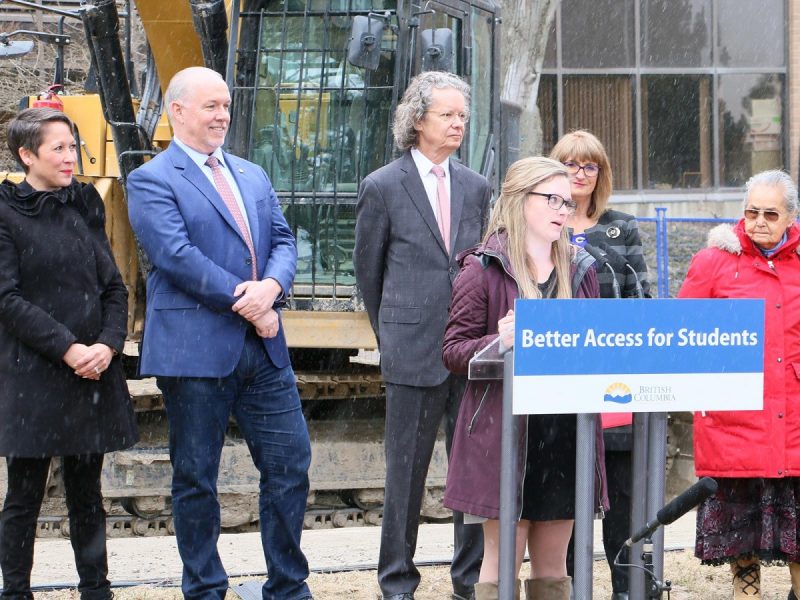 Dear Colleagues,
This morning the university had the honour of welcoming BC's Premier, the Honourable John Horgan, to campus for the official groundbreaking of our new Nursing and Population Health (NPH) Building. Joining him was the Honourable Melanie Mark, Minister of Advanced Education, Skills and Training, who met earlier with students, faculty, and staff and toured classrooms and lab space in the Ken Lepin (Sciences) Building.
Construction of the new NPH Building will be fully underway by early May on the site just across College Drive from the Lepin Building and east of the Culinary Arts Training Centre. A key feature of the three-storey building is the expansion of the number of patient simulation labs available for student learning. These labs, equipped with the latest technology, high-fidelity simulation mannequins, and space similar to that of real health care settings, provide for hands-on learning that will enhance our students' success upon graduation. Additionally, students and faculty will benefit from more classroom and breakout rooms, and other spaces that will support research activities.
A day like today doesn't happen overnight! The first movement of earth this morning is the result of years of planning and the involvement of faculty and staff in the design of the purpose-built facility.
I would like to take this opportunity to thank the many faculty members, support staff, and administrators for their work to date. Particularly, I would like to acknowledge our Dean of Nursing, Donna Murnaghan, as well as Les Tabata, our Director for Capital Projects who have been fully immersed in this project. Over the next 18 months, we will see the NPH Building take shape, with great anticipation of the opening for the winter semester in January 2020. As with any construction project, there will be impacts at times to pedestrian and vehicular flow through the campus and we will keep you informed along the way.
The new NPH Building represents a signification investment in our students, faculty and staff. Of the $37.2 million project cost, $8 million is funded by Province, and the remainder through the university's capital reserves and ongoing fundraising efforts. The latter include $1.5 million committed by an anonymous donor, $1.5 million as part of the Sherman Jen donation announced last fall, and $550,000 from the Stollery Foundation for all of which we are deeply grateful.
To learn more about this exciting project you may read today's news release.
Sincerely,
Alan Shaver
President and Vice-Chancellor