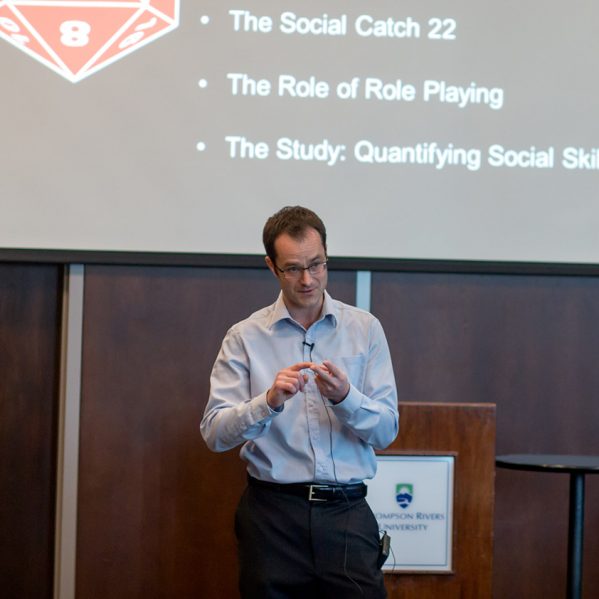 Dungeons & Dragons — is it a game, or is it a tool for teaching socially isolated children how to engage in conversations?
Graeme Hallett says it can be both, and after wowing the judges with his Three Minute Thesis presentation, "Dungeons and Dragons Develops Social Skills," he is now $1,000 richer, and will represent TRU during the Western Canadian 3MT Finals scheduled for April 27 at the University of Regina.
Hallett, a Master of Education student, drew the judges in with his opening description of the Catch 22 that socially isolated children find themselves in.
"If you lack conversational skills, you can't take part in a conversation, and if you can't take part in a conversation, you can't learn conversational skills. This is how you end up socially isolated, and it's a miserable place to be."
Missed the 3MT? Watch the Livestream
For teachers, these kinds of skills are complicated and difficult to teach, but Dungeons & Dragons could be a game-changer.
"If you're somebody who never knows what to say or when to say it how are you supposed to take part in a game that is an enormous conversation? This is where it helps to have rule books, and dice," Hallett said, explaining that his research will track and compare learning improvements using Dungeons and Dragons as an entry point to conversational skill training, versus traditional learning methods.
The judges, Donovan Cavers, Councillor, City of Kamloops, Danalee Baker, Executive Director, United Way Thompson Nicola Cariboo, and Andrew Cooper, Artistic Director, Chimera Theatre, were wowed by Hallett's presentation skills and by his ability to engage the audience.
"It was interesting, and spoken with passion," said Cooper.
For the first time in TRU's five-year 3MT history, there was a two-way tie for second place. Janelle Paulson, MSc, was awarded for "Drying Up: The effects of long-term drought on the invasiveness of Spotted Knapweed in BC," alongside Kelsey Boule, MSc, for "Ethical issues in sport hunting and conservation economies in British Columbia, Canada." Paulson was also voted People's Choice.
What is 3MT?
The first 3MT was held at the University of Queensland, Australia, in 2008 with 160 students competing. Since 2011 the popularity of the competition has increased and 3MT competitions are now held in at least 170 universities across more than 18 countries worldwide. There are 32 universities in Canada competing in the event.
3MT presenters
| | | |
| --- | --- | --- |
| Florence Iyogun | MBA | Analysis of Earnings Management Practices of Listed Companies on TSE |
| Dominique Hazel | MSc | Environmental Practices at Music Festivals in British Columbia: Examining Stakeholder Power Relations to Build Effective Partnerships and Foster Sustainability and Foster Sustainability |
| Kelsey Boule | MSc | Ethical Issues in Sport Hunting and Conservation Economies in British Columbia, Canada |
| Syeda Parvin | MEEM | Relationship between Capital Structure and Financial Performance of Micro-Finance Institutions (MFIs) in Bangladesh |
| Kile McKenna | MSc | Communicating with colour chemistry |
| Tallal Althwaini | MBA | Saudization and the Retail Industry |
| Janelle Paulson | MSc | Drying Up: The effects of long-term drought on the invasiveness of Spotted Knapweed in BC |
| Satvir Kaur | MN | Resilience in New Nursing Graduates |
| Zixing (Lisa) Shen | MEEM | How Emission Permit Trading Policy Impact Air Pollution Hot-spots in Ontario |
| Meera Munusamy | MBA | The effect of carbon dioxide emission on GDP & Technology across ASEAN countries |
| Graeme Hallett | MEd | Dungeons and Dragons Develops Social Skills |
More information
Danna Bach, Research Communications
250-371-5676
dbach@tru.ca