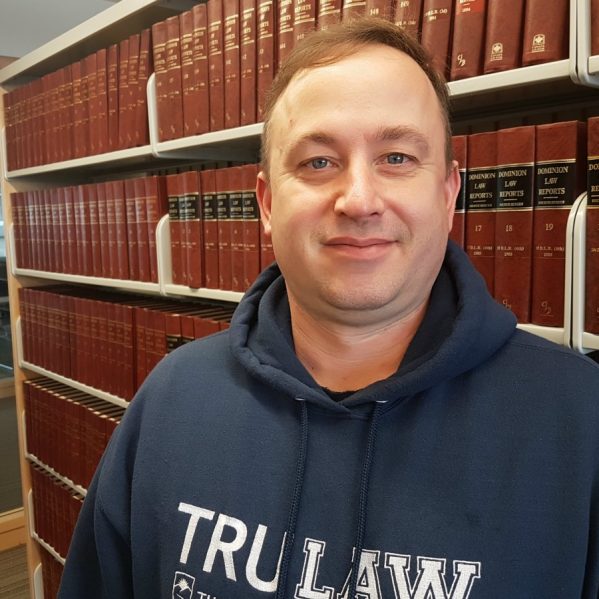 Eric Clausen is in his first year of law school. However, the journey that led him there is far from conventional.
Clausen is in his mid-forties and is a Red Seal boatbuilder by trade, with over two decades of experience in the marine industry. But a workplace injury in 2012 changed everything.
"My livelihood was at stake," he said.
Under WorkSafeBC, Clausen was eligible for training in higher education. He researched his options and discovered the online Bachelor of Technology, Trades and Technology Leadership degree at TRU Open Learning (OL). He could use his trade qualification to enter the degree and meet the WorkSafeBC requirements of completing it in two years.
He spent the next 24 months working through a full courseload, while still recovering from multiple surgeries.
Near the end of his degree, he heard of TRU Law. Clausen was drawn to the idea of going to law school. As a keen learner, this was his opportunity to seize the pursuit of a formal, professional education that had eluded him as a young man.
Upon graduation, he resumed work with BC Ferries, this time in a corporate position. He also began preparing to take the LSAT and apply to TRU Law.
"If I was accepted, I resolved that no matter what I would go to law school," he said. "I had everything to gain and nothing to lose."
In July 2017, he received word he was accepted. He left his job, packed up his life and moved to Kamloops from his longtime home in Sointula, a small coastal fishing community.
Now eight months into law school, he's finding himself dreaming of the kinds of legal careers he could pursue that would combine his passion for marine life with law, such as the niche area of admiralty (maritime) law.
He fits right into the collegial student body at TRU Law, affectionately referred to by some fellow classmates as "the boatbuilder."
Clausen will be 49 years old when he graduates from law school. And whether he pursues graduate school (he's considering an online maritime law program at the University of London) or goes the sole practitioner route ("I've always been very entrepreneurial," he said), one thing is certain—he will chart his own, unconventional path.
Listen to Eric share his story on CBC Kamloops, Feb 28, 2018: