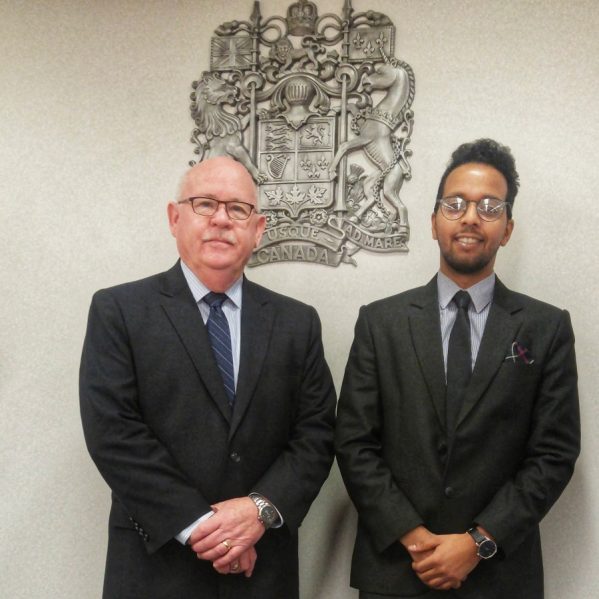 TRU Law grad Sam Tecle (JD 2017) has not just one, but two, unique experiences in his short legal career so far.
Tecle is currently working as a federal court clerk in Ottawa. He began the 12-month position in August 2017, shortly after returning from Singapore, where he spent his last semester of law school on an international exchange at the National University of Singapore (NUS), before graduating from TRU Law in June 2017.
He says working alongside a federal justice, one-on-one, is an "extraordinary experience."
"Each clerk is paired with only one judge, and this has afforded me the opportunity to develop a rapport with Justice Barnes," said Tecle of his position with The Honourable Robert L. Barnes.
"We often discuss the pertinent issues in cases as well as the strengths and weaknesses of my analyses. Justice Barnes' mentorship has been invaluable."
Acting Director of TRU Law Career Services, Jayne Rossworn, calls the clerkship position a prestigious opportunity.
"It's highly regarded in the legal community," she said. "Competition for these positions is intense. Sam out-competed many of Canada's top law students for the position; it's a very significant achievement indeed."
Tecle says his work is varied, and that he is humbled on a daily basis.
"It's been a rewarding experience. I've worked on cases involving intellectual property law, competition law and Aboriginal law, just to name a few. I've also been tasked with addressing leading questions in administrative law, particularly in the immigration law context. I've learned so much from observing counsel's oral submissions; I've seen so many different styles of advocacy," he said.
Meanwhile, Tecle reflects on his exchange at NUS as another incredible and humbling experience.
"My key takeaway from living and studying in Singapore is simply to keep an open mind. You never know what opportunities await you just around the corner. I developed friendships and travelled with amazing people from various parts of the world. My willingness to try new experiences played a big part in that."
Aside from wanting to meet new and interesting people, Tecle says NUS was appealing for an exchange because it's known as the top law school in Asia, and he could take courses that interested him.
"I wanted to learn about international arbitration in a legal community that constantly pushes boundaries. I felt very privileged that Gary Born, one of the world's preeminent authorities on international arbitration, instructed our classes."
As for future plans, Tecle will return to his articling position at Gowling WLG's Vancouver office after completing his clerkship.
"In five years, I hope to develop a civil litigation practice at the firm as well as publish regularly in the area of alternative dispute resolution."