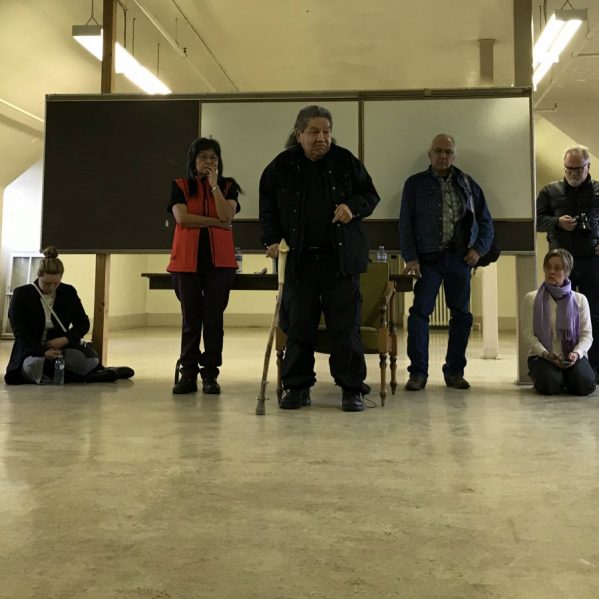 "When you're in hell, you think you're done. It's good to hear others' stories."
Connie Jules spoke these haunting words to first-year TRU Law students when they visited the former Kamloops Indian Residential School (KIRS) on Feb. 1 for the law school's annual TRC (Truth and Reconciliation) Day.
Jules is from Tk'emlups and is a survivor of survivors. She is also an elder in residence at the Skelep School.  She was speaking to the law students as part of an annual visit to Chief Louis Centre, located on the reserve lands of the Tk'emlúps te Secwépemc.
"We have a voice," Jules said. "It's empowering. It's great to get out there to use it in a healthy way to share with others."
Students spent the day hearing from residential school survivors, touring an old school dormitory and listening to a panel discussion focused on experiences of survivors and the effects of intergenerational trauma.
Dave Manual, Connie's brother and a drug and alcohol counsellor at Tk'emlups, shared his experiences publicly for the first time.
"I've had to unlearn the shame. But this is how the healing happens," he said.
"It still feels like the beginning."
The visit is part of TRU Law's response to the federal Truth & Reconciliation Commission (TRC) of Canada's calls to action to teach students about the history and legacy of residential schools in this country.
Assistant Professor Nicole Schabus, the main organizer, said this year's event was the most comprehensive they have ever organized.
"We covered the history of residential schools to the sixties scoop, to ongoing disproportionate apprehensions of indigenous children and intergenerational effects. It made a deep impact to learn about this history, its ongoing effects and the role of the law in it, at the former Kamloops Indian Residential School," she said.
Schabus also noted there was also a brand new element to the format this year.
"It was the first time that we did the closing circle, where every single one of our students spoke and they all reflected deeply on the experience and what they learned, and in turn that had a real impact on the survivor who heard their stories. Many students took on commitments to further their learning and share their knowledge in their work as future lawyers and beyond."
Special guest Marie-Claude Landry, chief commissioner of the Canadian Human Rights Commission also attended part of the day, listening to the residential school survivor stories and to the other speakers.
Landry had been planning a visit to TRU Law to speak to and meet students and stakeholders, and was pleased her stop in Kamloops coincided with the first-year TRC day.
"We must own the ugly truth collectively," she said as she addressed the students.
"How will you use what you learn today to be an agent of change?"
Here are some of the students' reflections about the day:
"Sitting in the dorm rooms where some of them once slept was impactful. The stories shared here showed their vulnerability and their courage to come back to a place where such horror and pain occurred. They spoke about their pain, their journey, their anger and disappointment. They spoke with lightness and a deep connectedness to their spirituality and traditions. They used their platform to speak freely, to show us that reconciliation starts from within. It was an honour to hear their courage and vulnerability and inspires me to do my part to educate those around me."
—Jamie Cooper, first-year TRU Law student from Vancouver

"My key takeaway from the visit was the amount of work that needs to be done to achieve truth and reconciliation in Canada. Throughout the day there was a consistent emphasis on the value of caring for Mother Earth including all living things and the water; and also the value and well-being of our children and future generations. The day was full of experiences that included collaboration, respect, recognition, engagement, and truth. This was all very important when connecting and working towards Truth and Reconciliation in all spheres of our lives.
—Theresa John, first-year TRU Law student from Saik'uz First Nation, Dakelh Territory (near Vanderhoof, BC)