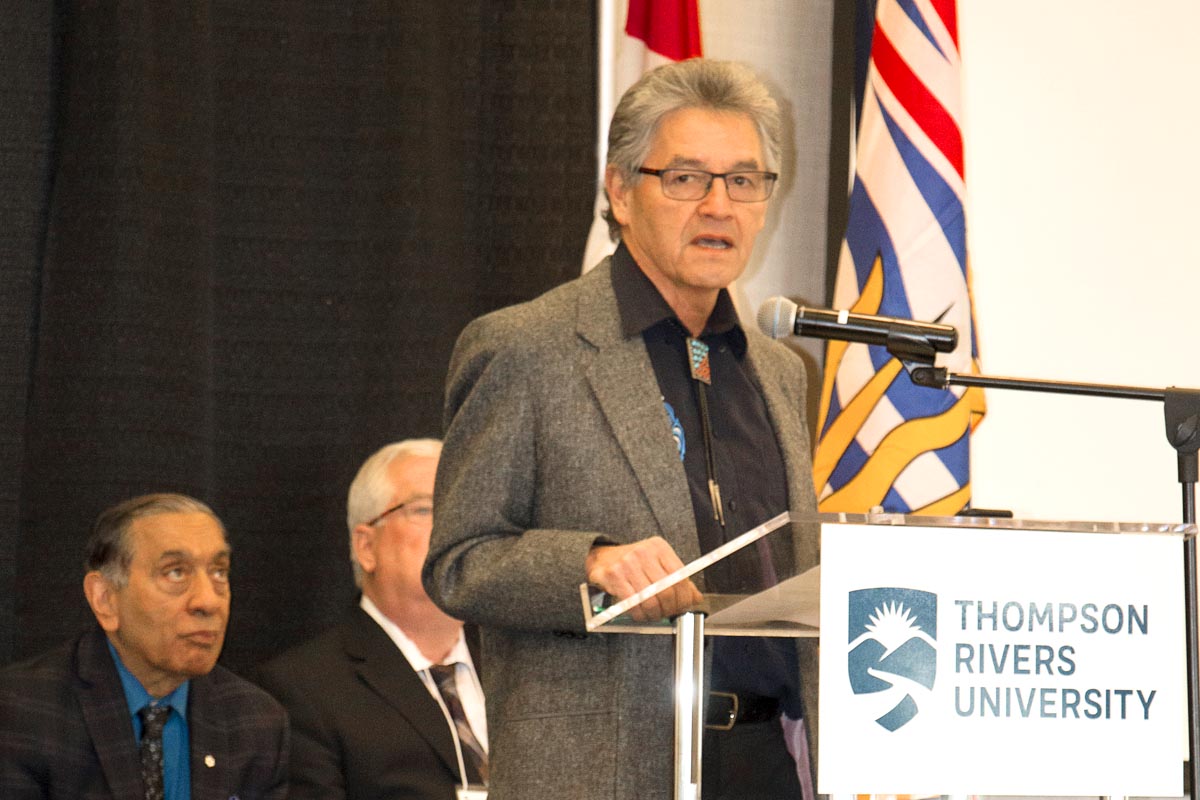 The TRU Board of Governors has selected Nathan Matthew as the university's next chancellor.
Matthew is chief of the Simpcw First Nation of Chu Chua near Barriere, a position he has held for more than 20 years. He is also an educator and well-known advocate for the advancement of Aboriginal education in BC.
"Nathan Matthew's commitment to create a better future for others embodies all that we are at TRU and makes him the right choice as chancellor," said Jim Thomson, chair of the university's board of governors. Thomson also noted Matthew's reputation as a thoughtful leader who uses quiet diplomacy to achieve positive outcomes.
Matthew has strong ties to TRU. He was the university's first executive director of Aboriginal Education from 2006 to 2014 and was awarded an Honorary Doctorate of Letters in 2006.
"We are thrilled to have someone with Matthew's background take such an important role," said Alan Shaver, TRU's president and vice-chancellor. "The individual holding the honorary position of chancellor is a reflection of the university's values at the highest level."
"At TRU, we believe in open access to education for individuals of all backgrounds. We also promote a culture of inclusion that fosters intercultural understanding between all people groups. Nathan Matthew represents these values," said Shaver.
In addition to Matthew's involvement with TRU, he has been a member of the Assembly of First Nations Chiefs Committee on Education and an education consultant throughout BC. As a senior negotiator for First Nations education in BC, he has played a key role in advancing education jurisdiction legislation and the Tripartite Education Framework Agreement between First Nations, provincial and federal governments which recognized significant First Nations control over education programs and provided more appropriate funding for First Nations schools.
Matthew was also a founding member and chair of School District 73's First Nations Education Council. For his advocacy in education, Matthew was recognized with an honorary membership in the BC First Nations Schools Association in 2006 and the national Indspire Award for Education in 2017. Most recently, he was awarded School District 73's Owl Award of Excellence in Public Education.
"It is an honour to be selected chancellor of Thompson Rivers University, which is situated on the traditional lands of the Secwepemc people," said Matthew. "As a lifelong resident of the Interior, I have witnessed the positive impact of the decades of development of this post-secondary institution, from a local college campus to a progressive, multi-disciplined degree-granting university. I am pleased to have the opportunity to represent TRU, a university that is committed to sustainability and excellence through the provision of a broad range of programs, a research orientation and access to open learning."
Matthew will become TRU's third chancellor. His appointment is effective Mar. 1 with a formal installation to occur during convocation ceremonies on June 6, 2018.
University chancellors serve three-year terms, which can be renewed. TRU's first chancellor was Nancy Greene Raine, who held the position from 2004 to 2010. Current Chancellor Wally Oppal has been in place since 2010. In their volunteer roles, TRU chancellors preside over convocation ceremonies and are members of the university's board of governors and senate.