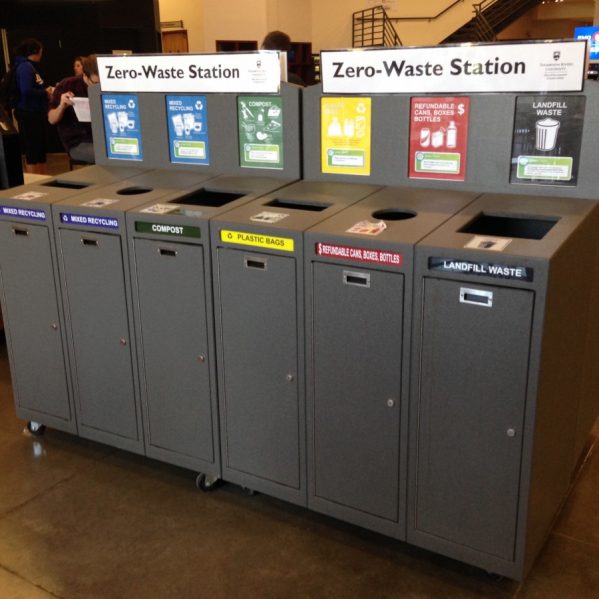 Reducing the environmental impact of providing food and beverage on campus is a passion for the TRU Food Services team. We collaborate with the Sustainability Office and our other partners on various initiatives.
Here are a few ways we work to make our campus more environmentally conscious:
Reducing waste and recycling EVERYTHING, including the fryer oil
compost bins are used at all of our locations and an industrial compost machine was installed at the Campus Activity Centre in 2017 to ensure all organic food waste is composted
our kitchens record and weigh all waste to provide data to assist in reducing future waste, so as little goes into landfills as possible
all packaging and materials used are recycled properly
100 percent of our fryer oil is recycled
napkins at our locations are biodegradable and made from 100 percent recycled content
our to-go cutlery is made from 68 percent renewable materials
we also use either 100 percent recyclable or biodegradable to-go boxes for our food packaging
Making an impact, day-to-day
we work closely with other TRU departments to conserve energy and other resources
the hot water used in the kitchen is supplied by one of the largest solar hot water systems in BC, located on the roof of the Campus Activity Centre
a state-of-the-art ventilation demand system in the Campus Activity Centre drastically reduces heated air escaping through the kitchen exhaust fans when they are not in use
any equipment that doesn't need constant power is unplugged when not in use, and lights are turned off
all new equipment purchased is energy efficient
many of the vending machines on campus are motion-sensored so the mechanical components and lights only work when people are near the machine
Local sourcing and Fairtrade products
we source food from many local farmers, growers and distributors—approximately 14% of our total food purchased in 2016 was from British Columbia
as with all locally grown food, our sources change throughout the year depending on seasonality and availability
several food locations on campus carry a selection of Fairtrade certified products, including snacks and chocolate, and we are always looking to add further options
locations that carry Seattle's Best Coffee serve a variety that is organic and Fairtrade certified, and the espresso used to make your favourite drinks at Starbucks is Fairtrade certified
our seafood is certified by Canada's Ocean Wise program
How you can participate
Bring your travel mug with you to one of seven participating locations and get a reward
Our Lug a Mug program gives you a discount every time you use your own mug for that much-needed caffeine fix. Get $0.10 off at Starbucks and Tim Hortons and $0.25 off at the International Café, Bean Me Up, Upper Level Café, Urban Market and the Trades Café.
use the zero-waste stations at our locations to reduce your waste by recycling and composting
If you are not sure what goes where, please ask one of our staff for guidance. Thanks for making a difference!
Do you have an idea for us to further reduce environmental impacts? Email us or get in touch with us on Instagram. We're looking forward to working with all members of the TRU community to bring innovative and efficient solutions to life.