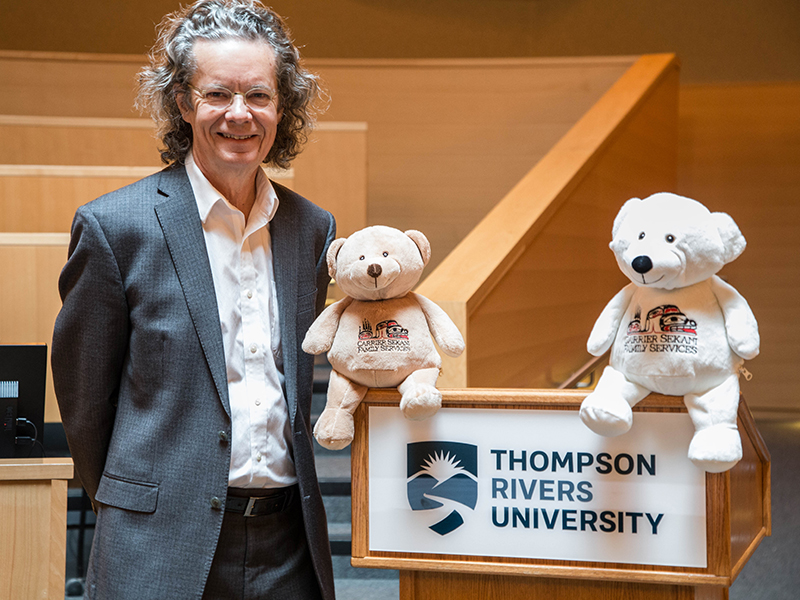 December's Senate meeting welcomed two new members to the floor. Casually attired but rich in symbolism, Kenkeknem and Ckenmim'elt are a reminder of our collective commitments and responsibilities to enact and uphold the Truth and Reconciliation Commission of Canada Calls to Action, and Jordan's Principle which ensures unhindered access to all public services for Indigenous children in a manner that takes account of historical disadvantages linked to colonization and meets their cultural needs.
The stuffed bears have been adopted by the School of Nursing and the Nursing Undergraduate Society as part of an initiative spearheaded by the First Nations Child & Family Caring Society of Canada, bearing witness to ensure nursing curriculum and faculty development meet these requirements.
Kenkeknem and cub Ckenmim'elt made their first visit to Senate on Dec. 11, 2017, where they were honoured with a warm introduction and welcome from TRU President Alan Shaver and Provost Dr. Christine L. Bovis-Cnossen. The important symbolism of their presence in Senate was recognized by the President, and the Secretariat was asked to provide name plates for the bruins for the next meeting. The bears were very well received and seated front and centre, and will soon be adorned with their traditional regalia.
Kenkeknem and Ckenmim'elt will additionally be traveling with faculty and student nurses to be present at local, provincial, national and international conferences, events and occasions.
We'd love to see your photos with Kenkeknem and Ckenmim'elt in action, so please tag your shots with #bearprinciples to share with us over social media.
A set of responsibilities has been accepted as part of the adoption process and both School of Nursing faculty, led by Sheila Blackstock, and Nursing Undergraduate Society students, steered by Gabby Fisher, share responsibility for the bears' safety, scheduling and promoting appearances.
Watch for these symbolic representatives bearing witness at events near you, in addition to their monthly Senate meetings, and follow their travels with the TRU School of Nursing on their bear blog.