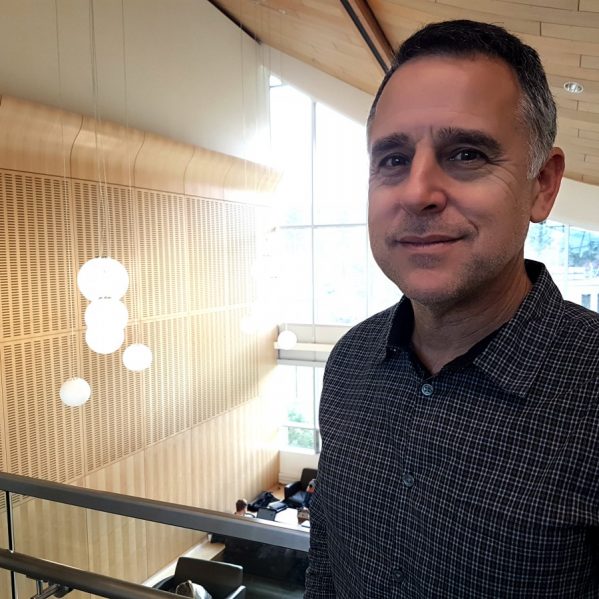 Sports Law students had the opportunity to hear from a lawyer-hockey executive this week.
Laurence Gilman, who has held positions with the Vancouver Canucks, Phoenix Coyotes and Winnipeg Jets, captivated the class with tales of his rise into the NHL out of law school and his storied, albeit behind-the-scenes, tenure inside the league.
Gilman has spoken numerous times at law schools and goes back with TRU Law sports law lecturer Jon Festinger to when the pair worked together for the Vancouver Canucks.
Gilman, a salary/contract negotiations expert, says the world of professional hockey operations is dynamic and multi-faceted.
"There's a old adage – players play, coaches coach and managers manage. But sometimes the reality is more like players want to coach, coaches want to manage, managers want to own and the owners want to play," he said, of having to balance expectations from all sides.
"I'm the guy who can sometimes be telling people what they don't want to hear," he said, referring to negotiations in which he has to please both his boss and the player agents.
"I could be telling an agent that we can't afford their guy, or I could be telling my boss (the GM/owner) that we have to pay more for a guy than we want to."
In addition, he says injuries, moving players up and down from farm teams, league scheduling, broadcasting demands, the impact of a fluctuating Canadian dollar and of course the relatively new concept of salary caps all impact a team's finances and therefore the ability to negotiate.
"It can be high stakes. It's a very detail-oriented job and an ever-changing landscape."
Gilman, who hails from Winnipeg, attended law school at the University of North Dakota. The self-professed hockey nut wasn't sure what he planned to do with his law degree, but he knew it would give him a good skill set and a measure of credibility.
Gilman fondly recalls the turning point that serendipitously landed him on the payroll of his hometown and favorite team, the Winnipeg Jets. After he submitted a paper on alternative dispute resolution in sports, his professor encouraged him to make a bold move.
"He told me from reading my paper that he could tell how much I loved, and lived, hockey. He said, 'Why not take a chance and send this paper all over the hockey world? Maybe you can follow your dream.'"
His paper got the attention of the Jets owner and that's where it all began.
"In my early days at the Jets, I had no clue what I was doing, but I had my law degree behind me," he said.
"You have to have substance and you have to be willing to do the research and put in the work."
This was Gilman's second time guest lecturing at TRU Law.
Read: Former Vancouver Canucks' assistant GM Gilman shares ahead of TRU speaking engagement: Kamloops This Week, Nov. 30.