Posted on: November 10, 2017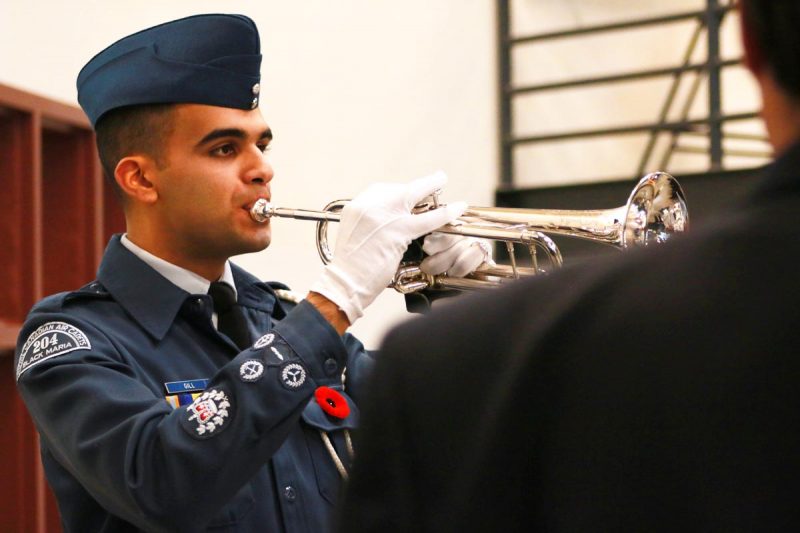 With another Remembrance Day upon us, we should use it as a reminder to reflect on the everyday aspects of life we take for granted.
"People might think freedom is something you read about and some people call it a cliché, but it's absolutely not. Freedom is something that you need to cherish everyday," said Major Amandeo Vecchio, who provided thoughtful reflection during TRU's Remembrance Day ceremony in Student Street on Nov. 9.
Vecchio served in the Canadian military in various capacities, including in 2011 with Operation Athena as part of the Mission Transition Task Force in Afghanistan. He reminded the audience of about 60 people that we enjoy freedoms we don't always think about, whether it's what we wear, how we look or where we go.
"We speak our minds without mental hesitation or reservation and because of that, we sacrificed a lot over the last 100 years," Vecchio said, pointing out this year marks the 100th anniversary of the Battle of Passchendaele—also known as the Battle of Ypres.
He encouraged everyone to attend the Kamloops ceremony on Nov. 11 at the cenotaph in Riverside Park starting at 10:45 a.m.
The TRU ceremony was emceed by Chaplain Patricia Davies and included
A prayer by Chaplain Ani Gawa Khandro
A prayer by TRU Aboriginal Education Director Paul Michel
Reading of In Flanders Fields by TRU Master of Eduction student Paul Hu
Last Post and Reveille by TRU Nursing Student Arman Gill
One minute of silence at 11 a.m.