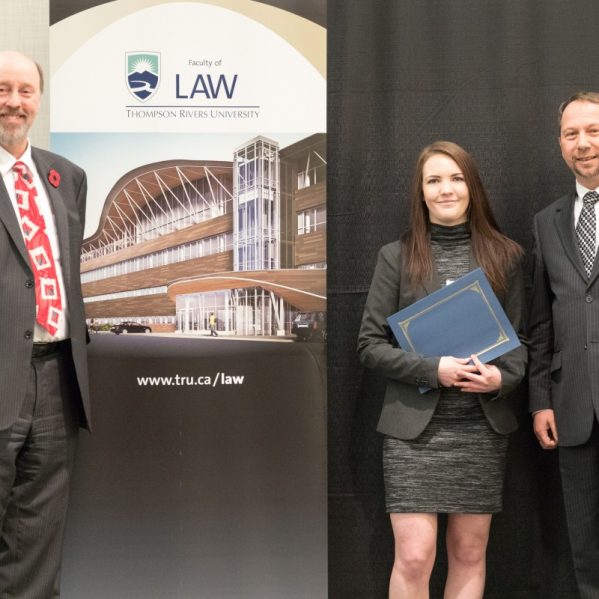 Dozens of deserving students gathered last week to be recognized at the seventh annual fall TRU Law awards reception. 
In all, 27 scholarships, bursaries and course prizes totaling nearly $85,000 were awarded at the ceremony. Many more students were recognized for non-monetary Dean's Prizes for being the top student in each of the respective courses. 
Dean Brad Morse says donors make an immense difference.
"TRU Law students benefit a great deal from the awards available. Currently, we have 29 donors who allow us to be able to give out $141, 250 in awards and bursaries annually. Our goal over the next five years is to build our annual award disbursement to $500,000," he said.
Below is a list of the fall awards and their recipients:
Monetary Awards:
Scotiabank Course Prize in Business Association: Sander Lekas

TRU Law Scholarship: Sander Lekas

Roper Greyell LLP Course Prize in Employment Law: Breanna Morrow

Thorsteinssons LLP Course Prize in Corporate Tax Law: Erik Thorsteinsson

Norton Rose Fulbright Canada LLP Course Prize in Contract Law: Simranjit Arora

George Lamperson Memorial Bursary: Calen Janzen

BC Prosecution Services Bursary: Kristina Gallo

Bill W. Eremko Memorial Law Bursary: Alejandra Henao

Canadian Bar Association BC Branch Award: Heather Maki

Centrepoint Kamloops Bursary in Law: Taylor Campbell

Donald Robert Bert Memorial Law Bursary: Marina Landry

Fulton and Company Law Entrance Award: Natasha Little

Guild Yule LLP Advocacy Prize: Oliver Verenca

Guild Yule LLP Outstanding First-Year Moot Court Prize: Oliver Verenca

Kamloops Bar Association Bursary: Jeremy Koch

Law Foundation Entrance Award:  Heather Maki, Kendra Murray, Sonia Dhaliwal, Rozita Taeidi, Ian McParland, Candice Foulkes

Norma Quinn Memorial Prize in Law: Karen Perry

Norton Rose Fulbright Canada LLP Course Prize in Property Law: Gurvir Dulay

Norton Rose Fulbright Canada LLP Course Prize in Torts: David Gore 

Vancouver Bar Association Bursary: Zain Ali

Kootenay Bar Association Memorial Bursary in Law: James Mason

Helping Hands Law Bursary: James Mason
Additional Course Prizes (non-monetary):
Community Lawyering: Yelda Anwari

Immigration and Refugee Law: Stephanie Benedict

Civil Procedures: Jeshua Bray

Ethical Lawyering: Andrew Butler

Human Rights Law: Matthew Campbell

Trusts (Section 1): Taylor Campbell

Family Law: Danielle Ching

Sports Law II: Alessia D'Aversa

Civil Procedures: Nicole Debartolo

Property: Gurvir Dulay

Torts: David Gore

Class Actions: Fayme Hodal

Comparative Law: David Horvath

Ethical Lawyering: Christie Kobialko

Court of Appeal Moots: Annie Olson

Legal Perspectives (Section 2): Arpan Parhar

Advanced Legal Research: Karen Perry

Real Estate: Karen Perry

Comparative and International Indigenous Rights Law: Peter Sorensen

Apps for Access to Justice: Kenneth Taylor

Criminal Law: Oliver Verenca

Fundamental Legal Skills: Oliver Verenca

Legal Perspectives (Section 1): Oliver Verenca

Constitutional (Section 2): Alain Verrier

Criminal Law (Section 2): Alain Verrier

Property (Section 2): Alain Verrier

Torts: Brodie Webber

Constitutional (Section 1): Simranjit Arora

Contracts (Section 1): Simranjit Arora

Bankruptcy and Restructuring Law: Sabrina Avery

Canadian Journal of Comparative and Contemporary Law: Sabrina Avery

Trusts (Section 2): Sabrina Avery

Trusts: Scott Duncan

Secured Transactions: Alex Farkas

Civil Society and Dissent: Lavinia Floarea

Conflicts of Law: Brandon Harrison

Administrative Law: Makenzie Johnston

Environmental Law: Makenzie Johnston

Business Associations: Alexander Lekas

Remedies: Nathaniel MacDermott

Entertainment: Callan Mackinlay

Wilson Moots: Brianna Meyer

Insurance: Kelsey Morrison

Employment Law: Breanna Morrow

Corporate Tax: Erik Thorsteinsson

Community Lawyering: Kristjan Thorsteinson

Comparative Law: David Horvath

International Intellectual Property: Nicholas James