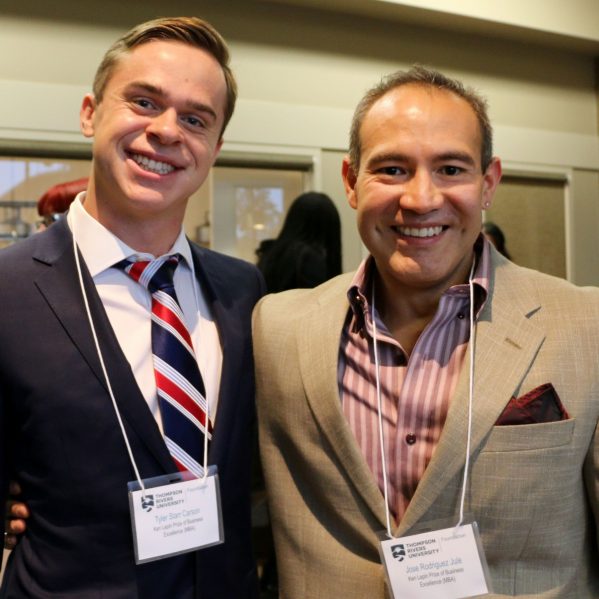 Kamloops philanthropist Ken Lepin presented $60,000 to 12 graduate students during an Oct. 18 ceremony. This is the fourth year the awards have been offered, and it marks huge growth in the program's impact, and in Lepin's generosity, which has nearly doubled.
The growth of this program is in response to the overall increase of graduate programming at TRU, which now offers six master's degree programs, including the newly launched Master of Nursing, the Master of Environmental Economics and Management, and the Master of Science in Environmental Economics.
> Read: Master of Nursing welcome inaugural class, InsideTRU, Sept. 8, 2017
"The Ken Lepin Graduate Student Award celebrates the combination of academic and research excellence, and outstanding community leadership. The eight exceptional graduate students presented with this award have demonstrated high levels of achievement in all of these areas," said Troy Fuller, Director of Research and Graduate Studies.
Recipients of the 2017 Ken Lepin Graduate Studies Awards each receive $6,000. Recipients are:
Jessica Bauer, Master of Nursing
Priscilla Edewor, Master of Education
Elyssa Krutop, Master of Education
Byron James, Master of Business Administration
Hemali Gawde, Master of Business Administration
Jordann Foster, Master of Science
Douglas Terpsma, Master of Science
Stephanie Winton, Master of Science
Recipients of the 2017 Ken Lepin Prize of Business Excellence, Entrepreneur and Communication (MBA), receive $3,000 each. Recipients are:
Jose Rodriguez Jule
Marie Anne Gorospe
Trevor Tessier
Tyler Carson
The awards provide financial assistance to students entering their first or second year of a full-time graduate studies program, either on campus or online. The awards are bestowed on the basis of outstanding academic achievement in course work and research, as well as leadership activity.
Student Impact
"I left my regular position as a Registered Nurse at Royal Inland Hospital in favour of casual work so that I could dive into my Master of Nursing program as a full-time student. I applied for this award to ease some of the financial burden that comes with prioritizing education and research over work." – Jessica Bauer, Master of Nursing
"This award is a mark of distinction, an honour, and it means the hard work is paying off. It has given me the motivation to continue with my career plans, and it boosts my self-confidence." – Byron James, Master of Business Administration
"I am extremely thankful for being selected as a recipient of this award, as it means I will be able to continue to focus solely on my own research exploring disturbed forest soils, which I hope to defend in April 2018." – Douglas Terpsma, Master of Science in Environmental Science
"Receiving this award enables me to move forward with my research on post traumatic stress disorder in firefighters, as well as maintain my involvement in a number of other research projects. I have been a member of the TRU community since 2004 when I began my undergraduate degree. Now, as I complete my master's degree, I am deeply honoured to be recognized by receiving the Ken Lepin Graduate Student Award." – Elyssa Krutop, Master of Education
"Winning this award provides me with the needed funding to proceed with my research and studies. It will enable me to ground myself in my studies, and to really enjoy the learning process without worrying about tuition." – Priscilla Edewor, Master of Education
"Winning this award gives me the opportunity to focus on publishing the results of my research project, which will be an important development for the field of conservation ecology in BC as well as a major step in my career." – Stephanie Winton, Master of Science in Environmental Science
"Being an international student, this award helps me pay my school fees and fulfill my dream of completing a master's program. I am very thankful to TRU, the Kamloops community, faculty members, my parents and colleagues. This reinstates my strong faith that we as humans have a moral responsibility to help one another out, and we should strive our best for it." – Hemali Gawde, Master of Business Administration