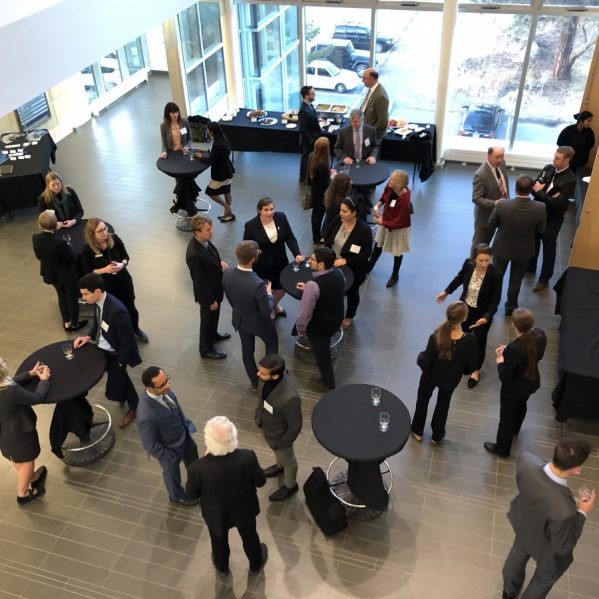 A few dozen students and local lawyers gathered in the TRU Law atrium on October 11 to kick off another year of the Canadian Bar Association, BC branch (CBABC) Mentorship Program.
This year, 63 students are matched with lawyers from Kamloops, around BC and Alberta and even one in Ontario. The program is geared at first-year law students.
"It's a good opportunity to get your feet wet and ask questions. The legal community is a tight knit community, so it's important to network," said student Lane Perry, who is matched with Prince George lawyer Garth A. Wright.
"The program is structured for us, with some guidelines of topics and timelines to connect with our mentors over the year," Perry explained.
The aim of the program is to match law students with members of the legal profession who are willing to share their experiences about the practice of law and the process of becoming a lawyer.
"Mentors help students build networks within the legal community and serve as valuable advisors for students at a crucial point in their legal careers," said Christi McAuley, TRU Law Director of Career Services.
Each October, mentors are matched with a law student who has an interest in his or her geographic region or area of practice.
Perry's mentor Garth A. Wright practices civil litigation and injury law.
"Those areas of law interest me because they are about righting wrongs that have occurred," said the Smithers, BC native, who will be carrying on the torch of the legal profession in his family as a fifth generation lawyer.
"I'm not sure what type of law I will end up practicing but presently civil litigation and injury are an interest of mine," Perry said.
Meanwhile, student Dan Lintaman is potentially interested in practicing in rural areas. He is matched with TRU Law alumni Kelly Melnyk, who practices in the small BC interior community of Lumby, an opportunity she seized through the CBA's Rural Education and Access to Lawyers (REAL) program.
"I'm interested in learning more about what that (rural lawyering) entails," said Lintaman, who is from Victoria.
"It's important for us to expand our horizons and diversify our areas of knowledge," he added.
The program also fosters strong ties to graduates of the law school.
"Eighty-four percent of our mentors are TRU Law alumni," said McAuley.
"That's great, because they want to get involved and give back."