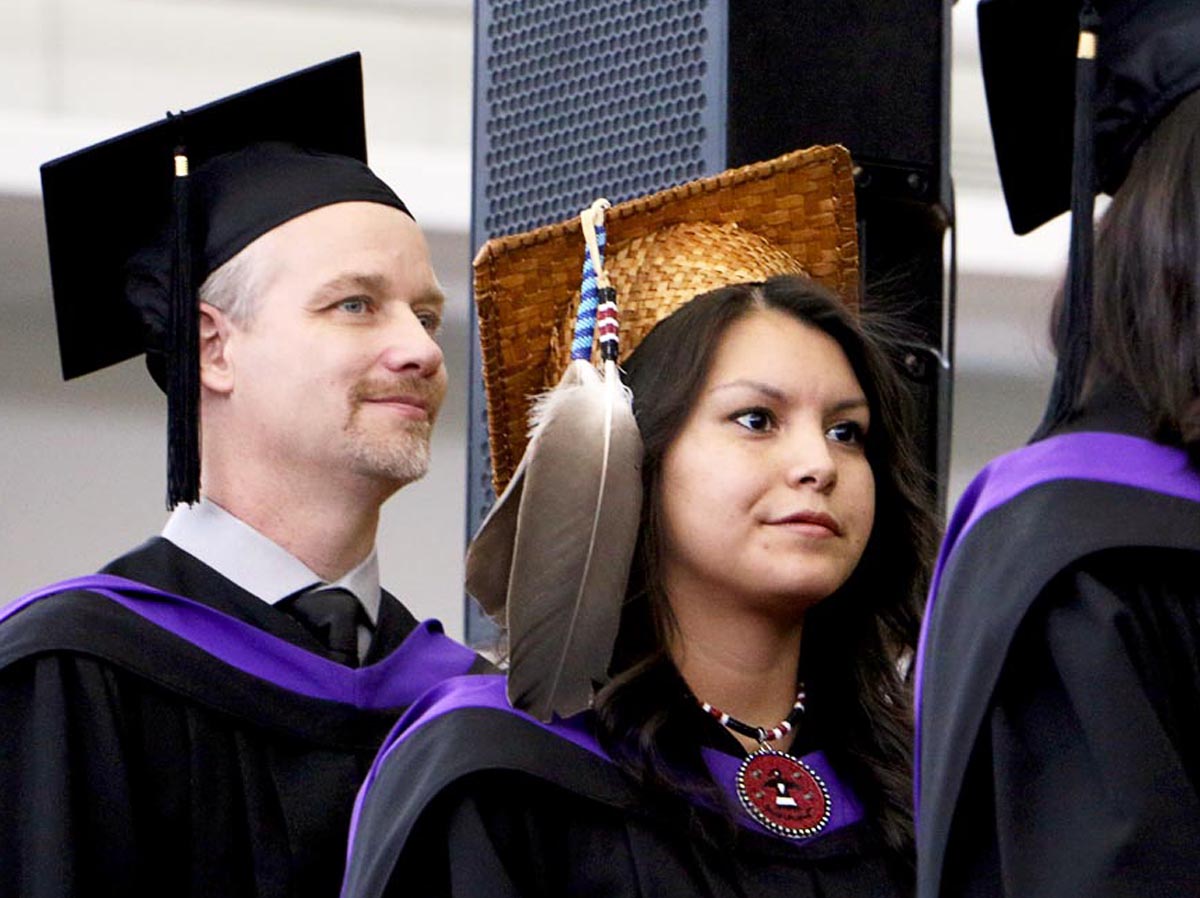 Fall colours are upon us and not only does that mean an invigorating crispness in the air, but also the warmth and celebration that comes with fall graduation.
Fall Convocation is Oct. 13, from 10 a.m. to noon, in the Tournament Capital Centre (TCC).
Official program
With construction projects taking place at various locations on campus, we recommend visitors use the West Gate entrance and park in Lot N. From Lot N, you can catch a shuttle to the TCC.
By the numbers look at Convocation
What follows is a snapshot look at Fall Convocation and as a bonus, we've included the welcome addresses from Chancellor Wally Oppal and from President and Vice-Chancellor Alan Shaver.
More than 300
graduates have applied to cross the stage and receive their certificates, diplomas, baccalaureates and degrees.
70 +
programs with one or more graduates.
400 +
family and friends attending the ceremony.
1
way to stream the ceremony. Watch it all here.
1
social media hashtag to use. #trugrad
Some social media photos from Spring Convocation 2017.
25 +
TRU employees assisting behind the scenes and in front, from setting up the stage and seating to greeting, gowning, ushering, presenting credentials and more.
1
Honorary Degree to Anthony von Mandl. He is an entrepreneur whose visionary efforts to transform BC's Okanagan valley into a world-class wine-producing region have enhanced the reputation of Canadian wines and have transformed the Okanagan into a premiere tourism destination. His passion and willingness to take risks exemplify the pioneering spirit TRU aims to foster.
1
Professor Emerita designation to education faculty member Kim Calder Stegemann, who retired in 2017 after a distinguished 22-year career at TRU. In addition to teaching in the Bachelor of Education program, she served as Inclusive and Special Education program coordinator, chair of the Bachelor of Education, and acting coordinator of the Master of Education. She will continue to share her expertise in her role as Professor Emerita.
---
Chancellor's Welcome
The Honourable Wally Oppal
Congratulations, graduating class of 2017.
Welcome guests, families, and friends.
Inclusive, innovative learning is a hallmark of Thompson Rivers University, a model which has resulted in the diversity of certificates, diplomas, and degrees you will receive today. Through your learning here, in and outside the classroom, you are well prepared for your
future pursuits in the workplace, in further scholarship, and in society.
Apply your new-found expertise and ideas as you reflect upon Canada's 150 years of confederation. As members of our society, be mindful of the values instilled in you here. Uphold diversity and free thought, a spirit of innovation, and a commitment to lifelong learning.
Our community and country share your pride in your accomplishment, and the hope that the knowledge and skills you have gained here will help you build a better world.
You have worked hard for this achievement. Savour it as you celebrate with your family and friends.
I wish you all the best for the future, and encourage you to stay in touch with your alma mater, Thompson Rivers University.
Once again, congratulations.
Sincerely,
Wally Oppal
Chancellor
Thompson Rivers University
---
President and Vice-Chancellor's Welcome
Dr. Alan Shaver
Welcome graduates. Today, with family, friends, faculty and staff, we celebrate your academic and professional milestones.
Congratulations to each of you for successfully reaching your goals.
At TRU you have embraced many opportunities for learning, service and leadership here in our community or halfway around the globe. Ideas, people, challenges and possibilities have inspired you. The support and encouragement of family, friends, faculty and staff have kept you on the path to success. You found your TRU.
Now you embark on new paths of study, travel or work that will take you places literally and figuratively you may have never imagined.
I encourage you to be a global citizen, to carry TRU's inclusionary and diverse spirit and vision with you. To imagine, create, innovate, inspire and lead. As TRU alumni, you will forever remain a member of our university family, representing Thompson Rivers University everywhere you go.
Following the ceremony, I invite you to celebrate with your friends, family, faculty and staff at the reception.
Alan Shaver
President and Vice-Chancellor
Thompson Rivers University