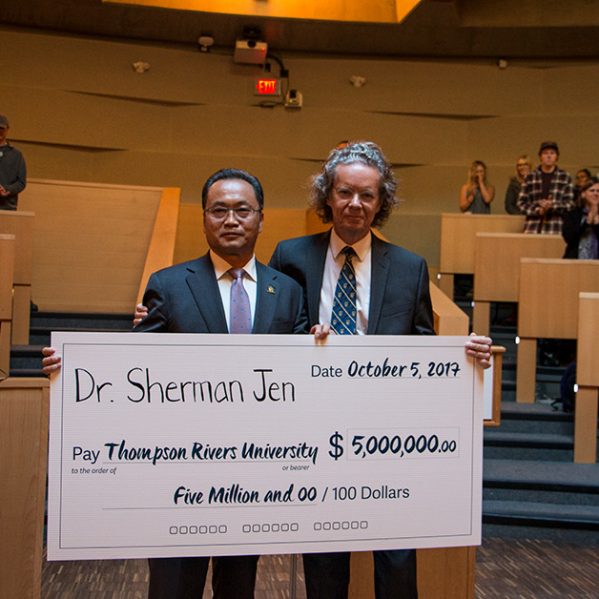 Dear Colleagues,
It is with great pleasure that I announce TRU's largest-ever private donation. Dr. Sherman Jen has made a spectacular investment of $5 million toward scholarships, research labs and equipment. This means that more students will be able to realize their dreams of post-secondary education, and more researchers will break new ground. I want to acknowledge the efforts of the late Christopher Seguin, our friend and former Vice-President Advancement, who was so instrumental in crafting this donation.
Dr. Jen is the Founder, Chairman and co-CEO of China Maple Leaf Educational Systems. He founded the first Maple Leaf International School in 1995 and has built a network of schools in China using the BC curriculum and combining Canadian and Chinese learning traditions to create intercultural learning and understanding. His personal gift sets a new standard for philanthropy in our community and contributes to TRU's mission by increasing student success and research capacity.
Dr. Jen's donation breaks down as follows:
• $1.5 million for the Dr. Sherman Jen Research Innovation Fund—to support research in the Faculty of Science and the School of Education.
• $1.5 million for the Dr. Sherman Jen High Fidelity Simulation Centre—which uses computer-driven high-fidelity mannequins to engage students and faculty in innovative health teaching and research methods not possible using real patients.
• $500,000 for the Dr. Sherman Jen Instrumentation Lab—a virtual venue for the next generation of instrumentation professionals.
• $500,000 for the Dr. Sherman Jen Innovation Competition Prize Endowment—which will fund prizes and support student participants in innovation competitions in areas like Science, Leadership and Business, and Trades.
• $1 million for the Dr. Sherman Jen Student Scholarship Endowment—to support scholarships in Science, Trades and Technology, Law, Education, Social Work and the Master of Education.
These initiatives will have a transformative impact on TRU by aiding a broad cross-section of students and researchers across a number of disciplines and will also be a spark for innovation at our university. On behalf of the TRU community I extend our deepest thanks to Dr. Jen for his support and confidence in TRU.
Sincerely,
Alan Shaver
President and Vice-Chancellor