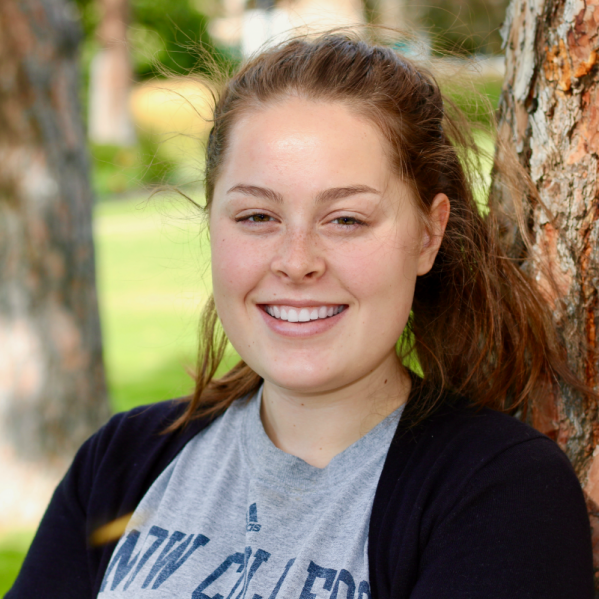 They're community builders, athletes, volunteers, and scholars. In our TRU Trailblazers series, we're profiling some of our 2017 major scholarship winners. Read on to meet TRU's most accomplished first year students and learn their best study tips, volunteer suggestions, and leadership advice.
TRU Trailblazer: Rachel Sadorsky
Meet Rachel Sadorsky: Westsyde Secondary graduate, global citizen, and wishful Ellen guest star.
Rachel is the recipient of the TRU Leadership Entrance Scholarship, a $4,000 award that recognizes documented leadership and community service combined with strong academic performance.
An active member of her school community, Rachel ran the leadership program at her high school and was responsible for planning dances, fundraisers and school promotions. Her favourite initiative was Reach Out Westsyde, a school club. "We made meals and borrowed a truck from the Kamloops Food Bank so we could properly distribute our food to the homeless in town," she explained.
In addition to providing service in her school community, Rachel also volunteered on a local and global scale. She was an enthusiastic volunteer with the Kamloops Therapeutic Riding Association, and she travelled to Peru on a service trip to set up a women's entrepreneurship centre. "I love travelling," Rachel said. "Peru was one of my favourite trips. The centre that we set up provided a place for women to knit fair trade alpaca and llama wool sweaters."
When she's not volunteering, travelling or watching Friends (Joey is her favourite) Rachel can be found studying. "My best study advice is to be open to new things. Don't be close minded. Embrace new information, and make sure to balance your studying with a social life."
"I'm excited to be at TRU," she said. "TRU is really community based and I love that. I'm looking forward to getting involved on campus by joining Enactus, eventually running for TRUSU Student Council and hopefully taking a Study Abroad semester."
A natural goal-setter, Rachel knows exactly where she wants to be in her future. In 10 years she plans on living in a developing country, travelling a lot and working for an organization dedicated to improving the world by helping people. "I also want to win a Nobel Peace Prize one day," she said. "That, and appear on Ellen."
Rachel credits always being her "true blue self" and her excellent listening skills to her leadership success. For current high school students looking up to her as a TRU Leadership Entrance scholar, Rachel had this to say: "Be nice to everyone. Get involved in any way you can. Every little bit helps, whether it is behind the scenes or at the front of the action. Start within your school, find something that is unjust and work from there to achieve something."