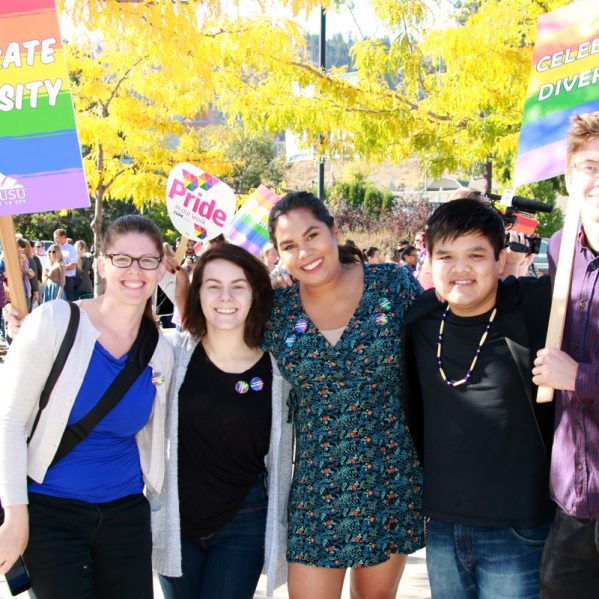 Pride parades march on campus and in Kamloops.
The first TRUSU Pride Parade was in September 2011, winding around the university grounds—over 300 people attended—virtually the same course as hundreds walked earlier this week with rainbow signs and banners.
Back in 2011 TRU Student Union members Dustin McIntyre and Katie Hutfluss were discussing how Kamloops did not have any type of pride celebration and that was something a city, becoming more progressive, needed.
That first year it was incredibly well received by the community as people were looking for a way to celebrate and to raise awareness.
McIntyre had always hoped there would be a larger Pride Parade in Kamloops—which finally happened this summer.
"I'm happy that TRUSU is continuing to host the campus parade because it is not meant to take away from the main parade, but rather celebrate diversity on campus. Though similar names, they are two totally different events. The one on campus, everyone walks together hand in hand, to celebrate TRU striving to be one community," said McIntyre.
Staff and faculty on campus are thrilled with both events and many participated in the downtown march this past August.
Arts faculty member, Anita Swing, who teaches a course on queer literature every other year, says there is a growing group of diverse people on campus who want to learn more about, and have a better understanding of the LGBTQ2S+ community.
When she attended the downtown Kamloops Pride Parade this summer, she commented that these events are even more moving when you've studied literature that gives you a bit of insight into what people have gone through historically and continue to face in different parts of the world.
"There was an amazing amount of support downtown for the march. Big crowds moved from Third Avenue and Victoria to Lansdowne to experience the parade again for a second time, and that really said something to me while I was participating in the walk," said Swing. "Some of my friends said after the parade that this was the best day of their life. It was just such a powerful experience."
Although there have been great strides and accomplishments for safe spaces and equality around campus, more can be done.
Dale Drozda, a philosophy and sociology student and the current LGBTQ+ TRUSU representative said they are proud to have established such a successful parade and is happy to see other initiatives take off—forms from the Registrar's office for other genders when applying for university, the safe spaces, Pride Club and counselling services.
However, Drozda would like to see gender neutral washrooms, more and improved training for staff and faculty and further work on how to conduct classes without silencing anyone or faculty.
"We have a lot to be proud of at TRU and I'm sure the university will only continue to become a more inclusive, safe place for everyone, no matter what your history and orientation are," said Drozda.
We asked several people participating in yesterday's parade, "What does Pride mean to you?" Check out the video below for some of their responses.