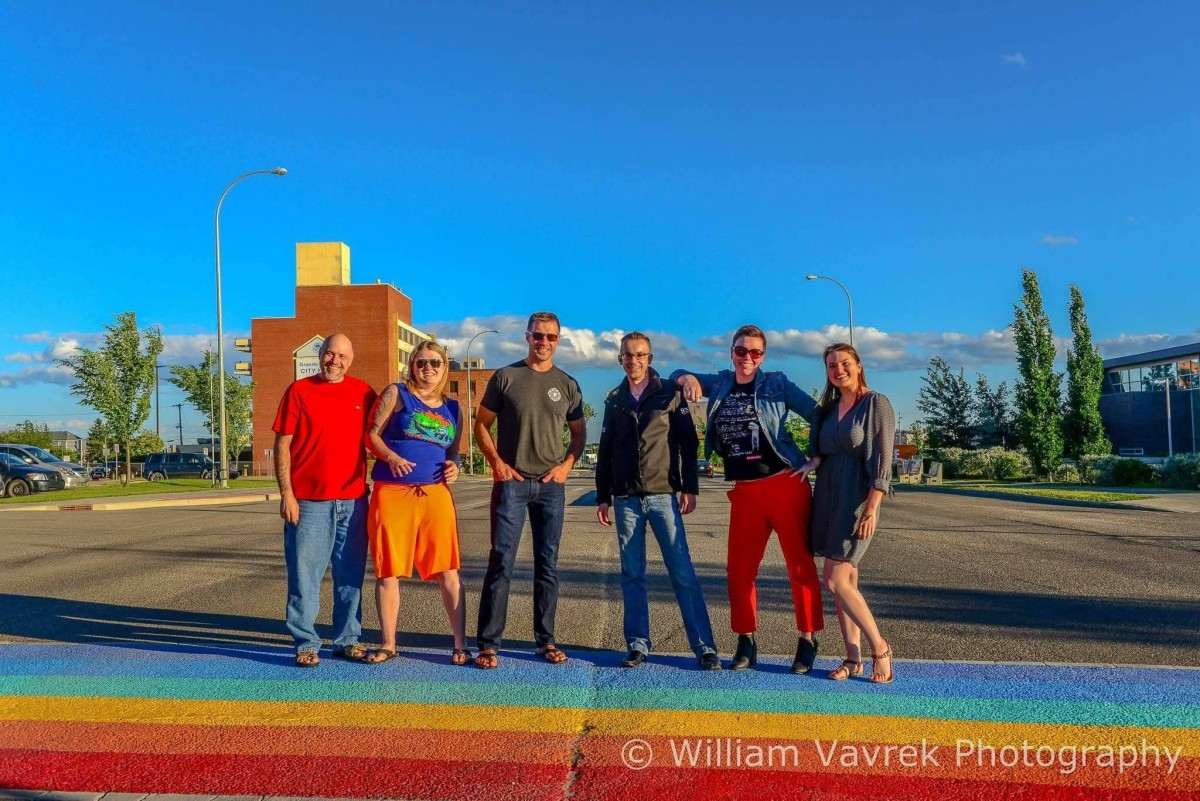 After graduating from TRU Law's inaugural class in 2014, Julia (JC) Rees was eager to start her law career, and she found herself in the small northern Alberta community of Grande Prairie.
"At TRU, they really promote working in firms in smaller centres, so I started cold-calling around Alberta. I applied to one firm that wasn't hiring but the boss asked me to send him my resume and he would circulate it to the Grande Prairie Bar Association."
"That's how I got in touch with my current boss (at Dobko & Wheaton). I flew there one day during the week when I didn't have class. The next week he offered me the job," said Rees.
Three years later, she's settled into the town, and she's loving it. She says the people—and the pride—have helped make the community home to her and her wife. 
"The second I arrived, it immediately felt like home," she says of the small city of about 75,000, where she was right away welcomed by the other lawyers in town.
"They are friends with each other, and take the time to help you out if you need it. When I first started, a lawyer at another firm was doing a trial, and she asked if I wanted to come and watch, which of course I did. There is also a group of women lawyers that meets for dinner once a month. Also, when you get called to the bar, the whole association is notified, and everyone attends if they can."
Rees says she valued the fact that she was able to get her feet wet straight away in a small market.
"The work is very hands-on. You're working directly with the client, and you get your own files right away, and you see the whole matter from start to finish. You get to court right away, including doing questionings, and running your own trials. And that's the best way to learn."
She also had the opportunity to help establish a greater LGBT pride presence in the city—and currently sits as the president of the Grande Prairie Pride Society, which was incorporated in December 2015. 
She and her board organized the city's first big Pride event in June of 2016. 
"I cannot get over how supportive the city has been of Pride. We had no idea what to expect, and we had over 1,000 attendees! We had a guest speaker and a big family-friendly carnival with bouncy castles, food trucks and live entertainment. At the sold-out Party in White, we had four acclaimed drag queens."
"They love coming here, this little city in northern Alberta."
"The Mayor even proclaimed June 25, 2016, as Pride Day in Grande Prairie. This year, we also got a rainbow crosswalk! We asked City Hall and they agreed. People are now coming up to us to tell us how thrilled they are, saying they never thought it would happen in Grande Prairie."
This year for Pride, we added a dance for teens and a coffee group for parents of LGBT youth," she added.
Thinking back to her time at TRU Law, Rees says she may not have ended up in Grande Prairie if it weren't for the faculty at TRU Law encouraging students to have an open mind.
"Definitely the emphasis TRU places on practising law in smaller centers really helped me in coming here. They let students know there is so much work to be done in the smaller centers, and many may not have even thought of it."
Rees also fondly recalls the collegial atmosphere at TRU Law.
"My favorite thing was the people, the staff, professors, and the students. It felt like one big family."
As for the future, Rees has put down roots in Grande Prairie and says she's in it for the long haul.
"I absolutely plan to stay in Grande Prairie. I love the firm I am at. My wife and I bought a house a couple of months ago, and we plan on getting some pets soon. I am also excited to continue working with the Pride Society, and we hope it will get bigger and better every year."