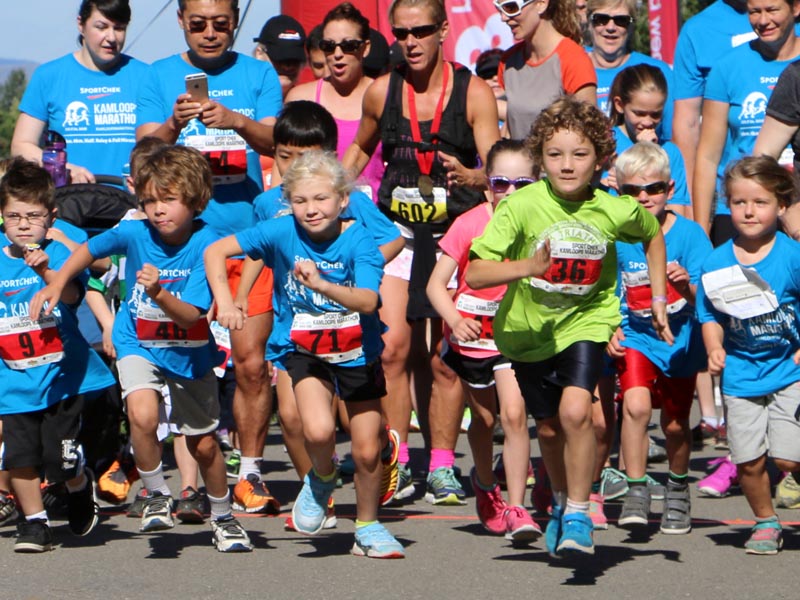 As the province of British Columbia continues to be impacted by wildfires and the air quality index in Kamloops changes daily, organizers have cancelled the 2017 Sport Chek Kamloops Marathon.
"Kamloops, is stretched to the limit supporting families who have been displaced and have sought refuge in our amazing city," said Charlie Bruce, 2017 Sport Chek Kamloops Marathon race director.
"Resources from the City, TNRD, local Red Cross, First Aid, RCMP and hundreds of volunteers have rallied to ensure that this most extreme situation is handled in a safe, caring and sensitive manner. Given these unprecedented circumstances, this year's Marathon is cancelled."
In its sixth year, the marathon was set for Sunday, July 23.
"We've worked closely with the organizers and agree that cancelling the race is the right decision given the circumstances.  The health and well-being of the community, race participants and volunteers is the first priority," said Kris Maslanyk, VP of Operations, Sport Chek.
Typically a fundraiser for bursaries for Thompson Rivers University's WolfPack athletes and Canadian Tire Jumpstart, the Boston Marathon qualifier attracts somewhere between 500 and 700 runners.
With the cancellation, registered racers are being offered either a full refund, or to roll over their registration for 2018, or to reallocate their registration fee towards United for BC Wildfire Recovery.
"It's disappointing to cancel the race, it's the last thing we wanted to do, but health and well-being of our runners and volunteers is of the upmost importance," said Christopher Seguin, TRU VP Advancement.
"We've already heard that racers coming from out-of-town are more concerned with displacing evacuees than they are about running a marathon. People are very supportive and understanding, we hope we'll see them next year."
While the race will not go ahead, the traditional pancake breakfast for runners will be offered to evacuees.
"With the support of our generous sponsors, DoubleTree and Nature's Fare, we are hosting a free pancake breakfast for wildfire evacuees—and those supporting the evacuees—on Sunday, July 23, from 8 am to 10 am at McArthur Island," said Dustin McIntyre, TRU Sponsorship Coordinator.
Along with pancakes, there will be face painting, a DJ, and a visit from Wolfie.
Runners and evacuees can learn more about cancellations and the breakfast on the Sport Chek Kamloops Marathon website.
Media Contacts:
Charlie Bruce
Race Director
2017 SportsChek Kamloops Marathon
ctbruce@shaw.ca
1 (250) 579-5653
Christopher Seguin
VP Advancement
Thompson Rivers University
cseguin@tru.ca
1 (250) 574-0474