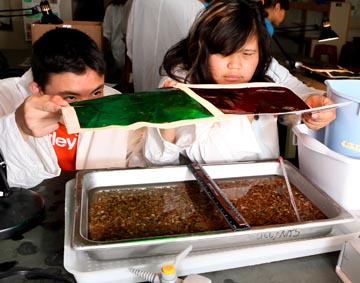 Summer camps are about having fun, meeting new people and learning new things. And when they're at at TRU, campers get familiar with campus, years before signing up for classes.
The TRU Indigenous Youth Summer Camp in Sciences and Health Sciences is one such example. For youth in grades eight to 10, they are involved in activities inside and outside of various buildings.
"The camp is designed for Indigenous youth from around the province to learn about health and sciences, but at the same time we're making sure they're in the same classrooms and buildings as they would be if they were students here," said camp coordinator Vernie Clement of this year's session running July 31 to Aug. 4.
"We also have them staying in residence and exploring the campus through different activities like the scavenger hunt during orientation."
What follows is a snapshot of the other camps at TRU this summer.
• • •
Participants expand their understanding of the world and their appreciation of how things work during these science camps that cover chemistry, biology, physics and engineering. Solo and group activities occur indoors and out. Each week wraps with a slideshow of pictures from the week and family BBQ outside the Clock Tower building.
Girls' Only Week  |  Girls' Weekend
• • •
Hard work, pride in accomplishment, determination, teamwork, skill building and so much more are learned through the likes of volleyball, triathlon, soccer, ball hockey, swimming, racquet sports, multi sports and more.
Depending on the activity and time of day, campers are in the Gym, the multi-use courts outside Old Main, the rolling grass hills outside House of Learning or at the City of Kamloops' Tournament Capital Centre located next door to TRU. There, campers use the indoor courts, swimming pool, outdoor play fields and running track.
• • •
Mind over Metal welding camps
Camps are for those between the ages of 12 and 15 and creativity and creating with unexpected metal objects as the emphasis this year.
Each camp numbers about 20, with time spent in the Trades and Technology Centre between a classroom on the second floor and the welding shop on the second floor.
The first week (July 17 to 21) is for boys and girls and the second week (July 24 to 28) for girls only. Under the guidance of two welding instructors and six welding student helpers, campers will use real welding tools to create projects they can take home, show off and feel proud about. Safety, welding processes and theory are also covered.
The camps are operated under the umbrella of the Canadian Welding Association Foundation, which partners with school districts, post secondaries and other organizations to host the sessions. The two at TRU are among about 50 being held across the country this year.