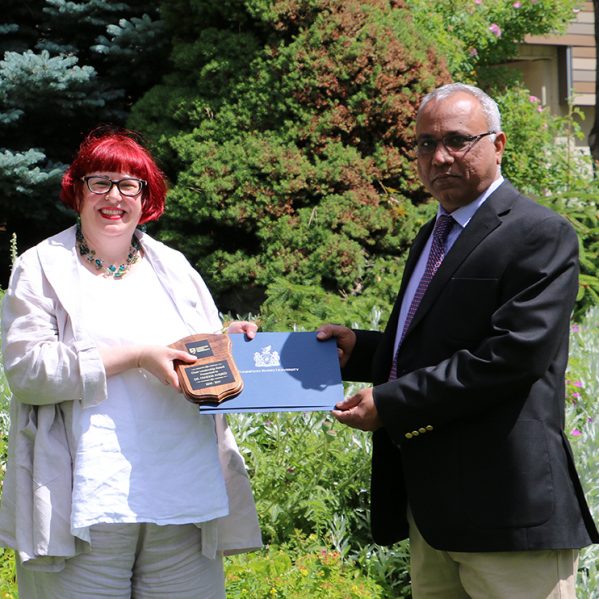 For his excellence in leading the Department of Computing Science, Dr. Faheem Ahmed is the TRU Chair Leadership Award winner for 2016/17.
Nominated by three members of the department, Dr. Ahmed had to have met at least one of the following criteria as chair:
demonstrated innovative leadership in developing and implementing initiatives related to their role
enriched the life of their department, faculty or school either directly or indirectly for students, faculty, staff or the TRU community through their outstanding leadership
enhanced the reputation of their department, faculty or school and TRU through their leadership
is highly regarded for integrity and professional conduct as a leader in their role as chair
As the recipient, he received an engraved plaque and up to $1,500 to attend a leadership workshop or conference approved by the Provost's office.
What does receiving this recognition mean to you?
"It's a great honour to receive this award because it recognizes the hard work that was carried out over the period of three years to make a noticeable difference, which is in the best interests of the faculty, staff and students of the department. It gives me a sense of achievement and helps ensure me that the job is being done well. It also provides a sense of great satisfaction that I lived up to the trust that people have shown in my abilities while choosing me as a chair."
What are two or three personal highlights among the many reasons why you are receiving this award?
"I believe the first is my efforts to revise the entire curriculum of the computing science undergraduate program and bring it to a standard which is comparable to the domestic and international programs with the help of my colleagues. Second is my efforts to establish a work environment within the department which is respectful, transparent, equitable, open in communication, and productive. The other factor is my efforts to enhance visibility of the department and establish good relationships within and outside TRU. This helped us to increase domestic and international enrolments as well as generated opportunities to have collaborations with others."
How do you describe your leadership style?
"I prefer to lead by example and always proactively try to ask myself first about what I can contribute to achieve a goal rather than offloading the task to others. This sets the tone and motivates people to take ownership of the initiatives and come forward with new initiatives. I am collegial and listen to my co-workers carefully and let my colleagues feel that I am always there for their help while providing assistance and mentorship in achieving their goals. I am a team builder and strongly believe in collaborative efforts to achieve goals, thus emphasize strongly open and transparent communication, sharing and evaluating ideas, and developing a culture of mutual respect, and believe in highlighting and rewarding the contributions and efforts of the team members."
What do you enjoy most about your role?
"I took over the role of chair within a year of coming to TRU. I was quite fortunate to receive all possible help to learn more about processes and policies, which resulted in an increasing list of friends for the rest of my life, which is a precious asset. The learning curve was quite steep in my role as chair and I was given some opportunities for internal and external training. It also gave me opportunities to help faculty, staff and students of the department and make a difference in their lives—this sense of achievement and accomplishment is long-lasting for me."
What are you looking forward to as you continue your work in the future?
"I would like to increase my knowledge and skills by doing more courses in academic administration and I will try to understand various other dynamics and opportunities in that area. Last but not least, I love teaching and I look forward to continuing that central aspect of my career."
Previous Chair Leadership Award winners:
2015/16  Krista Lussier, School of Nursing
2014/15  Rob Hood, Faculty of Adventure, Culinary Arts and Tourism
2013/14  Peter Tsigaris, School of Business and Economics and Wendy Kipnis, Faculty of Education and Social Work
2012/13  Rob Anderson, School of Business and Economics
2011/12  David Sheets, Faculty of Science
2010/11  Jeanette Murray, School of Nursing